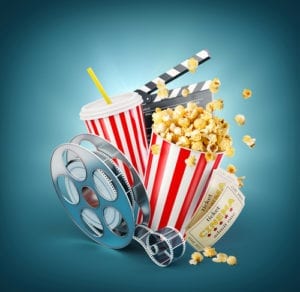 There are tons of Hollywood movies that reflect real-life college experiences and struggles. Inspirational college movies bring a complete transformation as characters go through diverse emotions and perspectives. They normally end on a positive note despite the roller coaster of academic and social challenges.
Common themes of these movies include students figuring in love mishaps, conflicts with friends and family, academic struggles, peer pressure, identity problems, alcohol problems, and run-ins with the law. These movies also bring a sense of relatability, comfort, realization, and humor.
Here are 10 college movies that will surely get you hooked and motivated while opening your eyes to the reality that is college life all at the same time.
Page Jumps!
***************************
Good Will Hunting
Directed by Gus Van Sant, Good Will Hunting tells the story of Will Hunting (Matt Damon), a natural genius who could've beaten even the brainiest bunch at the Massachusetts Institute of Technology in Boston where he works as a lowly janitor.
So, what was keeping Will from becoming the next best thing in MIT and dominate the world as a genius? His dark past is what. Because he was horribly abused as a foster child, he managed to push everyone. And because Will's potential was so great, Professor Gerald Lambeau (Stellan Skarsgard) thought he needed the help of psychiatrist Sean Maguire (Robin Williams) who, after several agonizing weeks of trying to talk Will into just being himself, had allowed the young man to bare his soul and eventually overcome his fear of being abandoned.
The takeaway
This Academy Award-winning 1997 movie shows how education can come in different packages and the lessons definitely go beyond the four walls of a classroom. It speaks of how the past can shape someone's perception of loss, rejection, fear, and self-loathing—and how these obstacles to healing and growth can be overcome with trust and acceptance.
***************************
With Honors
When Harvard University honors Government senior Montgomery "Monty" Kessler (Brendan Fraser) tried to retrieve the only copy of his thesis from the Simon B. Wilder (Joe Pesci), he never thought he'd be at the homeless man's mercy.
Simon was to give Monty a page for every single day that the college guy accommodates him and gives him food. Towards the end of the film, Monty eventually becomes civil and caring for Simon, who returns the favor by giving sound advice on thesis, love, and failure.
The takeaway
This 1994 flick underscores the kind of learning that no book can ever teach but sometimes, a homeless man. While people strive to impress with superior academics, a prestigious degree and a thriving career, there's certainly more to life—and the streets often give the most essential lessons.
***************************
Higher Learning
Higher Learning is all about the experiences of three incoming first-year college students at fictitious Columbus University. Malik Williams (Omar Epps), an African-American track star struggling with his studies; Remy (Michael Rapaport), a confused man who seemed to be out of place; and Kristen Connor (Kristy Swanson), a naïve and shy student all tackle issues on racism, academic mishaps, and self-identity.
The takeaway
Racism inside the campus ought to teach us a thing or two. Compartmentalizing or isolating individuals based on their complexion should never be the hallmark of a university. Every student should be treated equally in terms of their ability to express themselves freely, no matter what their background or status is in life. Higher education should be for everyone.
***************************
Legally Blonde
While essentially a teen comedy film, Legally Blonde based on the semi-autobiography of Amanda Brown who, in this movie, was Elle Woods (Reese Witherspoon), a gorgeous incoming college freshman who showed the world she was more than just a pretty face.
After being dumped by her boyfriend, Elle got into Harvard Law School where she moved mountains to prove herself worthy of the golden opportunity. In the end, Elle helped win an important case and was soon to become a lawyer.
The takeaway
"Be true to who you really are," is one of the biggest lessons this popular movie imparts. It also teaches about hard work to get to the top, as opposed to resting on your laurels. Virtues of self-reliance, selfless giving, and championing the truth were also reflected in the 2001 film.
***************************
The Great Debaters
The Great Debaters is an American biographical drama film directed by Denzel Washington, who happened to be one of the main characters in the movie, Melvin B. Tolson, debate team coach of black students at Wiley College. After grueling days of constant practice and challenges that almost shook their spirit, the team won against the all-white team at Harvard University.
The takeaway
Freedom of expression, respect for one another, determination, the struggle against racism, the will to win, and the right to high-quality education regardless of color: these are some of the biggest lessons in the highly acclaimed 2007 movie.
***************************
Dead Poets Society
How did unorthodox teaching styles fare in 1959? The 1989 film Dead Poets Society clearly showed that while gravitated to it, there was always some resistance. In this drama, new English teach John Keating (Robin Williams) gathered a group of boys at the exclusive Welton Academy to learn and love poetry and use it as a tool to express themselves and be who they are. Keating's group of boys would sneak out each night and rendezvoused at the cave to read and discuss poetry as a form of self-expression.
The takeaway
Education and school don't always go together; not everything that we need to know about life is learned in school. Sometimes, breaking the status quo is the answer because the norm can be suffocating and hinders growth.
***************************
Accepted
Accepted is a teen comedy movie that Bartleby Gaines (Justin Long), who had endured multiple rejections from numerous academic institutions. Deciding he's had enough, Bartleby, together with his buddies, created South Harmon Institute of Technology, a fictitious college—complete with a fully functional website—to make college acceptance woes a thing of the past. But when similarly situated students started coming in, Bartleby and his friends crafted the craziest of plans to make the fake school work.
The takeaway
While essentially a fun and light-themed movie, Accepted had an underlying serious lesson it wanted to teach us all: be careful about diploma mills! The 2006 college film also demonstrated the importance of self-esteem, perseverance, dealing with failure, and the will to improve.
***************************
Rudy
Rudy is the true story of Daniel "Rudy" Ruettiger (Sean Astin), a young man with small scholastic credentials and low athletic skills. He struggled to graduate from the University of Notre Dame but it seemed like a long shot.
To make matters worse, the only friend who believed in his ultimate dream died in an accident. Picking himself up, Rudy struggled to make it to Fighting Irish, the college football team. In the end, the story showed how it was not just about winning in the sport; the players realized what victory truly was.
The takeaway
Though not naturally athletic, Rudy determined and made it to the popular football team. No one believed in him at first but he was relentless in making his dream a reality—a scenario many students can learn a thing or two from!
***************************
The Social Network
The Social Network mirrors the life of Facebook founder Mark Zuckerberg (Jesse Eisenberg ) and how he became the world's youngest billionaire in history. In 2003, when Mark's new website used illegal stock photos and caused the Harvard site to crash, it caught the attention of the Winklevoss twins who encouraged him to create a private networking website.
Together with his friend Eduardo Saverin (Andrew Garfield) and later a Napster legend Sean Parker (Justin Timberlake), Mark created Facebook as a social media platform. It quickly rose to fame in the university but not without the Winklevoss twins claiming Mark "stole" the whole idea.
The takeaway
This 2010 movie conveyed lessons on friendship, happiness, acceptance, and contentment—and how they're more important than money, status, and popularity. "Choose your friends wisely", and "trust and friendship go together" might sound like incredibly predictable lessons from a college-themed flick but it actually applies to The Social Network.
***************************
The Internship
Nick Campbell (Owen Wilson) and Billy McMahon (Vince Vaughn) were unhappy with where their lives were going; they had just been fired because they were too "old fashioned" for the new technological advancements.
When they bagged internships at Google, the two older guys found themselves dealing with and compete against hundreds of young interns to earn the best positions at Google—and realized they needed to make peace with digital technology to do that!
The takeaway
This 2013 movie places the spotlight on how internships are a stepping stone to career success, which is what its purpose truly is. Even if you've been off college for years or even decades, volunteering all your life, or barely surviving a low-wage job, you certainly have a shot at landing better and more fulfilling work or career. Sufficient relevant experience, a professional cover letter, and a strong network can make a lot of difference.