Share this graphic on your site!
Featured Programs
What Type of Learner are You?
The 7 Major Styles of Learning
Learning style refers to the way students process, comprehend and retain knowledge. Most people have a dominant style, but use a few different styles situationally. There are seven major styles of learning:
Verbal
Logical
Kinesthetic
Visual
Musical
Interpersonal
Intrapersonal
Understanding how you learn can help position you to succeed academically. Some subjects lend themselves naturally to a particular type of learning style or combination of styles. It makes sense to develop a variety of skills across as many learning styles as possible.
Verbal
Do you love adding to your vocabulary, word play, and participating in debates? You might be a verbal learner.
Verbal learners absorb knowledge best through words — both written and spoken. These learners prefer oral or written instructions vs. a chart or diagram.
Strengths:
Written and verbal communication
Listening
Weaknesses:
Hand-eye coordination
Spatial understanding
Best study techniques:
Read, write and recite notes
Participate in class discussions
College degrees to pursue:
Logical
Do you dream in numbers, love brainteasers and thrive in structured environments? You might be a logical learner.
Logical learners like systems, mathematical processes and calculations. They enjoy using their powers of deduction and observation.
Strengths:
Reasoning skills
Problem-solving
Weaknesses:
Communication skills
Less comfortable with learning without structure
Best study techniques:
Create lists of key points
Write notes in your own words for better understanding
College degrees to pursue:
Mathematics
Computer science
Business analytics
Kinesthetic
Do you gesticulate with your hands when talking, love sports and dislike sedentary activities? You might be a kinesthetic learner.
Kinesthetic or physical learners use their bodies in the learning process — they learn by doing. New subjects are best understood when a kinesthetic learner is actively engaged.
Strengths:
Weaknesses:
Difficulty with concentration and focus during sedentary activities
Spelling
Best study techniques:
Hands on activities if possible
Use case studies or real-life examples to help conceptualize information
College degrees to pursue:
Physical therapy
Theatre studies
Construction management
Visual
Do you think in pictures, easily understand maps and prefer written directions to verbal ones? You might be a visual leaner.
Visual learners need images, diagrams, or charts to best absorb knowledge. They tend to create visual strategies and imagery for remembering information.
Strengths:
Spatial understanding
Excellent memory
Weaknesses:
Listening skills
Attention to detail
Best study techniques:
Create charts, diagrams or mind maps to understand information
Color code concepts when note-taking
College degrees to pursue:
Engineering
Architecture
Graphic designer
Musical
Do you remember names not faces, talk to yourself often and make up songs to help remember information? You might be a musical learner.
Musical or aural learners prefer learning with sound and music. Hearing information is the best way for this type of learner to retain it.
Strengths:
Musical ability
Extroverted
Weaknesses:
Difficulty concentrating in noisy environments
Reading long sections of text
Best study techniques:
Reciting notes aloud
Create rhymes as memorization tool
College degrees to pursue:
Music
Sound engineering
Foreign languages
Interpersonal
Do you thrive in group settings and learning from peers? Do people often come to you for advice? You might be an interpersonal learner.
Interpersonal or social learners prefer learning in groups or classes. They are highly communicative and enjoy interacting and discussing subjects with others.
Strengths:
Encouraging and supportive of others
Leadership qualities

Weaknesses:
Difficulty working independently
Maintaining concentration during study time
Best study techniques:
Create or join study groups
Role play situations
College degrees to pursue:
Education
Public administration
Human resources
Intrapersonal
Do you get completely absorbed in tasks, enjoy spending time alone, and display a high degree of self-motivation? You might be an intrapersonal learner.
Intrapersonal or solitary learners are introspective and independent. They usually retreat to a quiet, solitary place for study and are often introverted.
Strengths:
Concentration and focus
Planning
Weaknesses:
Public speaking
Asking for help when faced with a difficult problem
Best study techniques:
Independent study
Document study habits to determine what works best
College degrees to pursue:
Creative writing
Entrepreneurship
Software Engineering
Whatever your learning style, explore your educational options at 
online-bachelor-degrees.com!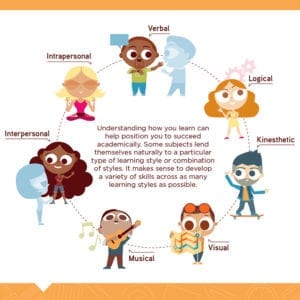 SOURCES:
https://www.learningstyles.biz/
https://www.verywellmind.com/vark-learning-styles-2795156