Earning a Bachelor of Science (BS) degree or a Bachelor of Arts (BA) degree is a choice that a lot of students must make when looking for the correct bachelor's degree program.
Although the decision can be challenging, there are some small differences that can help you decide which program is the most beneficial for you.
Regardless of the concentration or major, in the past, all undergraduate degrees were called Bachelor of Arts degrees. At present, degrees in the field of sciences are now considered Bachelor of Science degrees.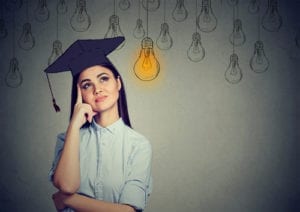 The BS degree, generally, is technical-related, such as in the majors of:
mathematics,
chemistry,
engineering,
physical and biological sciences,
and agriculture.

Other majors may include:

computer science,
criminal justice,
and health sciences.
You may also obtain a Bachelor of Science degree in:
nursing,
medicine,
genetics,
information science,
pharmacology,
statistics,
architecture,
business,
law,
hospitality,
and zoology.
In some instances, fields such as accounting, business, or psychology can be offered in both BA and BS programs.
What are the main differences between a BS and a BA degree?
Perhaps the main difference between the BS and BA degrees is that the Bachelor of Science degree will focus primarily on your major and less on the electives, although they may be career-focused, as well. Your online Bachelor of Science degree program will typically require more credits than a BA degree.
How long will a Bachelor of Science take to complete?
As a BS student, you will be expected to study your specific major in-depth… and sometimes that may take longer than the traditional two years to complete.
An accelerated program will involve a full coursework load with a full-time commitment.
If an online program is necessary for convenience while working a full-time job, then it could take up to three years or more to complete.
In Conclusion
Although choosing an online bachelor's program can be intimidating and overwhelming, don't give up. It is an excellent investment in one's future career.