Do you love food and have a passion for cooking? Do you feel the need to be creating new flavor choices that different food lovers will enjoy? Do you want to make great food options for a broad range of tasters? Do you want to make money while working for food?
If you have answered yes to these questions, then there's no doubt you have the interest or have what it takes to be a chef. Besides these, what other qualities should you have? Is becoming a chef the right career choice for you? Are there other reasons one might be interested in becoming a chef?
Page Jumps!
Your Kitchen Experts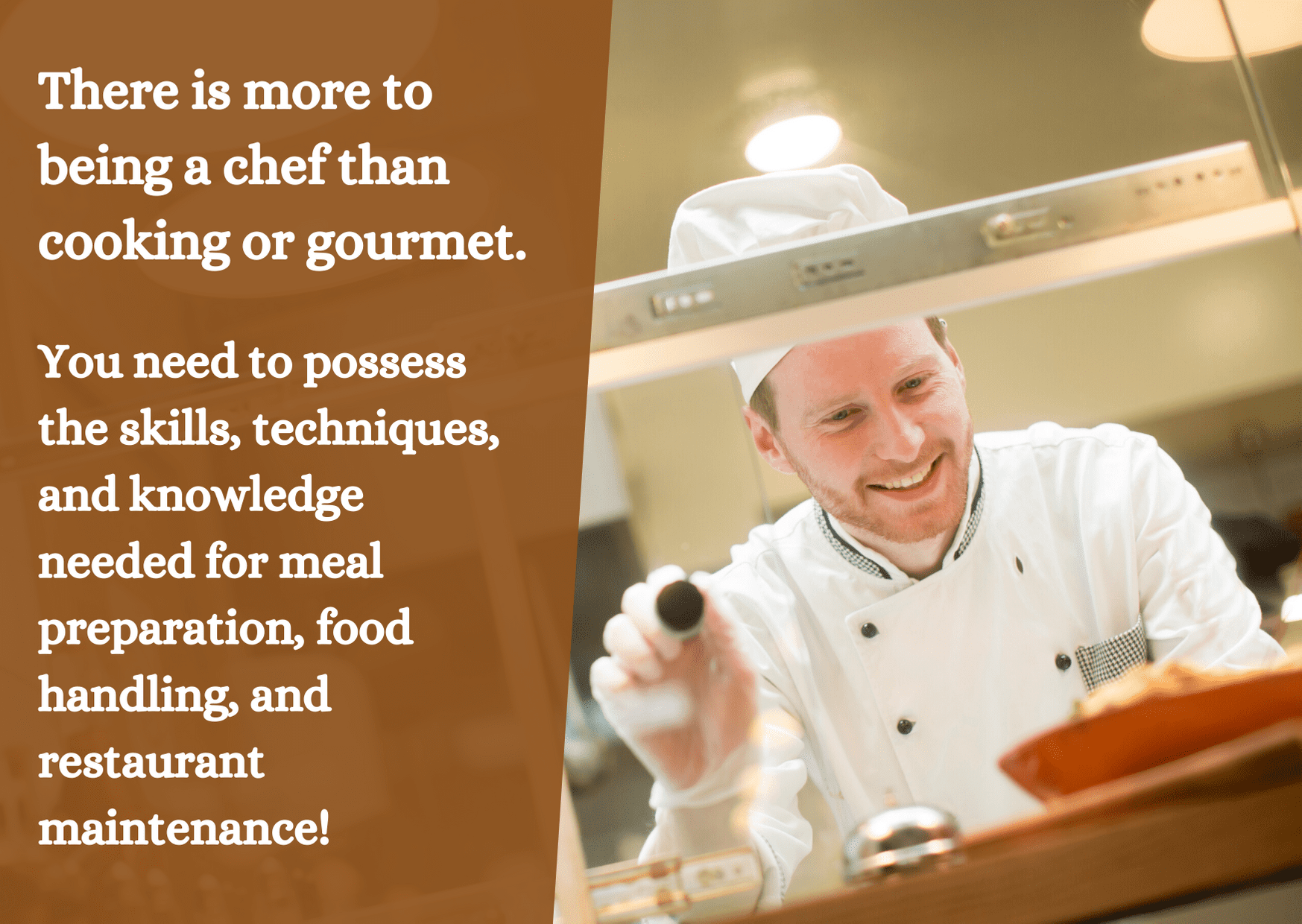 CHEF
A chef is a professional cook who oversees the restaurant's kitchen and is a master of all kinds of food preparation. Depending on the rank, chefs have various responsibilities in the kitchen. The chef hierarchy was created to operate a restaurant or kitchen more effectively.
Some positions may have a combined function with another depending on the size of the restaurant. The highest rank is called the Executive Chef, followed by the Sous Chef, Line Chef or Line Cook, and then, Kitchen Assistant.
EXECUTIVE CHEF
An executive chef is a managerial position in the kitchen that requires excellent leadership skills and creativity. Only the largest companies and restaurants have an executive chef who is responsible for planning, menu design and control, supervising other chefs, controlling costs, developing standard recipes, and making other administrative decisions.
They do not spend time cooking; instead, they supervise all kitchen work but may also help in food preparation during busy times or lead their team in the direction they wish to go.
SOUS CHEF
A sous chef is the second-in-command in the kitchen and is considered the most hands-on person in the kitchen. They oversee the dishes prepared, train newly hired staff, work with the executive chef, assign staff schedules, ensure cleanliness and organization, and maintain order during work hours. A sous chef also receives incoming orders and monitors the quality of the dishes being prepared.
LINE CHEF
A line chef or line cook is assigned to a specific station in the kitchen. There are multiple specific line cook sections or titles. For instance, a grill chef is responsible for the grilling station or all food that needs grilling. Another example is the sauté chef, who is in charge of sautéing and preparing sauces.
There are several specialties you can achieve as a chef. You can choose to become a pastry chef and create baked goods like bread, pastries, cakes, and desserts. For restaurants with large pastry sections or patisseries, a pastry chef may also have the position of either an executive chef or a sous chef.
These are just a few examples of culinary positions. A restaurant's reputation lies in the greatness of its chef and staff. In this day and age, passion, experience, and education are vital if you want to become a chef. The Bureau of Labor and Statistics says the employment rate for chefs and cooks will rise by 5% until the year 2032.
In 2022, the median annual wage for chefs was $56,520. Still, the level of pay varies on the size of the company chefs are working for and their location.
Employers may require a lot more than a high school diploma since the competition for professional chefs has become high. You may choose to gain an associate's degree for practical training in as little as two years or earn a bachelor's degree to gain training in both culinary and hospitality management for four years.
Degree programs are found at different types of institutions like culinary schools, community colleges, trade schools, and universities.
There is more to being a chef than cooking or gourmet. You need to possess the skills, techniques, and knowledge needed for meal preparation, food handling, and restaurant and reputation maintenance. Aspiring chefs will need to master creativity, the ability to work in a team, multitasking, great leadership, attention to detail, excellent communication skills, and keeping grace under pressure.
A day in the life of a chef means working for long hours, early mornings, late evenings, weekends, and holidays. Thus chefs need to maintain their physical stamina. The fast-paced working environment can be stressful and may pose an injury risk to chefs, especially in crowded kitchens. Since chefs work with different razors, slippery floors, hot ovens, and stations, proper uniform or dress code is strictly put into practice.
Becoming a Chef
Becoming a chef is both rewarding and demanding. You work in professional kitchens that open before the restaurants do and close after everybody leaves. You do your job with no breaks, and you have to expect to get hurt physically and emotionally. The key is to get enough preparation and a hefty dose of experience for yourself.
Most chefs work their way up to an entry-level position that helps them stock up on experiences needed for higher positions. Regardless of the degree, you can become a chef if you want to, but getting one that is closely related to the field will substantially bring you even closer to your goal. So, get your cooking education started with the help of this list of the best bachelor's degrees for becoming a chef:
What are the best bachelor's degrees for prospective chefs?
Bachelor's in Culinary Arts
Bachelor's in Food and Beverage Management/ Food Service Management
Bachelor's in Baking and Pastry Arts
Bachelor's in Hotel and Restaurant Management/ Hospitality Management
Bachelor's in Nutrition/Culinary Nutrition
Bachelor's in Culinary Arts
Culinary arts is the best fit for those who want to run their kitchen. A bachelor's degree in culinary arts allows you to climb up to competitive and challenging positions such as a sous chef or kitchen manager. The culinary arts curriculum varies from school to school.
Still, typically, students learn courses like Culinary Foundations, Meat Fabrication and Preparation, Food Safety, Sanitation, and Allergens, Flavor Development, Food Service and Hospitality, Nutrition, Business Management, Entrepreneurship, and more.
This degree program is typically offered in in-person settings and requires internships or externships at restaurants in or out of the state or abroad. Overall a bachelor's degree in Culinary Arts prepares you to build on cooking techniques and management skills.
While most bachelor's degree program requires four years, some schools need students to complete 120 credit hours in as little as 32 months.
Here are the top Culinary Arts Online Colleges:
Johnson & Wales University
Atlantic International University
---
Bachelor's in Food and Beverage Management/ Food Service Management
If you want a bachelor's program that centers on current food service industry topics and proficiency in beverage management, then a bachelor's degree in Food and Beverage Management is the right pick. Major concepts in hospitality courses include topics in purchasing, food safety, marketing, accounting, and writing.
You will also need to study and apply concepts in the food and beverage profession through courses like Beverage Appreciation, Technology in Food and Beverage, Food Service Management, Basic Nutrition, Quality Food Preparation, and Sanitation.
Typically, 120 credit hours with a minimum of 300-hour internship are required for completion. Some schools offer accelerated bachelor's degrees and let you finish the degree in as fast as 15 months.
You will land many possible careers as a graduate of Food and Beverage Management / Food Service Management in work settings such as restaurants, hotels, resorts, cruise ships, and educational food service.
Food and Beverage Management/ Food Service Management Online College
---
Bachelor's in Baking and Pastry Arts
If you are interested in crafting sumptuous bread, elegant desserts, and decorating spectacular cakes, then you can explore a bachelor's degree in Baking and Pastry Arts. Encounter courses that teach you pastry techniques, baking methods, skills, and technology, and gain valuable experience in the food service industry.
Among these courses are Baking and Pastry Fundamentals, Advanced Baking, Sugar Artistry, Restaurant Service, Advanced Pastry Arts, Beverage Service, Food Ethics, and advanced courses in administrative and organizational skills like Communication, Applied Marketing, Finance, and more. It can take 120 credits or more to complete the degree within 2 to 4 years.
An externship will let you demonstrate a professional attitude and performance, and train you to efficiently with baking or pastry production in different functions.
Here is the top Baking and Pastry Arts Online College
---
Bachelor's in Hotel and Restaurant Management/ Hospitality Management
A bachelor's degree in hotel and restaurant management involves managerial functions in hotel and restaurant operations. Its curriculum provides a combination of courses in hospitality management and food service.
Courses like fundamentals in kitchen operations, menu planning, food and beverage operations, catering, hospitality industry analytics, organizational behavior, sustainability management for hotels, hospitality marketing, strategic management, and human resource management.
Graduates of this program come away with effective leadership styles and practical work experience in designing and running their restaurants someday. You can earn this degree after completing 120 unit credits, including an internship or externship in restaurants, hotels, catering companies, and other food service operations.
Here are the top Online Hotel and Restaurant Management/ Hospitality Management:
Grand Canyon University
Johnson and Wales University
Washington State University
Florida International University
American Public University
Eastern New Mexico University
---
Bachelor's in Nutrition/Culinary Nutrition
A bachelor's degree in nutrition is another option for those who want to pursue careers in food service and food production. This field aims to examine how the body responds to food and diets through menu design, food therapy, and food science. While this degree helps you to become a dietitian or nutritionist, it can lead you to a culinary career with adequate experience.
Restaurant guests and patrons have now become more conscious of their diet. More than great taste and presentation, food that promotes health and well-being is now of great value. This is where nutrition experts come in.
The program of work may include Applied Culinary Nutrition, Advanced Nutrition, Nutritional Neuroscience, Vegetarian Cuisine, Public Health Nutrition, Nutrition Assessment, and more.
Besides classroom-based learning, this program requires a real-world externship to help you gain practical knowledge and skills. Generally, this program takes 120 credits or more in length.
Here are the Top Online Nutrition Colleges:
University of Alabama
Kansas State University
Arizona State University
University of Northern Colorado
Eastern Michigan University
University of Arizona
Johnson & Wales University
Here are a few tips for you:
FREE ONLINE TOOLS FOR ONLINE SCHOOL STUDENTS
FREE ONLINE TOOLS FOR MANAGING YOUR SCHOOL FINANCES