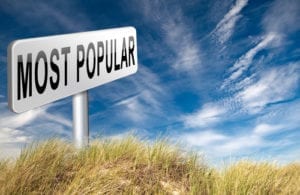 To prospective students, deciding on an appropriate bachelor's degree might be a daunting task. Although most students have an idea after earning their associate degree, not everyone is locked into a degree option that will eventually turn into a career choice. Below you will see what some popular past selections have been for students entering an online bachelor's degree program.
According to the National Center for Education Statistics (NCES) for the 2013-2014 academic year, the greatest number of diplomas were awarded in the fields of business. A career in business covers a wide array of choices and the skills learned in this field can be used in any size business, whether it be a small family-owned company or a major conglomerate. Your online bachelor's degree in business will prepare you for an abundance of career specializations such as, in marketing, advertising, business administration, economics and accounting.
The second most popular category of earned bachelor's degrees goes to the field of health professionals and related programs. There is no doubt that earning an online bachelor's degree in a healthcare field will NOT go to waste. With a plethora of career choices and a job growth rate that continues to expand exponentially, you may want to consider a career in nursing, therapy, physical education, radiology, in addition to, administrative or non-clinical positions in medical coding, health education or as a hospital administrator.
Next, the award goes to… social science and history. They make up the third category of the most popular earned bachelor's degrees in 2013-2014. A bachelor's degree in social science will afford you an entry-level job opportunity in many different fields, however, to obtain the top-of-the-line career in this field, you may need to also pursue your master's degree, as well. Beginning careers in this realm may include political analyst, social worker, market analyst, communication, law or a social science research assistant, all of which can be expanded upon.
The field of psychology is the fourth most popular degree followed by biological and biomedical sciences. The field of education ranks next in the most popular bachelor's degree programs to pursue. Earning a bachelor's degree in education will prepare you for licensure according to your state's requirements. As in business, a career in education can expand into many areas of specialization. You may choose to be a teacher in a public or private school setting or perhaps you have a caring heart to assist as a special education teacher. With additional education, such as a master's degree, you may want to consider a career in administration, such as, a school principal, vice-principal or school superintendent.
The most popular types of bachelor's degrees to earn would include a Bachelor of Arts (BA) degree which focuses on the areas of arts and humanities, in addition to the Bachelor of Science (BS) degree. A BS degree focuses on the fields of mathematics and science.
So, above are the top six rankings of popular bachelor's degrees that you should consider when making your choice, however, there are many, many more degrees available.  A bachelor's degree can be obtained in just about any subject that interests you, therefore, when choosing a program, please verify that your school is accredited to receive the quality education you deserve!