Is the social media frenzy showing signs of waning? Definitely not in recent years, according to research. A 2017 report by Pew Research Center revealed that 90% of teenagers and young adults, and 65% of adults are active social media users. Latest data shows 88% of individuals 18 to 29 years of age are using several social media sites.
While social media sites are sharing platforms and a source of infotainment, college graduates and employers are now leveraging its power. These days, it's not uncommon for employers and job seekers alike to spend an ample amount of time on social media sites to boost their hiring efforts.
Featured Programs
Table of Contents
Social Media and Career Search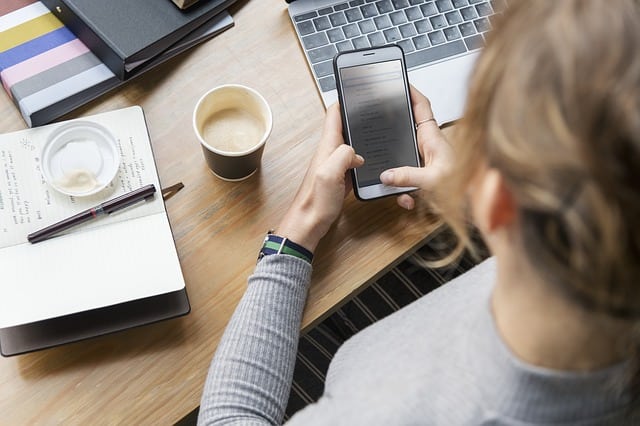 Today, one of the most important tools in terms of career search especially for college graduates is social media. In order to expand their job search, graduates turn to postings from companies and set up notifications to instantly find career opportunities and openings. Social media profiles and postings also allow them to look closely into a potential employer.
In the same manner, several social media sites now enable companies and employers to conduct background checks on their applicants' profiles. An applicant's credentials and job interview results just don't cut it anymore.
Facebook, Twitter and LinkedIn posts, for example, have become a revolutionary tool, changing the way companies view and ultimately choose their employees.
Benefits of Social Media Sites
Companies and Employers
Evidently, companies utilize social media sites for promotions and marketing, enabling the audience to find significant information on their products and services. Social media sites are also a medium informing job seekers about current job openings. Employers that use social media for recruitment purposes are able to target a broader market of potential candidates for their job positions.
Research revealed that 65% of companies said that social media posts have helped them research thoroughly on their applicants' qualifications. Some 51% of them utilize these public posts to check if the applicant is appropriate for a certain position or is flexible enough to adjust to the work environment and culture of the company.
College Graduates
Every college graduate would want to get hired by a top-paying, reputable company. Mind you, it may be a good thing to assume the best in your career but you need to do the work. But times have changed.
Your overwhelming credentials and impressive answers during the interview aren't the be-all and end-all of landing a job. The standards have gone way beyond passing your actual work application with flying colors.
In the case of college graduates, social media is regarded as a useful tool for showcasing their portfolio of achievements, skills, and abilities. Generally, social media posting is recommended for college graduates who want to make a good first impression for clients and companies.
College graduates who post regarding their volunteer work on certain non-profit organizations are also at an advantage. A social media profile can also reveal mutual connections with company employees and affiliates.
Dangers of Social Media Posts
According to research, 34% of employers say social media sites have helped them decide whether or not to shortlist their applicants for specific job positions. Social media posts have allowed them to filter candidates based on the content of their online profiles. Companies take an applicant's conduct on social media seriously; showing behavior that is uncalled for can make or break their hiring potential.
https://www.youtube.com/watch?v=bs9Wu6G5vVc
Some companies also have a specific code of conduct that needs to be strictly observed and followed. These companies have a written contract that explains what type of social media behavior is allowed. Going against the terms and conditions of this ethical code of conduct may significantly reduce your chances of getting hired in a reputable company.
We list the top 10 forms of social media posts you need to look out for to avoid the road to career destruction!
Confidential Information and Job Offers
Picture this: you successfully land a high-paying job. You are given a contract that states the terms and conditions of your designated work. The job offer also includes the background of the employer as well as your salary. That contract provides that you are not to divulge any such confidential information outside the premises of your company, to which you agree.
But, trigger-happy that you are, you completely forget about those terms. So you go ahead and post confidential company data and employment terms, proudly stating you will soon be working for them. Your future employer's social media manager, perpetually online and active, comes across your post, reports it to the HR and, gets your job offer automatically revoked. And just like that, the awesome "first-day-at-work" experience you look forward to vanishes into thin air.
The lesson? If you don't want to get into trouble (and start your job and keep it), do not divulge confidential information on your job offer. Don't get too excited about sharing something that's not supposed to be posted publicly.
Also, leave it to your company to announce groundbreaking news or update; it's not your place to act on it. It's one mistake that can even ruin your future chances with other companies because a supposedly prospective one has just asserted your lack of credibility.
Plagiarism
Plagiarism is one of the top forms of social media posts that can greatly affect your hiring potential. Its effects are almost critical as when you disclose private information about the company you will be working for, and for all the right reasons.
As it relates to posting significant content on social media, plagiarism reflects your lack of integrity and competence as an employee. Whenever you need to post something that is from the Internet, do give credit to the owner or the original source. Worse, you might find yourself and the company you work for in hot water; we're talking expensive, scandalous lawsuits!
Claiming something that is not your work can pose an undesirable effect on your future job applications as well. A plagiarism faux pas can create a domino effect: companies will have second thoughts about hiring you for obvious reasons.
Untruthful Information on Qualifications
You make that good impression during your initial interview because of your outstanding work experience, achievements and credentials. You express how psyched and optimistic you are about taking that job. You are vocal enough to tell your recruiter how much you badly need the job to make ends meet for yourself or your family.
That's all good–but when your recruiter performs a background check and they see something different on your social media profile, be warned. Convincing your recruiter about your credentials and socioeconomic condition is not all there is to it.
Many candidates modify and exaggerate information on their resume and during the initial interview to raise their chances of getting hired. While the intention might sound all too innocent, this self-serving act of hiding your true identity can pass for deception.
When your recruiter or employer finds out that you are lying about your qualifications, you can say goodbye to your employment chances. Remember that this issue can haunt you for the rest of your professional life, and paint a dishonest individual of you.
Posts on Alcohol and Drug Use
The Recruiter Nation Report of Jobvite in 2017 revealed that more than 60% of recruiters consider record on use of illegal drugs detrimental to a candidate's hiring potential. It goes without saying, then that social media posts on drug use are not in any way acceptable.
Occasional alcohol consumption might tell a different story. College graduates hanging out and partying all night with that liquor bottle in tow is not exactly unheard of. But if you're applying for a job, say a teaching job at a school, you might want to rethink sharing photos of your shenanigans on social media.
Proudly posting on Facebook and Twitter about how you were so hyped the night before a job interview leaves a bad taste in the mouth. It is a crucial aspect of your job application, too! Pause before you post because whatever you put out there for the world to see has lasting effects, including in your career.
Nude photos
You may have that mindset that you are in full control of whatever is posted in your social media accounts, may it be decent or vulgar. But revealing or nude photos on Facebook, Twitter or Instagram leave a negative impression on your recruiter or employer.
It's true that one of the qualities that a company looks for in an applicant is self-confidence. However, if you are showing off that confidence by posting profane photos of yourself or other people, you might as well pour your job application down the drain.
Aside from losing your chances of landing on a high-paying job, you may end up being reported for unethical behavior because of these inappropriate social media posts.
Cyberbullying
In every practical sense, cyberbullying is unacceptable. Social media posts that show malice or profanity towards a fellow college graduate, or any other individual for that matter, may pose an undesirable impact on your hiring potential or present career.
While cyberbullying can ruin the person being attacked, employers know better. Expect your future or current employer to get to the bottom of it by determining the source those malicious posts. Upon proving that such posts do denote cyberbullying, it will raise questions about you and you can be sure your employers are quick to handle that.
As with any other bad behavior on social media, cyberbullying can cost you your future jobs a well.
Employer or Company Complaints
If you got the job and say you are ready for it, mean it. Keep your feelings to yourself–especially feelings of dissatisfaction that you withheld when you accepted the offer. If your job description or salary range does not meet your expectations, discuss it with your new boss. Posting complaints or rants regarding these details isn't only unprofessional; it is unfair to your employer.
Surmising that your complaints on Facebook or Twitter won't reach your bosses is absurd. Remember that in the interconnected world of social media, someone always knows someone. Regardless of your privacy settings, a coworker or an ex-employee is bound to see it. You can be sure it will reach your employer faster than you can say "sorry!" Instead of coming in to work for the first time the next day, prepare yourself for an email indicating that your job offer has been revoked.
Brent Curves, CEO of Stir Communications Group (a web-based marketing company in Canada), puts it quite well: "There's so much misinformation and confusion about 'privacy settings' on social networking sites these days, so a good rule of thumb is to operate under the opinion that everything is public, period."
If you feel compelled to share a thing or two about your job, do so without compromising your employer. If you can't seem to do that, best to just simply be quiet and keep your work out of your life on social media.
Job and Customer Complaints
Don't ever think of working under a certain company if you are to complain incessantly on social media about your job or your customers. Your negative posts regarding the customers you are serving put your company in bad light.
Badmouthing the company where you are in at present may affect your hiring potential negatively. But the thing about company or employer complaints is that it will eventually cost your future career. Don't be surprised if other companies don't shortlist you the next time you apply for a job.
If you weren't pressured into accepting your work, willingly accept it and well, do your job! If not, leave without badmouthing anyone–especially not on social media.
Inappropriate and Profane Remarks
It's true that we are free to express our opinions online but a responsibility definitely comes with it. Making discriminating or derogatory remarks about others, whether or not these actions are related to your work, definitely leaves a negative impression. Rude, malicious or insensitive comments are a reflection of your character as a person, and that extends to your attitude as an employee.
This behavior will definitely cost you your present job and ruin your chances of landing another. If you don't want your resume to end up in the trash bin, be mindful of your responses and comments on social media. What seems like a harmless comment can put a drastic end to your career.
Spelling and Grammar Flaws
We normally become too excited to post any significant event or milestone on our social media accounts. Reviewing them before posting may save readers the eyesore that is grammatical or spelling error, but did you know that properly crafted sentences and paragraphs have a profound and lasting impact on your professional career?
Misspelled words and erroneous grammar on your posts reflect back on you and the business you represent. In fact, 66% of employers not only pay attention to social media posts; they also hold strict grammar and spelling rules on them.
Whether you are applying for a big company or a small-scale business, it pays to make a good impression on your recruiters and employers. It's worth reiterating that a well-organized portfolio of previous works is not enough. A knockout resume that details your achievements and significant work experience won't get you to where you want either.
Your social media profiles matters more than you think. It can literally affect your employer's decision whether to hire you or not. Behaving appropriately on social media increases your hiring potential and can land you your dream job. And, on the contrary, a lack of sensitivity to or awareness of your company's social media posting rules excuses no one.
Here's what you can do to get ahead in the game: think ahead and be mindful of what you share on all your social media accounts. Bear in mind that your daily life, which you religiously chronicle through your social media platforms, says a lot about you–and your employers are more than just taking a quick peek.