Colleges and universities all strive for exceptional academic strength, impressive athletic programs, outstanding instructors and administrators, and the list goes on. Some exceed expectations in these departments; others make every effort to step up.
But here's where each academia stands out, with all of them being equally remarkable: their unique past and rich beginnings.
But as they say, with a rich, old history comes talk of spooky legends, ghost stories, and horrific tales that point to the paranormal.
Featured Programs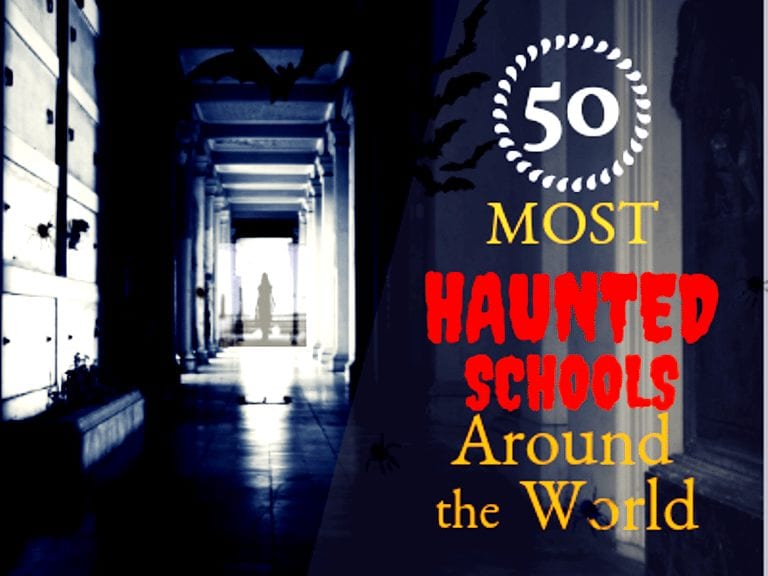 We put together 50 of the world's most haunted universities and colleges where witnesses swear by the eerie happenings that are sure to send chills down your spine and remind you never to roam the university halls by yourself!
To come up with this selection, we gathered information from a variety of sources, including:
The World University Ranking
Online Schools Center's 50 Most Haunted Colleges and Campuses
The Telegraph UK
In exploring our gathered data, we investigated further and took into account stories from the university's websites and blogs, and sorted out any relevant information on the local news, as maybe applicable.
Here's our final list of 50 haunted colleges and universities around the world—where the stories of horror are as scary—or may be even scarier—than student loans.
Page Jumps!
50. HARVARD UNIVERSITY
Harvard University may be a US Ivy League school that is recognized globally but apparently, there's more to it than just the prestige attached to its name. If its nearly-400-year-old walls could talk, they would likely be telling ghoulish tales of ghosts and gore that none of its 20,000 students could see–or explain.
An infamously haunted spot within the sprawling property of the country's oldest university is the Lowell House. Named after former president Abbott Lawrence Lowell, the halls of this undergraduate residential house is said to be haunted by his sister Amy Lowell, Pulitzer Prize winning poet who wished to go to college at Harvard but couldn't because women were barred from higher education during her time.
This ghost story is included in by Sam Baltrusis' book titled Ghosts of Cambridge: Haunts of Harvard Square and Beyond.
49. LOMONOSOV MOSCOW STATE UNIVERSITY
When talking about haunted universities and colleges in Russia, the scary tales within the halls of Moscow State University always top the list. Named after Chemistry professor and founder Mikhail Lomonosov, MSU was established in 1755. Under Joseph Stalin's dictatorial regime, the University was expanded and parts of its main building were constructed by Gulag prisoners.
Legend has it that one prisoner tried to escape. He reportedly hid amongst the massive construction supplies and equipment but ended up dying. Today, MSU has over 47,000 undergraduate, graduate, and postgraduate students–some of whom have said they heard sounds suggestive of construction work and bone-chilling cries on the university's topmost floors.
48. UNIVERSITY OF NORTH TEXAS
The University of North Texas is home to odd sightings and apparitions as well as strange, blood-curdling sounds from out of nowhere–at least according to legends. Bruce Hall, UNT's oldest residence hall, houses a mural in its lobby to chronicle the alleged ghost stories. The pool hall is dedicated to the infamous Wanda who, according to an age-old tale, was a young 1950s student who snuck herself into the attic to hide her pregnancy.
Different versions of the urban legend point to the different ways that Wanda died, including through an abortion gone wrong. While UNT insists no record of a Wanda exists, people who have had run-ins with the supernatural–from doors mysteriously shutting on their own to an inexplicable spooky presence–have no doubt UNT's Bruce Hall is haunted.
47. UNIVERSITY OF PRINCE EDWARD ISLAND
The Dalton Hall at the University of Prince Edward Island is believed to be haunted by a young student who froze to death during a storm in the 1960s after being accidentally locked out. A different version says the student broke his curfew and was not allowed to come back in despite the deadly snowstorm. His lifeless body was reportedly found by Dalton Hall's door.
Students and faculty report eerie experiences such as sudden gusts of cold wind across the hall, and watery footprints on the floor leading to the dead student's room. Today, UPEI has some 4,300 students. Some of them and the faculty have reported seeing the ghost of the student seemingly covered in snow.
46. NEW YORK UNIVERSITY
New York University, which has over 59,000 students, is notorious for its Brown Building that used to be the Triangle Shirtwaist factory. In 1911, it was caught in a tragic fire that killed 100 workers. New York City's "single most deadly industrial accident" started on the 8th floor but a worker named Yetta attempted to save her life by jumping to the 9th floor. She suffered from a broken spine and femur and died at the hospital.
It is said that her presence still haunts the 9th floor of the Brown Building where people have reported hearing odd noises and smelling smoke. Legend also has it that when Brittany Hall, one of the residence halls at NYU, was being constructed in 1929, it claimed the life of a student who fell down one of its elevator shafts. Ghostly sightings and ghastly groans were reported.
45. UNIVERSITY OF WALES
Most of University of South Wales' more than 23,465 students have heard of Big Bertha, the alleged spectre described as a six-foot woman who dons a brown overall and wears her hair in a bun. It is said to be Bertha Ramsey, who was mysteriously "found dead at the foot of the stairs" in January 1962″. It remained unclear if she plunged to her death on her own or was pushed in cold blooded murder.
Students and faculty have reported sightings of her in the halls. At night, security staff would hear the lift coming up and down with no one in it–to which they would say "Here comes Big Bertha!"
44. ACADIA UNIVERSITY
Acadia University's Seminary House is the oldest building on campus, and is one of the most haunted universities and colleges. In 1838, Acadia University was known as Queen's College, and the Seminary House was called Acadia Ladies' Seminary, which served as a counterpart to the men's college. Story has it that a resident in the Seminary named Constance had hanged herself on the second floor, a spot that today's nearly 4,000 students call "The Well".
Sightings of "Connie", the blonde Baptist ghost, have been reported and voices that are allegedly hers may be heard in the Seminary. Spooky as that may be, students and faculty are not exactly terrified of Constance the Sem Ghost; she is known to be gentle and polite.
There is a male ghost, though, that residents say is the exact opposite–he would push people down the stairs and even scratch them when taunted.
43. UNIVERSITY OF SANTO TOMAS
A 400-year-old institution and the oldest existing university in Asia, the University of Santo Tomas frequents the scary-schools list in the Philippines. The dead in the morgue with red tags coming to life and roaming the university's hospital premises like normal people, inanimate objects moving by themselves and getting aught on security camera, ghosts of suicide victims crying and traumatizing students, and the ghost of a Dominican priest roaming the on-campus Benavides Park are just some of the most spine-chilling tales that UST's 43,000 students usually talk about.
42. UNIVERSITY OF DENVER
Built within the University of Denver campus in 1932, the Mary Reed Building is said to be the center of strange phenomena with the wealthy philanthropist Mary Reed herself said to be haunting it. Sightings of her have been reported, as well as inanimate objects being thrown around and alarms going off for no reason. It's not uncommon for custodians and 11,000 students of this Hall to stay away from it at night.
Others say that there may also be other ghosts lurking, including an Margery Reed, and alumna (and Mary's relative) and Marcella Miller DuPont who donated the Mary Reed Building's study room.
41. TEXAS STATE UNIVERSITY
The number of Texas State University students has reached 38,000 but the campus' resident ghosts don't seem to be daunted by this number. Professors and students tell tales of bizarre sounds in Old Main, the university's oldest building. The Sterry Hall or "Scary Sterry" to students is where the ghost of a young girl is said to roam during the night. The ghost of Laurel Hall was said to have caused a resident assistant to jump to her death in 2011.
In an unverified separate incident, the architect's daughter reportedly jumped off Tower Hall and never left the building. The infamous Butler Hall seems to be the center of paranormal activity, with objects shaking or seemingly thrown on their own.
40. MAYNOOTH UNIVERSITY
The Rhetoric House of the Maynooth University is a scary place to be, if you ask some of its 13,000 students who are privy to the stories or actually experienced the inexplicable. The top floor of the Rhetoric' House, which is covered up for the most part, is called The Ghost Room.
This, according to legend, was where a young student slit his own throat. Because suicide was taboo in a Catholic country like Ireland, the school condemned the student's action and his body was buried in a separate grave within the campus.
It was said that years later, the same incident took place in The Ghost Room, and a priest who was sent to investigate even had a harrowing experience that sent him shrieking and scared out of his mind, even turning all his hair white! Bloodstains on the wooden floor are said to be evident in The Ghost Room to this day.
39. DOWNLANDS COLLEGE
Downlands College, a secondary coeducational school in Australia that was used as military quarters during the war, currently has about 900 students. Its share of spine-chilling ghost and gore stories include a man on fire within the campus, a woman that haunts the administration building, and a priest who roams the chapel.
In 2015, what people called a solid evidence of ghost stories being floated around Downlands College surfaced. It was an old photo of a class that captured a blurred white figure of what seemed to be a ghost of a boy.
38. PENNSYLVANIA STATE UNIVERSITY
With over 99,133 students, who would have thought paranormal activities would linger in Pennsylvania State University? At the Old Botany, one of the oldest buildings within the campus, the ghost of Frances Atherton could sometimes be seen peeking through the window which, according to legends, was she used to do to look at the grave of her husband, former university president George Atherton, located across the street.
The Pattee Library is also a scary spot to be alone at in Penn State, considering it was where the unsolved murder of graduate Betsy Aardsma happened in November 1969. Also sparking tales of paranormal activity are the university's Ghost Walk, a secluded spot; and the Schwab Auditorium.
37. COE COLLEGE
At Coe College where there are about 2,000 students, stories of a young college student named Helen send shivers down the spine. It was said that Helen stayed at Voorhees Hall, a seven-floor women's residence dorm, and died of the flu pandemic in 1918.
Reportedly, to this day, Helen would be seen on the grandfather's clock that her family donated. She would be seen floating to the Coe College lobby, playing the piano, and revisiting her old room. When the clock was transferred to Stuart Hall, Helen reportedly would be heard slamming doors, and even appearing as apparition to many women residents.
36. UNIVERSITY OF ALASKA ANCHORAGE
While crowded with over 20,000 students, the University of Alaska Anchorage is reportedly a site of paranormal activity. The Wendy Williamson Auditorium, a haunted spot, is purportedly home to John Wendell "Wendy" Williamson himself, the college music professor after whom the building was named.
Psychics have also reported the presence of five other beings in the auditorium: a shadowy man who would be seen back stage, an angry man who is reportedly unfriendly with brunettes, a teenage man who is kind, a white lady who may have been a performer, and a little girl who is usually heard giggling around.
35. GUJARAT TECHNOLOGICAL UNIVERSITY
Gujarat Technological University is one of India's famous universities that, reportedly, is frequented by ghosts and paranormal beings. The most recent one was in 2013 that shook GTU's 400,000 students and faculty.
There were stories of a wailing woman heard by security staff at night. It was also reported that furniture and other objects were violently thrown around in classrooms, doors would open and close on their own, and there was an eerie presence inside the elevator even during at daytime.
34. UNIVERSITY OF ABERDEEN
The University of Aberdeen has 15,000 students, most of whom may, at one point, have cautiously talked about the famous ghost of a young girl wandering the campus. Legend has it that the ghost used to haunt the White Dove Hotel where she reportedly showed herself to the nurse of an ill actress who was staying there at the time.
Even as the hotel was torn down, she reportedly never left her haunting spot. To this day, students and faculty at Aberdeen University would hear the giggling of the young girl and sometimes see her wearing a dress and a hat that covered her face, and playing by the pavements.
33. DE LA SALLE UNIVERSITY
De La Salle University, formerly known as De La Salle College, was established in 1911. During World War II, the nearly 137,000-square-meter campus grounds were seized by the Japanese forces and converted into defense quarters. This part of DLSU's history may well be the reason why the university is rife with stories that spook its 20,000 undergraduate and postgraduate students and faculty.
The Student Personnel Services (SPS) building is said to house an elevator where a student reportedly died of suffocation and was found only after a weekend. Students and professors would feel an eerie presence and even faint while inside the SPS elevator, which has since been abandoned.
The Lab Room, the Miguel Hall, the ladies' room at St. Joseph Hall, and the Band Room are also reportedly haunted by spirits that manifest their presence by moving inanimate objects.
32. UNIVERSITY OF ILLINOIS – URBANA-CHAMPAIGN
The centers of paranormal activity at the University of Illinois Urbana–Champaign are the English Building where a heartbroken young lady who reportedly took her own life would roam the halls; the Lincoln Building where a ghost would typically be seen looking out the window after class hours, and, the Psychology Building where a student who jumped off the building and died only years later is said to haunt.
While not all of University of Illinois' 34,000 students are convinced, stories of unexplained temperature drops, eerie voices, and footsteps in hallways have been circulating for years.
31. CHESTNUT HILL COLLEGE
With nearly 2,000 students, Chestnut Hill College is home to entities that no naked eye could see. The third floor of the Fontbonne Hall is where the ghost of a girl who died in the 1973 flue epidemic roams with a male spirit. The Fournier Hall is also called the "Red Eye Room" because according to legend, two red eyes float in the room at night.
The Logue Library is allegedly situated above a cemetery. Could it be the reason why books and carts inside the library move on their own? Decades ago, a young nun who was allegedly pregnant with a priest's child took her own life by jumping off the fifth floor of St. Joseph's Hall. Her spirit is said to continue to haunt the area.
30. UNIVERSITY OF DHAKA
University of Dhaka, the oldest university in modern Bangladesh, has more than 31,000 students who most likely know the spooky on-campus tales being told. The most notorious spot of paranormal sightings are in the Shahidullah Hall Pond, an old connecting the Shahidullah Hall at the Dhaka University campus. The area is reportedly haunted by individuals who have drowned and died in the pond.
29. UNIVERSITY OF NOTRE DAME
Over 8,000 students at University of Notre Dame know their very own football legend George Gipp. He died of pneumonia in 1920 but it is said that his ghost continues to roam the Washington Hall. There are allegedly sounds of footsteps, doors slammed, and even pushed students.
The Main Building is also said to house the spirit of Fr. Edward Sorin, the university's founder. There are also talks about a steeplejack plummeting to his death in 1886, and a student professor who died in 1919.
28. DREW UNIVERSITY
Drew College was founded as a seminary in 1867 and turned into graduate studies school before finally becoming the college that it is to more than 1,350 students. Over the years, ghost stories have hounded the centuries-old institution centered mostly on the notorious Craig Chapel, where security officers would hear tunes being played at unholy hours when no one is in there.
A dark-haired woman would also be seen roaming the attic of Hoyt-Browne, one of the school's oldest dormitories. In the same building, students and even administrators report personal things disappearing and eventually appearing later on.
27. TRANSYLVANIA UNIVERSITY
What lurks within a 36-acre institution built in 1780? The creepiest of stories, if you ask Transylvania University's 1,050 students. The name Transylvania brings to mind the land of bloodthirsty vampires, but in the case of this Lexington-based university, the term means "across the woods", where the building actually sits.
According to legend, the school was cursed by Constantine Rafinesque, a former botany teacher and French and Italian tutor in the academe who was ousted by the Board after an argument. Disgruntled, he announced he put a curse on Transylvania University before dying of Yellow Fever.
Students have reported seeing the ghost of a student who allegedly committed suicide and a male who would stand at the foot of their bed and vanishing before their eyes!
26. BALL STATE UNIVERSITY
Now about 100 years old, Ball State University currently has 15,600 students–many of whom will attest to stories of the Bracken Library being notoriously haunted. Untoward happenings include doors that won't open, as if someone on the other side was pushing it.
There are also reports that someone could be heard "singing" in the middle of the night. Students also hear strange noises and tables or even feet being dragged within the university's Elliot Hall. They blame it on a certain William Carl Schaumburg, a man who had a disfigured face and was heartbroken after returning from the war, allegedly hanged himself there in 1947.
25. MORAVIAN COLLEGE
If you brave the isolation in the Main Hall of Moravian College's Priscilla Payne Hurd Campus, the women's dorm, you are likely to find ghosts of a Revolutionary War nurse, a young girl, and a cat. A young boy also reportedly died there and haunts America's sixth oldest college. Showers turning on in the middle of the night is quite common.
The Brethren's House, which used to be a hospital for American soldiers during the Revolutionary War, also has its fair share of terrifying events that some of its 1,800 students attest to, such as extremely loud sound similar to noises made by a train passing or numerous carts rolling all at once.
24. UNIVERSITY OF NORTH BENGAL
Stories of a "ghost in white that only appears at night" shook the students of the University of North Bengal in Siliguri, India. School officials have dismissed the alleged ghost photo as fake but some insist there is more to it than just a wild prank.
Talks have it that there is something ominous about the forest right next to the campus, where residents also report hearing strange noises at night and certainly avoid the area!
23. UNIVERSITY OF EXETER
The University of Exeter is not only popular for being the Alma Mater of J.K. Rowling, among other celebrities. It is also one of Europe's most famously haunted spots. It is said that the ghost of a workman can be seen wandering the corridors in the middle of the night.
Witnesses who reportedly saw the apparition gave similar descriptions of him: he was dressed in paint-splatted overalls and held a paint pot and a brush. Stories about his alleged death vary but talk mostly of contract killing. Most of the 22,000 students at Exeter University believe he is there to finish the painting job.
22. SALVE REGINA UNIVERSITY
Salve Regina may have earned university status only in 1991 but the buildings were erected in 1934 making them a bit of a decade shy of 100 years old. The mansion-like, mystery-filled structure of the school–complete with passageways and secret rooms–even made it the perfect filming spot for ABC's Dark Shadows.
The Carey Mansion, which Salve Regina leases as an academic facility now used by its 22,000 students, is allegedly haunted by a nun who killed herself there after being impregnated by a priest. There are also ghosts of individuals who had illicit affairs that ended in tragedy and resulted in their suicide.
An exorcism had also been performed on the Watts-Sherman dorm after students reported that strange things were constantly happening.
21. FLAGLER COLLEGE
The 19-acre Flagler College was founded in 1968 and is now attended by 2,700 students. Strange happenings include a black figure of a woman standing at the foot of students' bed and staring at them.
There is also a famous legend of a little boy who died while playing on the rotunda's balcony and continues to play in the middle of the night. Students and faculty say they often hear his random stomping at the Hotel Ponce de Leon Hall, which used to be a lavish hotel for the elite.
20. UNIVERSITY OF TOULOUSE
What spine-tingling secrets does a nearly-800-year-old building hold? As one of France's oldest universities, this academe has has more than its fair share of terror. Legends say criminals during the Medieval Times were burned at the stake on university grounds.
There were also guillotine executions in this school during the French Revolution. It is no surprise to Toulouse University's 105,000 students, then, that ghosts appear in medieval attire such as those of French soldiers in a residence hall who reportedly just marched away and vanished. Students also report smelling gunpowder in certain sections of the campus at times.
19. UNIVERSITY OF SOUTHAMPTON
Today, there are 23,000 students at Southampton University. Would you dare be alone when you know it's built on ancient Indian burial ground? The Avenue Campus reportedly has a female specter that haunts it from time to time.
Footsteps across empty classrooms, the sound of moving furniture, and hands sticking out from the toilet door are just some of the hair-raising ghost stories within the halls of the 150-year old university!
18. SALEM STATE UNIVERSITY
Founded in 1854, Salem State University continuously baffles (and scares!) its 7,000 students and faculty with inexplicable happenings. Some of the reported incidents include a bed violently shaking and loud banging sounds in Room 222 of the Bodwitch Hall.
It is also said that a student who killed herself and a black figure haunt the Gramely Hall. The Gramley Library is where two ladies were reportedly electrocuted and continue roam the area. The lift inside Clewell Hall is haunted by a girl who died there. In Babcock Hall, there is a haunted portrait that everyone avoids.
17. UNIVERSITY COLLEGE LONDON
The University College London, founded in 1826, is haunted–that is, according to some of its 215,000 students who have had the unfortunate supernatural experience. A famous phantom is that of a young girl they call Emma Louise who would appear if her name is called three times. Legend has it that she was killed in the tunnel connecting the new UCL building that accommodates students and the Cruciform building.
Another ghost is reportedly that of university founder Jeremy Bentham whose preserved "auto-icon" body–consisting of his skeletal remains wrapped in straw and other materials with a waxed figure of his head and dressed in his finest clothes–is stored in a glass case at the university. There are stories of him being seen roaming the corridors. The sound of his walking stick being tapped could also be heard.
16. DURHAM UNIVERSITY
Now 180 years old and with 17,500 students attending, Durham University is continuously becoming a spot for unexplained sightings. Frederick Copeman, a student in the early 19th century, was said to have plunged to death from the Cathedral tower after failing in the final exams.
Tragically, the truth was that he in fact was top of his class, only he didn't find his name on the list that was obscured by a separate sheet! Students say they sometimes hear footsteps right above the Black Staircase, which used to be Copeman's room in Durham Castle. Currently, Room 21 is said to be center of ghoulish activity and have people wondering if it, in fact, was Copeman's old room.
15. UNIVERSITY OF NORTHERN COLORADO
The University of Northern Colorado's 9,000 students are no stranger to ghost stories on campus. UNC usually makes it to various haunted schools lists mainly because of the ghost named Edith, a bullied resident who supposedly killed herself in the attic. It is said that to this day, Wiebking and Wilson Hall residences harbor her spirit, manifesting through unexplained movements of inanimate objects.
Other popular specters are those of a dead janitor and a murder victim haunting Harrison Hall and the Tobey-Kindel dining hall, respectively. While these talks live on, UNC confirms no records exist to confirm these deaths.
14. ATENEO DE MANILA UNIVERSITY
The Ateneo de Manila University was founded in 1859. It was a World War II military camp and war hospital, and–even scarier–has a cemetery right below it.
Ghost stories include the phantom of a woman who was hanged and died in a praying position, dwarves, mythical beings, spirits of lovers who killed themselves, ghosts of Japanese soldiers, and the presence of an otherworldly portal at Court 4. It is said that even with some 15,000 college students roaming the university, restless souls still wander the Cervini Dormitory, the Gonzaga Hall, and Bellarmine Hall.
13. PEKING UNIVERSITY
The very first comprehensive national university in modern China, Peking University was founded in 1898. In 1989, a gruesome massacre took place amid the Tiananmen Square demonstrations. The Chinese army gunned down possibly thousands who, according to today's PKU students and staff, haunt the university's walkways and halls.
Ghost sightings, strange smells, and unexplained screams within classrooms, dorms, and specific spots across the 274-hectare campus grounds have been reported.
12. OHIO UNIVERSITY
Now 214 years old, Ohio University is said to be harboring ghosts and ghouls. The site used to be the Athens Lunatic Asylum, has an underground Native American cemetery, and is found right in the center of a Pentagram of burial grounds. The notorious Room 428 of Wilson Hall is reportedly extremely haunted.
It was there that a student in the 1970s was reportedly possessed; she was acting strangely and spoke in strange languages before jumping to her death. Also a famous legend is that of a certain Margaret Schilling, an asylum patient in 1978 whose dead body was found on the now-abandoned top floor of the university's museum and art center.
11. BENEDICTINE UNIVERSITY
Benedictine University's 130-year-old ghost tales include that of an unknown young boy wandering the campus, a clergyman roaming the 4th floor, and unexplained voices being heard in the art wing. A possessed student was said to have been exorcised on the 5th floor and ghosts of children are haunting the Jaeger Hall at unholy hours.
Also reportedly captured on camera are the ghosts of a little girl and a little boy at the Neuzil Hall. Benedictine University students and residents are used to televisions inexplicably changing volumes.
10. FORDHAM UNIVERSITY
Over 175 years and Fordham University lives on–and so do its ghosts and ghost stories. Even more terrifying is that the site used to be that of a hospital. Paranormal activities and encounters have been reported in Martyr's Court where a blonde girl lurks behind the bathrooms and in Hughes Hall where The Exorcist was filmed.
Also, the ghost of a dead construction worker wanders O'Hare Hall and in Collins Auditorium harbors the ghost of Johnny Collins whom the auditorium was named after. Lastly there's Finlay Hall, which used to be a morgue. It is haunted by ghosts that wake residents up in the middle of the night.
9. UNIVERSITY OF CAMBRIDGE
Founded in 1209 and the world's fourth oldest surviving university, the University of Cambridge is globally recognized for its academic strength. But academic prestige is just one side of the university; it is said to be a paranormally active campus.
Witnesses say they saw the floating head of Oliver Cromwell, Scotland Commonwealth's Lord Protector and political leader whose body was subjected to posthumous execution. At Peterhouse, the oldest Cambridge College, an 18th Century exorcism was performed to send the "dark presence" away. It is also there that the ghost of a bursar who killed himself in 18th Century is usually spotted.
8. UNIVERSITY OF ALABAMA
The University of Alabama, founded 187 years ago, is rife with ghost stories. It is said that the Gorgas House, one of the oldest buildings in the campus, is being haunted by Josiah Gorgas, former university president.
Students and faculty would sometimes hear footsteps and the clanging of his sword. Her wife Amelia Gorgas, after whom the Library was named, is also believed to be wandering the 4th floor. Rumors also have it that the ghosts of Union soldiers haunt the Little Round House, which is attached to the Amelia Gorgas Library.
Another haunted building is the Alabama Natural History Museum where the carriage of former state geologist Eugene Allen Smith would be seen rolling down the hallways on its own. The Marian Galloway Theatre also harbors the ghost of Marian. Legend says theater artists who ask "How's my blocking, Miss Galloway?" would see her apparition.
7. CHINESE UNIVERSITY OF HONG KONG
The Chinese University of Hongkong China may be a young, massive establishment founded only in 1963 but there's no denying strange things have been happening there. A popular story is the ghost of a 12-year-old boy, reportedly the son of a foreign lecturer who drowned in the pool. Sometimes they would see the ghost of him drowning and asking for help.
The ghost of a girl with braided hair is also frequently seen on campus. She reportedly jumped off the train near the university and died. Another haunting story is that of a brokenhearted boy who electrocuted himself at the Grace Tien Hall.
6. UNIVERSITY OF TORONTO
The University of Toronto's ghost stories begin with two stonemasons who tried killing each other over a woman. One of them, Ivan Reznikoff, died and his body was buried on campus. To this day, it is said that his ghost roams UC.
Other buildings within the 191-year-old campus that are reportedly haunted include the Hart House Theatre, the Laidlaw Library, the Christie Mansion, Massey College, and the Wallberg Building. Students, professors, and even security staff would hear banging from empty rooms, objects mysteriously moving, and specters that suddenly vanish into thin air.
5. UNIVERSITY OF OXFORD
University of Oxford is considered the world's oldest university, existing in as early as 1096. It is said to be haunted by a headless figure, which students say could be that of King Charles I. The terrifying ghost could be seen frequently roaming the grounds of Christ Church College.
The spirit of the University of Oxford's Catholic Master Obadiah Walker is also said to be wandering the University. The St. John's Library also allegedly harbors the ghost of Archbishop William Laud, who was beheaded in 1645.
4. NAGASAKI UNIVERSITY
Nagasaki University was built in 1949 but its medical school existed in as early as 1857. Horrifying ghost stories all point to the atomic bomb tragedy in August 1945 that claimed the lives of more than 800 students, professors, and medical staff. Hair-raising paranormal experiences and encounters include the smell of burning flesh and horrific screams that can be heard within the campus.
3. UNIVERSITY OF ST. ANDREWS
The University of St. Andrews, founded in 1413, is the first university in Scotland. Besides the academic prestige that it is known for, the university also makes it to another list: haunted places–as it is home to poltergeists and restless souls.
Notorious sightings include the gentle spirit of a golfer who reportedly haunts St. Andrews Old Course. They say the "ghost golfer" is that of 19th century Open Championship winner Tom Morris. Another ghost is said to be that of Patrick Hamilton, Scotland's first martyr of the reformation, who was burned at the stake near the St. Salvator's Chapel.
Other specters include the Veiled Nun that haunt St. Leonards, the kind monk wandering St. Rule's Tower, and the white lady who would occasionally be seen waving a handkerchief from the St. Rules Tower.
2. HEIDELBERG UNIVERSITY
Heidelberg University has a long and dark history. It was founded in 1386 but students, faculty, and spectators blame the paranormal events to the terrors under Adolf Hitler's reign. Rumor has it that the women who were forced to undergo sterilization in the university's clinic, making it of the world's creepiest places on campus. It is said that in this specific spot, the haunting screams and cries of women are often heard.
Also, the University Square was where the Nazis burned books in 1933, and it is where students say they smell burning leather and smoke. The lecture halls at Heidelberg University are also reportedly haunted by the ghosts of professors who were murdered. They are said to manifest their presence through chalkboards that erase themselves and words written on the board overnight when the classroom is presumably empty.
1. GETTYSBURG COLLEGE
What do you get when you have a 186-year-old building marked by the history of gore and violence of the Civil War? An extremely haunted university is what! The Gettysburg College used to be a hospital for wounded soldiers of both the Confederacy and the Union. It's little wonder why countless accounts of sightings around the campus have been reported.
A famous story is that of the Lone Sentinel, which presumably is the ghost of a soldier who would be seen marching the Penn Hall. Some college staff said they once used the lift to reach the first floor of the building but were instead taken to the basement. In there, they felt trapped in a time warp, and before their eyes were what seemed like a hospital scene with wounded soldiers and doctors attending to them.
---
Frequently Asked Questions
What qualifies a university for the title of "Most Haunted?"
Some common factors that may warrant a university the title of "most haunted" include a long history of reported paranormal activity, a high number of ghost sightings, and a reputation for being a particularly spooky location.
What is the most haunted experience recorded by a university?
One of the most haunted experiences recorded by a university includes the hauntings of the University of Virginia. The most famous of these hauntings is that of the ghost of Edgar Allan Poe, who is said to haunt the Rotunda, the university's main building. Other reported hauntings include a ghostly figure roaming the grounds of the school and a spirit who haunts the university cemetery.
Should I be reluctant to attend a so-called "haunted" college if they offer the programming I need?
That really depends on your personal feelings about haunted places. Some people find them thrilling and are drawn to the mystery and the atmosphere. Others might find it a bit too much and be scared away.
Ultimately it is up to you to decide if the programming offered by the college is worth the potential risk of feeling apprehensive. Without a doubt, you won't want a distraction that will limit concentration in your studies!