The increased dependence of organizations, corporations, and businesses on technology comes with a great need for competent individuals in the field of Information Systems.
This is when an online Bachelor's degree in Information Systems Security comes into play. Online Information Systems Security courses cover safeguarding different online platforms and software used in various trades.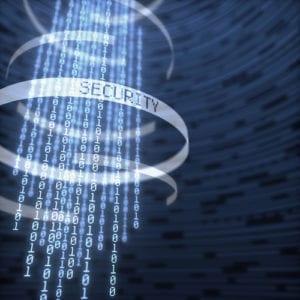 The online Information Systems Security program primarily focuses on regulating access to critical information in company databases. It also promotes limited access to information systems to ensure databases and computing platforms are only accessed by authorized personnel.
Featured Programs
A wide range of high-paying and stable career opportunities await successful individuals earning an online Bachelor's degree in Information Systems Security. These include jobs that promote cybersecurity, manage information systems, and analyze online network platforms.
Page Jumps!
**********
METHODOLOGY
Our 10 Best Online Schools for Bachelor's in Information Systems Security comprising of top online colleges and universities that offer the undergraduate degree online with their top-of-the-line features. Quality education is assured with the type of virtual learning platforms on which the classes are held.
Listed randomly, each choice mentions the rigorous coursework, extensive curricula, and stringent admission and graduation requirements that characterize each of the online programs. Comprehensive and up-to-date, this online degree in Information Systems Security will equip and prepare individuals with valuable knowledge and strategies to avoid breaches that are detrimental to business and inter-organization operations.
Because Information Systems Security is an extremely relevant profession in this day and age, it is vital that adult learners choose the best online schools that allow them to acquire the skills they need in the least amount of time possible. As such, this list also explores accelerated degree or fast-tracked degree options for students.
The best online schools on this list reveal the potential career pathways students can choose based on their field of specialization or concentration. Program tuition rates are also disclosed, as well as, the following factors:
Provides programs available in a convenient, easy-to-use 100% online format, accessible from the comfort of your home,
Instructs in the coursework required to meet the needs for Information Systems Security by combining technical skills with theory,
Prepares students for careers in Information Security, Risk Assessment, Information Consultant or Analyst, among many others,
Ensures coursework pursuant to today's market in the field of Information Systems Security,
Sharpens communication, logical and critical-thinking skills,
Offers a variety of Financial Aid options designed to fit the working adult's budget,
Properly Accredited to guarantee a quality education,
Refines computer skills applicable to Information Systems Security,
Displays positive student reviews and retention rates no lower than 50%.
To learn more, please see our Methodology page.
**********
Best Online Schools for Bachelor's in Information Systems Security
American Public University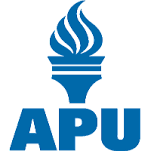 Bachelor of Science in Information Systems Security
The online Bachelor of Science in Cybersecurity coursework at the American Public University in Charlestown, West Virginia involves the theoretical and technical categories of learning to hone competent individuals in the field of technology and information systems. APU raises student awareness of and prepares them for possible threats and breaches to software and online platforms.
They are trained to manage and handle these circumstances competently. The objective of the 120-credit hour online degree program of APU is to help students strategically formulate logical solutions to secure information systems required in different trades and enterprises. Students enrolled in the online program will also be able to further their knowledge and skills on how to effectively calculate the risks of information system breaches.
To aid in the prevention of possible threats, students are taught the right methodologies to prevent and remedy information systems and network-related problems. Students make a well-thought choice of bachelor's degree as the online curriculum makes available a wide array of concentrations. Individuals who wish to enroll may choose from the:
cloud computing,
cybersecurity,
homeland security,
cyber intelligence,
digital forensics,
wireless and mobile security,
cybercrime investigations,
and other general concerns.
---
Strayer University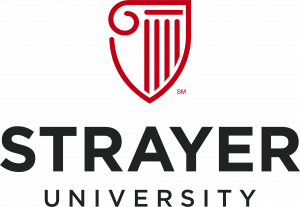 Harness the power of technology to get career-building skills with an IT degree from Strayer. This program helps you develop expertise in your chosen concentration and grow as an information technology professional. Choose from concentrations in:
cybersecurity,
data analytics,
data management,
IT project management,
networking, or software development.
Standard tuition for this online undergraduate program is $1480 cost per course.
---
Western Governors University

Online Bachelor of Science in Cybersecurity and Information Assurance Curriculum
Western Governors University is a state-based university accredited by the Northwest Commission on Colleges and Universities (NWCCU). WGU provides quality 100% online courses across Indiana, Missouri, Nevada, Ohio, North Carolina, Tennessee, Texas, and Washington. Among the many online course programs offered by the university are an online Bachelor of Science in Cybersecurity and Information Assurance curriculum.
The focus of the online course format is more on developing protective and preventive measures to help preserve valuable data that help run organizations, businesses, and enterprises. WGU prepares students for better job opportunities like security operations specialist, cyber threat analyst, information analyst, and a lot more.
While learning about cybersecurity and information assurance online, students may take advantage of earning certifications relevant to the online bachelor's degree. These include but are not limited to:
Certified Encryption Specialist (EC-Council ECES),
Certified Internet Webmaster – Web Security Associate (CIW-WSA),
and Certified Cloud Security Professional (CCSP) – Associate of (ISC) ² designation.
---
Penn State World Campus

Bachelor of Science in Security and Risk Analysis Online
Penn State World Campus offers an online program for a Bachelor of Science in Security and Risk Analysis. What makes the online bachelor's degree program of the university unique is that students have the option to pursue the program with an opportunity in Information and Cybersecurity. Penn State takes pride in increasing awareness among its students on the ins and outs of cyber threats and cybersecurity.
With the growing number of private sectors and government entities becoming dependent on computer technology, Penn State has developed a way to counter malware and malicious software access through its comprehensive online degree program in Security and Risk Analysis.
The online program requires enrollees to complete 120 credit hours with tuition ranging from $620-$664 per credit. The online Security and Risk Analysis curriculum is ideal for students who wish to be deployed in the areas of:
intel analytics,
cyber-intelligence,
cybercrime prevention,
and many more fields encompassed by computer technology in general.
---
University of Illinois, Springfield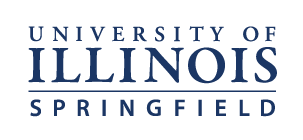 100% Online Bachelor's degree program in Information Systems Security
University of Illinois, Springfield offers a 100% online Bachelor's degree program in Information Systems Security under its Computer Science department. Students seeking to further knowledge and skills in computer technology may take advantage of the comprehensive curriculum of UIS.
The core courses of the online program focus more on the introduction of networks and the principles and concepts behind them. This way, students can fully grasp the objective of the university to safeguard information systems and develop protective software to maintain the integrity of data used among many technology-advanced enterprises, corporations, and institutions.
At UIS, students learn more about software engineering and its many benefits in keeping up with today's technology standards.
---
Robert Morris University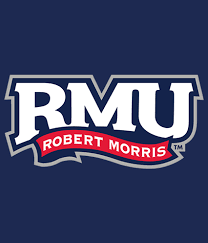 Online Bachelor of Science in Cyber Forensics Info Security Program
Robert Morris University is one of the many sought-after universities in Pennsylvania offering a fully online Bachelor of Science in Cyber Forensics Info Security program. RMU's online curriculum has a general concentration under its Computer and Information Systems program. Students who wish to earn a degree in Cyber Forensics Info Security at RMU will primarily learn the basics and are soon able to apply the different techniques practically and interrelatedly.
The program also focuses on teaching students more about technology in general and its uses in businesses, government sectors, and even small organizations. Once a strong foundation is developed through the online course format, students will proceed to learn more about the significance of risk management and software vulnerability detection.
---
Charter Oak State College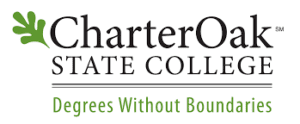 Online B.S. in Cyber Security Degree
Charter Oak State College in New Britain, Connecticut offers an online course format for interested students seeking to pursue a Bachelor of Science in Cyber Security degree. The online degree program prepares students to deal with hacking situations that are rampant in organizations, private institutions, and government information systems.
To get started, students will only have to enroll in an introduction to computer science course that explains critical terms to understand the program more. To graduate, a student must complete 120-credit-hour coursework that already includes electives, general education, and liberal arts.
Graduates under the online Bachelor of Science in Cyber Security program will be competent in comprehending computer technology terminologies. This will be an advantage for successful students to apply skills in data protection, information systems security, and malware issues.
Career paths awaiting graduates of the online Bachelor of Science in Cyber Security at Charter Oak State College included:
systems security analyst,
cryptanalyst,
web application developer,
data security analyst, and more.
---
Grantham University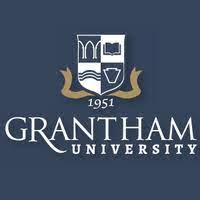 Online Degree Program-Bachelor of Science in Cyber Security
Grantham University is a university in Lenexa, Kansas that offers an entirely online degree program in Bachelor of Science in Cyber Security. The university guarantees quality online education to individuals interested to complete courses related to computer technology and cybersecurity. Recognized by the Distance Education Accrediting Commission, the university offers online core programs in operating systems, information systems architecture, computer networks, and risk management to mention a few.
Students are required to earn a total of 120 credit hours to receive the online bachelor's degree fully. Student learning outcomes under the online degree program primarily include the application of knowledge in mathematics to the particular discipline.
Students also emerge as experts in the implementation and evaluation of computer-based systems, fast identification of information system attacks, and information system protection strategy. At the end of the program, students are expected to integrate their core professional competencies in:
communication,
collaboration,
professional and social responsibilities,
critical thinking/problem solving,
career management,
and data aptitude.
---
Lewis University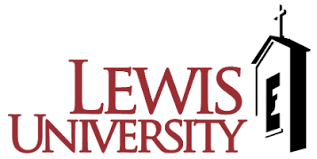 B.S. in Information Security and Risk Management Degree Program-Online
Located in Romeoville, IL is Lewis University, a university that offers an online accelerated Bachelor of Science in Information Security and Risk Management degree program. The prime objective of the online program is to develop committed and dedicated individuals who seek to become part of a greater force that significantly helps in resolving hacking and malware issues in society such as in private institutions, big or small enterprises, and government agencies.
Through the online program of LU, students learn to strategize and implement the security measures needed to protect valuable data laid on information systems. The online curriculum offered by Lewis University is comprehensive and extensive enough to include:
telecommunications and network security,
security management practices,
IT operations security,
business continuity,
IT laws,
ethical hacking,
computer forensics,
and data discovery.
Students who choose to undertake a particular online program will also earn certificates that will significantly help in securing more stable jobs. Certifications in Certified Ethical Hacker (CEH), Certified Information Systems Auditor (CISA), and Certified Information Security Manager (CISM) await successful students of the online Bachelor's in Information Security and Risk Management at LU.
---
Wilmington University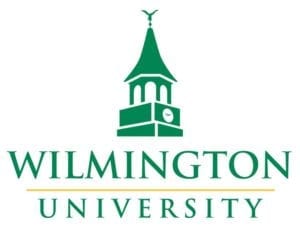 Bachelor of Science in Computer and Network Security course Online
The online Bachelor of Science in Computer and Network Security course program at Wilmington University in New Castle, DE is ideal for students who wish to make a difference following the widespread threats of information system hacking these days. At WU, students are not only taught the basics of computer and network security but students are also trained to develop efficient ways to counter hacking and unauthorized access to different vulnerable information systems.
There are various competencies that students acquire under the online program. These include but are not limited to the application of ethical principles which are a standard requirement for computer professionals, employment of current processes to analyze how to go about cybersecurity projects, and evaluation of the necessary information before considering such as valid and legitimate for information systems.
With a degree in Computer and Network Security, students may become a:
computer crime investigator,
ethical hacker,
digital forensic examiner,
incident analyst,
network analyst,
penetration tester,
or information security analyst.
***
Frequently Asked Questions
How much do I pay for an online Bachelor in Information Systems Security program?
Tuition rates for an online Bachelor's in Information Systems Security may vary depending on the school. On average, students pay anywhere between $20,000 and $70,000.
What jobs are available to holders of a Bachelor's in Information Systems Security degree?
With the different areas of concentration made available by the different Information Systems degree programs of different schools, a wide range of jobs await graduates of the degree. One can work as a:
cybercrime investigator,
an ethical hacker,
web developer,
IT inspection specialist,
and even as a security risk analyst.
How much do Bachelor's in Information Systems Security graduates make?
The U.S. Bureau of Labor Statistics reveals that the potential income of Information Systems Security graduates at an average annual rate of $114,297