Organizations and companies, whether in the private or public sector, benefit from good Public Relations work. Unlike marketing and advertising, Public Relations as a degree and discipline exposes businesses and organizations to a specific audience by arousing public interest and providing information through free avenues.
For education and training, colleges and universities around the country now offer Public Relations degree programs fully online. Essentially, it allows aspiring PR specialists to finish the courses at their convenience and enjoy the flexibility of distance learning that lets them keep a healthy balance between college and career or other personal obligations.
Many people associate PR work with a variety of tasks that need to be completed in a fast-paced environment. To many, PR experts gain access to special events and enjoy perks and freebies that are exclusive only to them. The truth is, it's not all that charming a job! PR is a demanding career that requires optimum focus and a lot of strategizing to generate the best results for clients. It requires long working hours and endless writing.
Students who wish to take up a Public Relations degree in college can expect a bright future in the years to come. The need for PR professionals is set to increase by 7% by 2028, according to the Bureau of Labor Statistics. This is in part due to the dominance of digital technology, mainly social media, and how it shapes public opinions and perceptions. As of 2019, the media annual wage for public relations specialists was $61,150, says the BLS.
QUICK LINKS
Best Online Schools for Public Relations
METHODOLOGY: Public Relations degrees are offered in many schools across the United States, but not all of them are created equal.
In order to find the best degree program and school for you, it is best to set benchmarks such as school accreditation that generally denotes high standards of education.
Another paramount indicator of excellent academic standards is the rigorous coursework delivered in an online, condensed format.
It is equally important to consider the virtual learning platform that makes access to all curriculum requirements easy and offers online support for students.
Distance learners need not settle for less than the best online schools that provide affordability in cost.
As well as, student satisfaction,
and, finally, admission and graduation requirements
In coming up with this list of the 30 Best Online Schools for Public Relations for 2021, all such benchmarks were taken into account. The information provided on this list are based on the academic institutions' official websites and the National Center for Education Statistics-College Navigator.
***
Old Dominion University
Online BS in Communication
Having accumulated 30 years of experience in distance learning, Old Dominion University in Norfolk, Virginia is one of the top schools when it comes to high-quality online degree programs. Students can trust the university to prepare them for their next steps to a brighter future, whether they attend classes online or earn their degree in the community college partners.
One of their online degree programs is the Bachelor of Science in Communications with an option of Public Relations as concentration. For the public relations field, communication is valuable, both in verbal and writing. In this degree program, students' verbal and written skills are further developed so they will be able to thrive in their chosen career. With small-sized classes and award-winning faculty, it is not hard to see why this university is a great choice for online learning.
The B.S. in Communications requires students to complete 120 total credit hours, comprised of a complete set of core communication courses and courses from the public relations concentration.
---
Drexel University
Online BS in Communications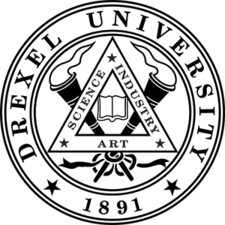 Students who look for an exceptional online learning experience will find Drexel University an ideal choice. Located in Philadelphia, Pennsylvania, this university is a top-ranked, regionally accredited institution known for its interdisciplinary approach to applied education. They combine practical knowledge for professional success.
Their Bachelor of Science in Communication is an excellent option for those who want to study public relations. The program is designed to prepare students for senior level positions in any corporation or organization. Delivered fully online, this degree begins with a common core of courses emphasizing communication theory and methods before delving into the Public Relations concentration.
The latter covers a broad range of activities instrumental in effectively addressing communication and relationship challenges that arise. Some of the common topics tackled in the program include journalism, mass media and society, public relations, new technologies in communication, and publication design.
---
University of Memphis
Online BA in Public Relations
A learner-centered metropolitan research university providing high-quality educational experiences, the University of Memphis from Memphis, Tennessee pursue excellence when it comes to teaching and research.
Its Bachelor of Arts in Public Relations degree program requires students 42 hours of coursework in the Department of Journalism and Strategic Media, 41 hours for the general education program, and the rest is devoted to public relations. The core courses include public relations writing, research and campaigns, public relations case studies, crisis communication in public relation, and branding and strategic media.
A total of 120 credit hours is required for the program's completion. It is endorsed with a Certification in Education for Public Relations by the Public Relations Society of America.
---
University of Florida
Online BS in Public Relations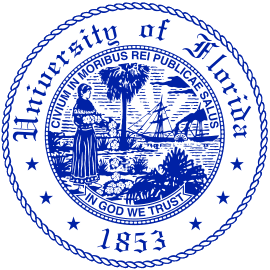 Situated in Gainsville, Florida, the University of Florida is committed to challenge conventions and strive for greater impact. They are also one of the many universities in the country that offers degree programs through distance learning.
One such program is the Bachelor of Science in Public Relations that trains students in persuasive and strategic communications integral in their future roles within an organization and its external environment. It has a focus on fundamental disciplines such as writing, research, strategy, mass communication law, and visual communication. This will help students engage with the media and diverse communities.
At the end of the program, students are expected to anticipate, analyze, and interpret public opinion, conduct counseling management, and develop programs that improve public understanding.
---
California Baptist University
Online BA in Public Relations
Headquartered in Riverside, California Baptist University goes beyond the classroom in providing education. They now offer 40 degree majors and concentrations with each program designed to accommodate working adults and give them the flexibility they need to manage school, family, and work.
Their online Bachelor of Arts in Public Relations aims to teach and train students in creating and maintaining a positive public image. It prepares them to succeed in dynamic environments such as public and media relations, corporate communication, advertising, nonprofit work, social media, and journalism. The program's coursework revolves in communication and journalism, giving students the framework upon which they can build their future career. They are also expected to study and practice ethical discernment in a fast-paced environment that can lead to immediate applicability.
The required major units are 48 and can be completed in as little as 16 months. The university is accredited by the Western Association of Schools and Colleges.
---
Geneva College
Online Bachelor of Communication: Public Relations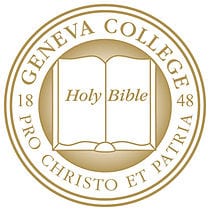 Known for academic excellence and Christ-centered approach to education, Geneva College makes its home in the beautiful 55-acre campus in Beaver Falls, Pennsylvania. Its support for distance learning is apparent in the availability of fully online courses like the Bachelor of Communication with Public Relations concentration.
In this specialization, students are guided in understanding public relations practices to ethically employ various communication theories, techniques, and strategies. They will learn how to effectively build mutually beneficial relationships with diverse publics. The program has an emphasis on rhetorical perspective in writing, public speaking, and the use of technology in mass media. They will also be taught to think critically and responsibly apply theoretical approaches to real-world challenges.
Some of the coursework includes Introduction to Public Relations, Contemporary Newswriting, PR Publications, Digital Communication Design, Advanced Public Relations, and Bateman Competition.
---
Southern New Hampshire University
Online BA in Communication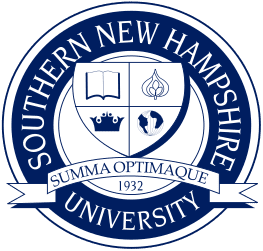 Located in Manchester, New Hampshire, the Southern New Hampshire University is one of the fastest growing universities in the nation. It has now expanded to distance learning with many degree programs offered online.
Students who want to work in the field of public relations can take a look at the university's Bachelor of Arts in Communication. This degree has an option of Public Relations in its required concentration. It emphasizes building relationships between organizations and their public audience that can benefit them both. Students will be well-prepared to make a mark in government, agency or nonprofit public relations field, strengthening their ability to communicate effectively with clients and the general public.
The program includes general education courses as well as degree-specific ones. The university has one of the lowest tuition in the country, making it accessible to anyone from all walks of life.
---
University of Minnesota Crookston
Online BS in Communications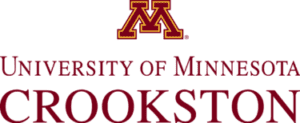 A public, baccalaureate, coeducational institution, the University of Minnesota Crookston offers high-quality degree programs both on-campus and online. It makes its home in Crookston, Minnesota.
Those who want to work in the field of public relations must be equipped with excellent communication skills integral in the creation, presentation, and evaluation of coherent messages. In the Bachelor of Science in Communication, students are taught to strengthen and develop their writing, presentation, and interpersonal skills that are essential for communicating with clients and the public.
One of its areas of emphasis is public relations. It underlines the importance of communication with organizations and communication with public constituencies. They will be trained to succeed in conflict management, group and team dynamics, and leadership. They will also cover research audience analysis, strategic design, implementation, and message evaluation.
In order to earn the degree, students are required to complete a total of 120 credit hours and 63 of those is devoted to major courses.
---
Point Park University
Online BA in Public Relations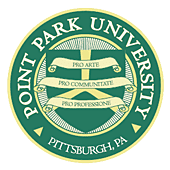 Found in Downtown Pittsburgh, Point Park University aims to engage students in a more active, real, and professional education. It offers degree programs both on-campus and online. One of the offered online courses includes a Bachelor of Arts in Public Relations and Advertising.
In this comprehensive, fully online program, students will be able to explore both public relations and advertising and choose their preferred specialization. What they will learn will help them understand the world of integrated communications. Some of their courses include integrated marketing communications planning, social media, introduction to multimedia, advertising campaigns, media planning and buying, PR writing, and a capstone project.
The latter is a major requirement that lets them create an agency and develop a fully integrated marketing campaign for a corporate or nonprofit client.
---
Concordia University
Online BA in Communications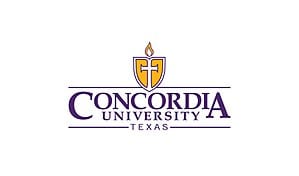 Founded in 1926, Concordia University Texas is a private institution of liberal arts and sciences offering numerous undergraduate and graduate degrees for traditional and non-traditional students. Their Bachelor of Arts in Communication with an emphasis on Public Relations is a good choice for those who want to build their career in the government and non-profit organizations as well as in private institutions like the media.
This degree aims to develop the writing, public speaking, and technological skills essential or a successful career in public relations. These skills will come in handy when they get to drive the message, build stories, and support brands. They must also be able to firmly grasp social media and modern public relations principles.
Students are required a minimum of 2.0 accumulative GPA on all college-level coursework. By the end of the program, students will be quite prepared to take on the world of public relations and make their mark as market research analyst, public relations specialist, and many other public relations professions.
---
Mid-America Christian University
Online BS in Communication, Media & Ethics

Located in Oklahoma City, Oklahoma, Mid-American Christian University is a private, Christian liberal arts college that offers a range of programs under behavioral science, counseling, business administration and many others. Some of these degree programs are also offered in a flexible online format.
One of them is the Bachelor of Science in Communication, Media, and Ethics. This degree prepares students for the necessary tools of online engagement in a growing digital world. They will be taught to appreciate the overlapping and sometimes contradictory procedures and practices involved in media production and consumption. It will ultimately lead to the creation of culture and its social persuasion in societies.
Some of the courses they will be taking on include media in theory and practice, digital media literacy, introduction to public relations, law and ethics for public relations, public relations research and design, among many others. Students are required to render 124 hours for the course completion, 46 hours of which is dedicated to university core and 33 hours for electives.
---
Franklin University
Online BS in Public Relations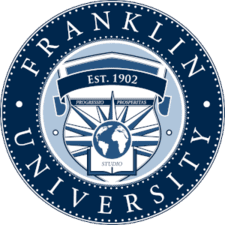 With more 115 years of experience under its belt, Franklin University has been an integral part of downtown Columbus, Ohio. Aside from its traditional degree programs, the university also extends its commitment to furthering education to adult learners who want to earn their degree without attending on-campus classes.
Their Bachelor of Science in Public Relations is fully available online. This degree program aims to teach and train students to operate in the public eye, build strong relationships, and maintain a positive image for their clients. They will be able to learn how to leverage traditional and new media to build and manage media relationships and corporate reputations. They will also be able to master the written, verbal, visual, and social elements needed to create and maintain an organization's effective public image.
The degree has a total of 124 semester hours requirement, comprising of general education courses, business or professional core, and major area and elective courses. All students must meet the 2.25 GPA criteria.
---
Texas State University
Online BS in Public Relations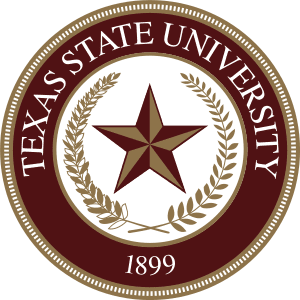 Located in San Marcos, Texas, Texas State University gives students the choice of 98 bachelor's, 93 master's and 14 doctoral degree programs in diverse colleges. They also have the freedom to earn some of those degrees on-campus or online.
Owing to the ever expanding field of public relations, the university offers the Bachelor of Science in Public Relations with a minimum requirement of 120 semester credit hours. Students are made to understand the need to create connections and engage with stakeholders to build mutually beneficial relationships. They are trained to research, write, plan, create, strategize, and engage their public through ethical and credible communication.
Their coursework involves exploring public relations, clear communication, public relations writing, public relations campaigns, and media design, among many others.
---
Montana State University Billings
Online BA in Communications
Located in Billings, Montana, Montana State University Billings has been in existence since 1927. It has a long-standing tradition of educational access, teaching excellence, and civic and community enhancement.
Through its online program, students can now earn a Bachelor of Arts in Communication with an emphasis on public relations anytime and anywhere. In this degree program, students will be able to learn how to navigate public relations through excellent communication skills and critical thinking. They will cover communication studies, principles of mass communication and public relations, history and theory of persuasion, video production, and advertising, media and culture.
The program is structured to help students acquire a mature understanding of interactions within organization situations and apply their learning to real life organizational settings.
---
Regent University
Online BA in Communication Studies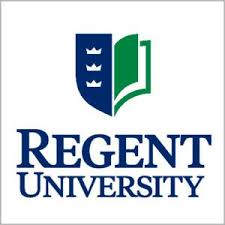 Founded in 1977, Regent University is located in Virginia Beach, Virginia. It was established as a graduate-level institution and now offers degree programs both online and on-campus.
One of them is the Bachelor of Arts in Communication Studies with a focus on Public Relations, giving students an edge in a highly competitive industry. They will tackle theories, practices, branding, and marketing and how to use communication to get their message across. On completion of the degree, students are expected to understand marketing communication campaigns, media choice, creative development, and media analysis. They will also learn to structure public relations pieces that are integral in strategically supporting their marketing plans.
The degree requires a minimum of 120 credit hours. Some of the courses included are public speaking, communication theory, foundations of communication, writing for strategic communication, public relations, and many more.
---
Wilmington University
Online BS in Communication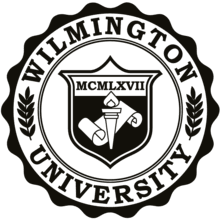 Located in New Castle, Delaware, Wilmington University gives students the opportunity to pursue a career and become a leader. Some of their degree programs are 100% available online, making it easier for students to continue their degree regardless of time and location.
Their Bachelor of Science in Communication is one such degree program. It is where students will learn effective, strategic communication, branding, and storytelling from leading practitioners. They will be taught to convey information and ideas artfully through different platforms. It is also possible for them to customize this degree program with a concentration, just like the integrated marketing communication where they will focus on the use of marketing, advertising, and public relations to create a seamless brand for customers. They will be prepared to inform and persuade target audiences through a variety of media channels, from print and broadcast to digital.
Some of the notable courses include public speaking, technical writing, communications theory, legal aspects of communication, media strategy and public relations.
---
Walden University
Online BS in Communications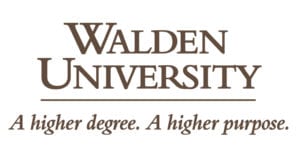 An accredited institution for 45 years, Walden University is headquartered in Minneapolis, Minnesota. It offers degree programs that reflect the current market trends and promote positive social change.
Students who want to leverage modern methods of communication and advance their career in public relations can take up one of Walden University's degree programs, Bachelor of Science in Communication. This degree program trains students to be good and effective communicators who can engage audiences, build relationships, and drive results in a consumer-driven economy. They will be taught how to create targeted social media presentations and promote ideas that can inspire others to take action. Their skills will also be honed in terms of resolving conflicts and building relationships.
The program has a total of 181 quarter credits for completion requirements, comprised of general, core, elective, and capstone course.
---
Northern Arizona University
Online BA in Communication Studies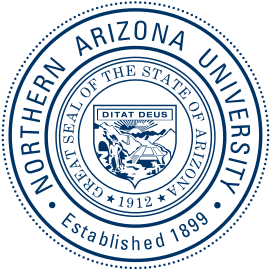 Located in Flagstaff, Arizona, Northern Arizona University has one of the lowest priced tuitions in the state. They now offer online degrees as well that can bring the best value and increases the return of investment. The online degrees are fully accredited and carry the same level and quality as traditional degrees.
For students who dream of entering the world of public relations, a Bachelor of Arts in Communication Studies will enable them to construct, convey, and interpret communication in diverse contexts. The proficiency in oral, written, and relational communication is essential in the public relations field as it enhances relationships and builds cultural understanding.
At least 120 units of credit are required to complete the course, including the major, liberal studies, and university requirements.
---
University of Louisville
Online BA in Communications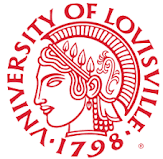 Located in Kentucky's largest metropolitan area, the University of Louisville is a nationally recognized research university that offers both on-campus and online degree programs that further education.
Building a career in public relations can be made possible by a Bachelor of Arts in Communications degree. Based on research, this degree program has coursework that emphasizes the rhetorical, organizations, interpersonal, and mediated contexts and perspectives that define the communications field.
Delivered through 18 hours of communication courses and another 18 hours of communication electives, the B.A. in Communication teaches students a range of theories, methods of inquiry, philosophies, and practices of the communication discipline.
Students are expected to develop skills for analyzing, interpreting, and critiquing communication problems and questions. They will be able to promote an understanding of how communication patterns help create and sustain human relations.
---
University of Maryland University College
Online Bachelor in Communication Studies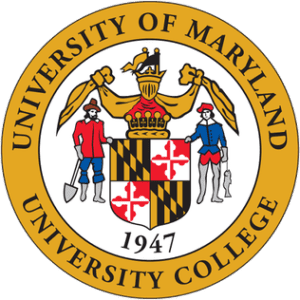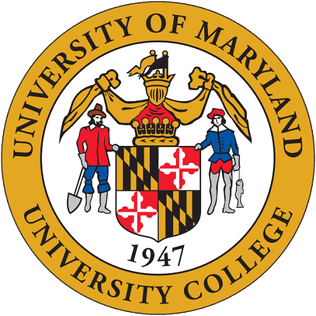 Founded more than 70 years ago, the University of Maryland University College is an online state university that offers undergraduate and graduate programs in fast-growing fields. One of its degree programs is a bachelor's in communications studies that will prepare them for a career in the media and public relations.
This program involves the mastery and application of communication theories to professional and personal situations. There is a balance of theoretical knowledge and sophisticated communication skills. Students are given the opportunity to learn how to formulate and use messages that generate meaning within and across various contexts, cultures, channels, and media. Its multidisciplinary curriculum covers a wide range of disciplines, from speech communication, mass communication, journalism, and public relations.
The bachelor's in communication studies requires a total of 120 credits, 90 of those are acceptable as transfer credits.
---
Penn State World Campus
Online BA in Strategic Communications

Launched in 1998 by the Pennsylvania State University, Penn State World Campus gives lifelong learners the ability to earn their degree entirely online. They have a host of 150 programs to choose from, including a Bachelor of Arts in Strategic Communications.
Designed to provide a balance of theory, research, and practice, this major has a course sequence providing skills and techniques that are used to design, implement, and evaluate the impact of messages on selected groups of people. This 120-credit interdisciplinary program aims to develop and enhance skills to help students become effective strategic communicators. They will learn complex problem-solving, oral, visual, and written communication, and creative thinking, among many others.
Graduates are expected to analyze and manage public relations, advertising, and integrated marketing communication efforts to ensure a positive public image of their future clients. They will also be able to conduct organized communications campaigns to promote a product, initiative, and public image with maximum efficiency.
---
University of North Dakota
Online BA in Communications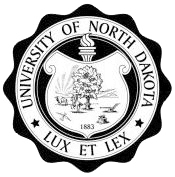 Located in Grand Forks, North Dakota, the University of North Dakota is easily regarded as one of the top academic and research institutions in the country. It offers more than 225 programs in diverse fields. Some of these are fully available online.
Their bachelor of arts in communication can support careers in advertising and the arts, whether students prefer writing, advertising, or public relations. The degree is offered in asynchronous format, which means students can complete their courses at their own pace at any hour of the day. They will also be able to customize their major in communication with an area of focus. One of the areas on offer is public relations. They will learn how to integrate media and content to communicate persuasively to specific audiences.
The program requires a total of 141 credit hours to be completed. It can be completed within 4 years.
---
Boise State University
Online BA in Public Relations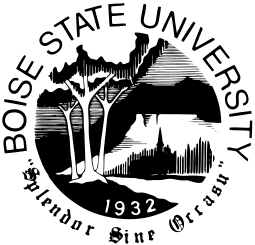 With a campus running along the banks of the Boise River, Boise State University is perfectly positioned from the heart of Idaho's largest city. Aside from their campus offerings, the university also provides education opportunities to long distance learners.
A critical part of every industry, public relations is one of the most in-demand fields today. Students who want to build their career in that field can take up the Bachelor of Arts in Public Relations which is fully available online. In this program, students can integrate their interests into the program while acquiring the necessary skills and knowledge to understand the concepts and practices needed for a public relations career.
It has a total of 120 credits, with courses ranging from global public relations, media law, public relations case studies, client relations, and community relations to crisis management and business and professional communication.
---
Indiana University East
Online BA in Communication Studies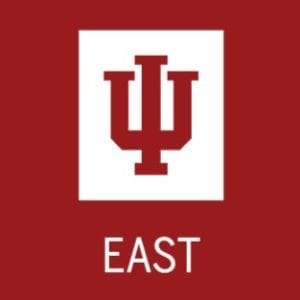 Located in Bloomington, Indiana University strives to provide the ideal college experience to students. Their commitment to furthering education extends to adult and long-distance learners who wish to complete their degrees anytime and everywhere.
Students who are looking for an online degree in public relations will find their Bachelor of Arts in Communication Studies an excellent choice. This discipline explores interpersonal, group, organizational, public, and electronically mediated communication and its contexts. Aside from the core courses in communication, they will also be exposed to public relations, propaganda and persuasion, and cross-cultural communication. The degree aims to prepare them for jobs as public relations specialist, media relations specialist, publications editor, and many more.
In order to complete the degree and graduate, students need to render a total of 120 credit hours.
---
Mississippi College
Online Bachelor of Communications
Found in downtown Clinton, Mississippi, Mississippi College is known for its academic excellence and commitment to the cause of Christ. It has more than 80 undergraduate areas of study, covering every area of a comprehensive liberal arts curriculum.
Their bachelor's in communication degree program is also offered online to accommodate adult and long distance learners. This communication major tackles a selection of courses, ranging from public speaking and communication law to public relations, mass media, and graphic design. Students who choose to focus on public relations as their area of concentration will learn to build their skills in relationship-building, marketing and corporate and issue advocacy.
This degree requires students to complete a total of 130 credit hours, which they can usually manage in a period of four years.
---
Washington State University
Online BA in Strategic Communications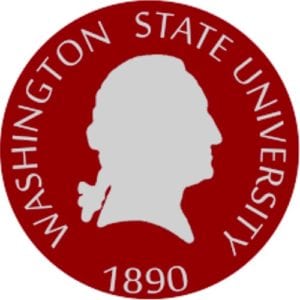 Located in Pullman, Washington, Washington State University is a nonprofit public research university that brings educational opportunities to students all over the world with its online degree programs.
Their Bachelor of Arts in Strategic Communication trains interested students to be communications experts, a desirable trait for those who want to ply their trade in public relations. Here they will learn how to effectively use a wide range of technologies, techniques, and strategies to communicate key messages and help organizations achieve their goals.
Students will explore courses such as foundations of persuasion, digital content promotion, principles of public relations, and creative media strategies and techniques, among many others. They need to complete a total of 120 credit hours in order to graduate.
---
Delaware City University
Online BS in Communications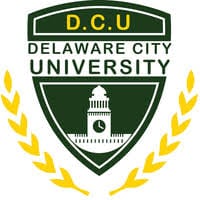 An online state based in Delaware, Delaware City University is an online university striving to change and improve lives through providing higher education for distance learners. One of their offerings is a Bachelor of Science in Communication.
This degree program aims to prepare students in creating targeted social messaging, develop marketing campaigns, write compelling communications, and promote ideas that inspire action. It gives a competitive advantage to students who want to build their career in public relations and politics. Aside from their communication skills, they will also learn analytical thinking and relationship-building.
The degree program is under the university's College of Journalism and Communications.
---
University of Nebraska
Online BS in Organizational & Relational Communications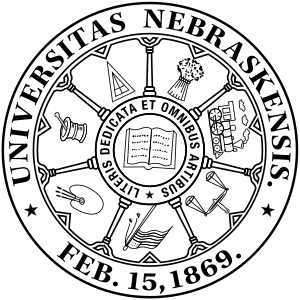 Headquartered in Lincoln, Nebraska, the University of Nebraska has ventured to long-distance learning with the launch of University of Nebraska Online. It provides academically respected degrees that are available fully online and ideal for adult learners.
Its Bachelor of Science in Organizational and Relational Communications degree program equips students with an understanding of communication theories and skills that will help them become professional and ethical communicators. They will be taught to demonstrate and apply written, oral and visual communication skills to contemporary issues. They will also learn integral skills in presentation and leadership. The degree can be a strong foundation for students who aspire to enter the field of public relations.
Students are required to complete a total of 120 credit hours, with courses ranging from communication theory to persuasion and propaganda.
---
University of Arkansas
Online BA in Communications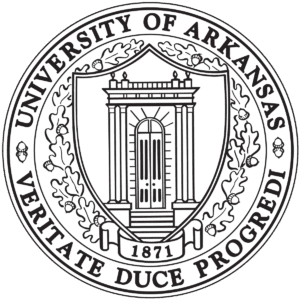 Founded in 1871, the University of Arkansas has made its home in Fayetteville, Arkansas. It is a community of passionate learners and teachers. Prioritizing quality, the school offers several degree programs completely online.
One of them is the Bachelor of Arts in Communication that provides ample background and understanding of communication strategies that cross multiple message contexts and platforms. The program is designed to engage students with the dynamics of interpersonal persuasion, the effects of media technologies, and the impact of social movements. It is valuable training for students who want to make their mark in public relations.
The program takes four years to complete with a total of 120 credit-hour requirements.
---
New England College
Online BA in Communications

Located in Henniker, New Hampshire, New England College has more than 70 years of experience in providing quality education. Their degrees can now be availed both on-campus and online.
Students whose inclination lies in the public relations field will be pleased to know that the school's Bachelor of Arts in Communication includes a public relations concentration. This degree program explores the role of communication in shaping public opinion. Students will be able to develop a stronger understanding of the fundamental components of an effective public relations campaign. They will tackle the principles of public relations and cross-cultural communication, among a dozen other courses in the program.
The New England College is accredited by the New England Commission of Higher Education.
***
FREQUENTLY ASKED QUESTIONS
What is a Public Relations degree program?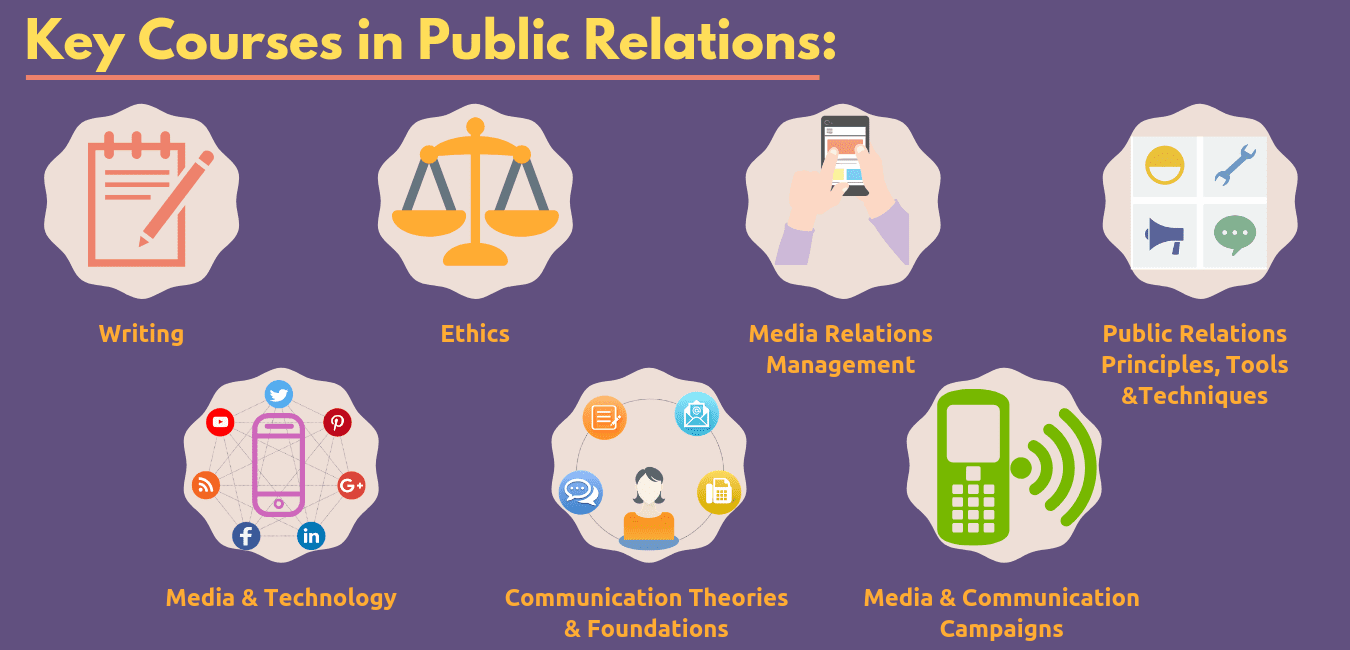 As an ever-growing field in the U.S., public relations is needed in almost every industry. It is because there is a need for communication between organizations and their targeted public. A good public relations team can determine and impact public impressions and opinions on certain organizations or even individuals.
Public relations professionals communicate with the media and maintain a positive relationship with the public. They are also important in honing an organization's identity.
Most schools that offer a public relations degree or other programs with public relations emphasis tend to discuss the many concepts that can form public opinion and inspired them to take action. In every public relations program, there is always the concept and use of communication at its core. The methods and channels of communication have a great impact on controlling the message and relevant information extended to the public.
A good public relations degree teaches a student to use specific communication and marketing tools to promote an idea, opinion, public image, and information. There is a great emphasis on critical thinking, understanding of communication principles, and the role of technology.
Students, at the end of the course, must be able to learn communication strategies that are integral in protecting and preserving the image and reputation of nonprofits, multinational communications, and small businesses. In short, they become strategic communicators.
Some degree programs, like communications, are good stepping stones in order to better grasp the concepts of public relations. They are exposed to the world of communication and reputation management, acquiring a rich insight into different channels and how it can be used to their advantage.
The most suitable students for public relations are those who love to research and analyze information because they will be doing a lot of that in the duration of the program. It means they must be resourceful enough to find credible sources where they can verify the information and get what they need. It is important for them to be willing to share their ideas and articulate them through oral, written, or visual communication means.
Public relations students must be updated with the news and current affairs. They should not shy away from public speaking either.
How does one earn a degree in Public Relations?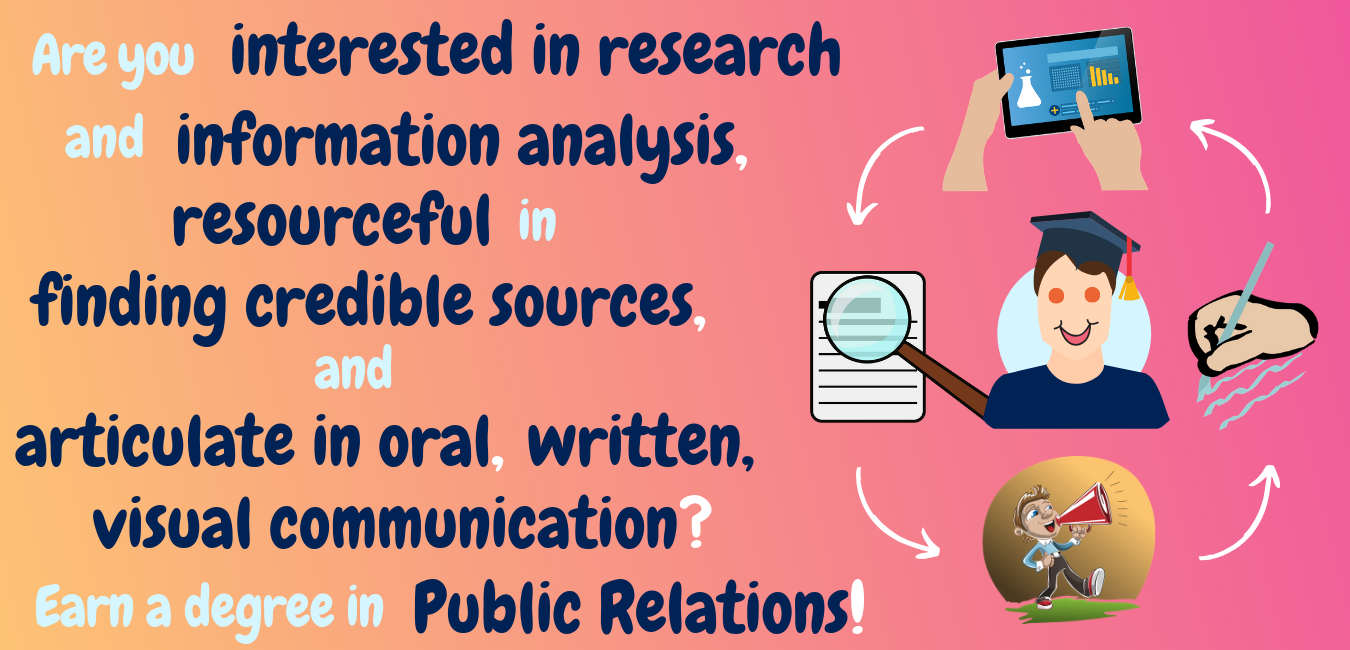 Before you should jump into public relations, you must first know what it entails. The best way to do that is to enroll in a degree or a related degree that tackles the basic and complex aspects of public relations. But how does one earn a degree in public relations?
In this degree program, they will learn what it takes to create and manage communication campaigns and formulate strategies that will be beneficial to their clients – usually organizations, businesses, and even government agencies and powerful individuals. They need to study the different methods involved in garnering positive media reaction as well as shaping public perception.
The next sensible thing to do to acquire a public relations degree is to find the school and degree program that will suit their needs. Some programs are available on-campus as well as online, giving students the flexibility and convenience of earning their degree at their own pace from the comforts of their home.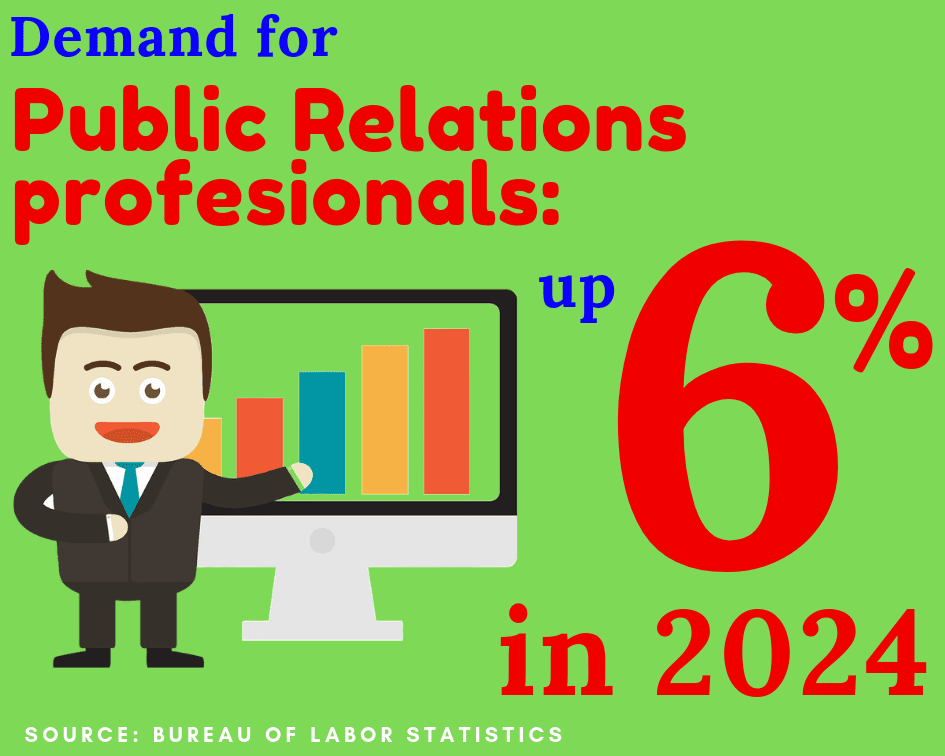 Most schools require submission of an application form to the college or department where the public relations program belongs. Some want a certain cumulative GPA rating but others are not that particular.
Once admitted, they are usually asked to take up general education courses and later on delve into the core courses that make up their major. Some degree programs have areas of concentration.
Usually, students should complete courses like writing, ethics, media relations management, public relations principles, tools and techniques, media and technology, communication theories and foundations, and media and communication campaigns.
Many students complete their degree within a period of 4 years, but it can also take longer, especially for those that have a complex curriculum and without the option for an accelerated course of study. A lot of public relations degrees has a total of 120 credit hours.
In terms of tuition, public relation degree programs can cost between $10,000 to $40,000 per year. It can largely depend, however, in the university or college that students enroll in. Of course, private schools will cost more. Some schools can also offer tuition discounts for students living within the state. Most online degrees generally cost lower, too. There are a lot of financial options that students can take advantage of though, so acquiring a degree is not that difficult, be it in the form of grants, scholarships, or financial aid.
What are the possible career paths for graduates of Public Relations?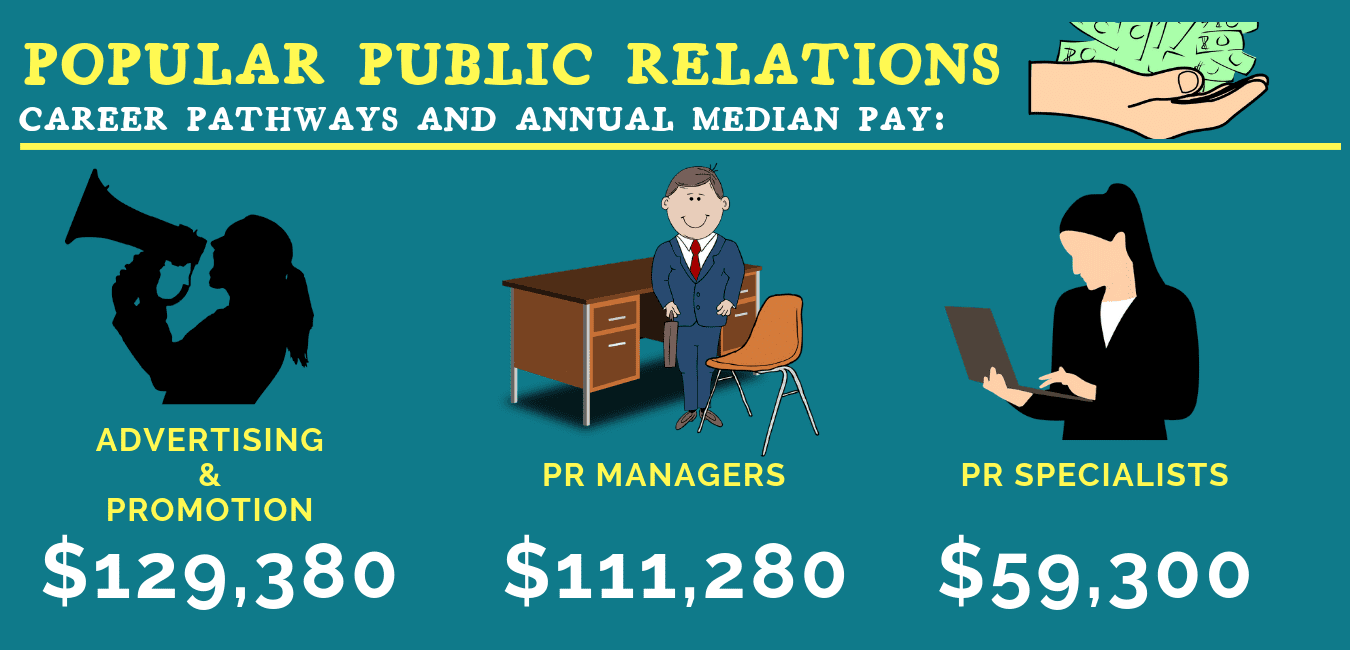 As a liaison between organizations and the public, public relations graduates won't have to fear for job opportunities when they have finally earned their degrees. They can work in the public and private sectors, in corporations or nonprofits, in the government or foundations. With their skills and knowledge acquired from their degree, they must be equipped with great communication and analytical skills that can help them succeed in a variety of roles and settings.
For one, they can become public relations specialists who manage the public image of their clients. They can work in a private firm, for example, and take care of press release preparations, field requests from the media, and organize traditional and digital campaigns. The annual expected salary can be as much as $59,300 with a projected growth of 9%.
They can also venture into the world of advertising where they will be responsible for the promotion, advertising, and running public relations campaigns for a product. They will be able to formulate effective strategies that build and nurture relationships with customers. This job pays really well, with the median annual salary of $129,380.
For those who want to work with foundations and organizations needing a life in image and identity, a public relations manager is a good position. Their roles will range from planning and overseeing public relations campaigns, supervising specialists, and working with executives. They are also integral in setting fundraising goals and developing new strategies to achieve them. Public relations managers can expect a median annual salary of $111,280.