Are you considering a career in marketing? If so, you'll never regret your decision. As a marketing degree is a very popular choice among college students, you will see that it also offers many areas of specialization. With a little research, you can choose an online program that will best fit your needs and your personality. But, what exactly does a career in marketing entail?
With your Bachelor's degree in Marketing, you will learn how to bring a product or service to fruition, how to convince others that they need it and, most importantly, how to make a profit for your client, and yourself. Many factors go into this process, however, just like any other career, you will need to start at the beginning.
What will I do with a Marketing degree?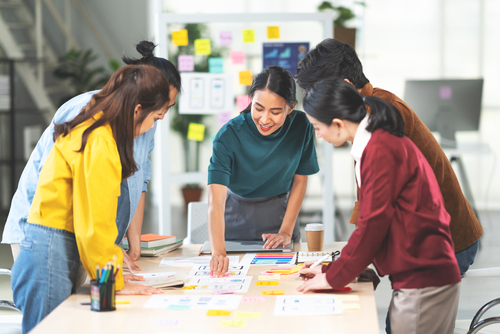 Your degree program will teach you how to sell most anything, product or service. But who should your target audience be? Generally, extensive research is conducted to inquire about who would use the product and to determine the supply and demand of what you are selling. Your online Bachelor's in Marketing degree program will teach you:
Featured Programs
the latest techniques in marketing software to track buying trends and determine who is the best candidate to sell your product to,
along with, how cultural differences and the economic well-being of today's consumers effect their buying habits.
You will also be expected to suggest price points on products to maximize profits.
What is a Strategic Marketing Plan?
Once you determine what will meet the customer's needs, a strategic marketing plan must be established. While also meeting your client's financial needs, you must:
develop a plan that will catch the consumer's interest,
create a buzz about the product,
showcase how to use the product,
as well as, how it will make life more convenient or interesting for them.
This notion, however, may be the most challenging for most, for it requires imagination, as well as, thinking "outside the box," at times. Your Bachelor's in Marketing online degree program will provide you with the knowledge needed to help you create innovative and original ideas.
Do I have what it takes to be successful in the field of Marketing?
The prospective marketing student should consider if they have the necessary personality to be in this field.
It requires determination and tenacity. "Closing the deal" will be expected of you.
Sometimes long hours are involved and meeting your client's need will always be your top priority.
The reality of marketing is that you must be an excellent communicator and critical thinker.
Your written and oral skills must be optimal.
You must be able to efficiently speak publicly to make presentations or to host media events.
You must be knowledgeable in the latest technology to conduct research, as well as, be current on the many areas of media, such as, social media.
Different ways Marketing is implemented
The Internet is one of the most popular outlets used to get the consumer's attention today, however, your online Bachelor's in Marketing degree program will also assist in learning about marketing through:
television,
newspaper and magazines,
radio and billboards.
You will also be expected to create, organize and host events such as, open houses, grand-openings and radio remotes, among others.
To Summarize
A career in marketing can be fun and exciting. It will always be ever-changing and you will meet new and interesting people every day. By earning your online Bachelor's in Marketing degree, you will be prepared for an entry-level job that will be a great stepping stone to a prosperous future career in management. Upon graduation, without a doubt, you will have the confidence you need to succeed.
If you are interested in this field, you will want to check out our choices for the Best Online Bachelor's in Marketing degree programs that we have compiled to help you along your educational journey.