The world of finance provides many lucrative career opportunities and if a career in finance will be your goal, start in high school by taking related courses when possible. Classes such as basic math and accounting will be most beneficial, as well as, communications, speech and computer technology related classes. Any business related courses you can obtain will also be helpful.
A Look Into What's Ahead
The preferred degree for a career in the field of finance is the bachelor's degree. Online programs that focus on this field are readily available, however, you will want to verify that they are properly accredited to ensure a quality education. A program of this type will take approximately four years to earn your degree.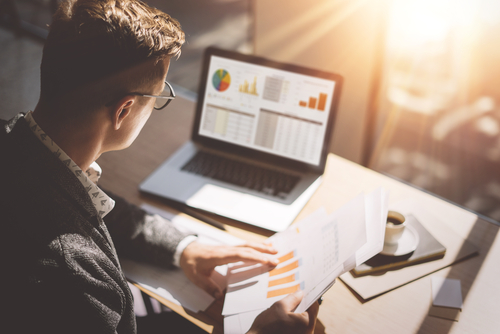 Finance Degree Career Paths
As good financial judgement and practices are essential to any business, the opportunities for the finance student are plentiful. By earning an online Bachelor's degree in Finance, you will be prepared for entry-level positions in:
Featured Programs
accounting,
financial planning,
tax preparation,
lending,
financial analysis,
insurance,
real estate,
or banking, just to name a few.
These positions can be found in private, public and nonprofit organizations.
Specializations in Finance
At some point in your degree program, you may be asked to choose an area of concentration. Typically, your choices may include areas of specialization in:
Risk Management,
Corporate Finance,
Money and Capital Markets,
Financial Accounting,
International Finance,
or Investment Banking.
Course Samples in Finance
Classes may include personal finance concepts, principles of business, microeconomics and macroeconomics, business strategy, statistics, accounting principles, human resources and an introduction to business law.
The Three Sectors of Finance
In addition, you may wish to focus your efforts on either of three sectors.
The personal finance sector describes the need for one-on-one advisement with your clients pertaining to their personal income and expenses.
The corporate sector pertains to those involved in businesses, large corporations or industries.
And, thirdly, the area of public finance includes entities run by the federal, state or local government.
Also included are the branches of military, national defense, judicial matters and branches of public service such as, fire fighters, police protection and the public transit system.
Certifications in Finance
To advance in your career, you may want to consider some additional certifications. Organizations who offer certification programs hold strict standards for excellence, therefore, by obtaining such accolades, you are showing your employer that you are dedicated to providing the best service possible to them, as well as, your clients.
In addition, your certification coursework will teach you about leadership, honesty, respect and how to be a team player. Although most certifications are considered voluntary, some are mandatory to gain the upper level position and salary you deserve.
Differences Between a BS and a BA Degree in Finance
As you consider an online Bachelor of Finance degree program, you may have the choice of either a Bachelor of Arts or a Bachelor of Science degree. In actuality, both are considered acceptable and will provide you with the same opportunities within the field of finance.
Typically, a Bachelor of Arts degree in Finance offers a broader curriculum such as classes in communications, English composition, psychology and other humanities related coursework such as, religion, art and history and perhaps a foreign language.
A Bachelor of Science degree will focus largely on finance-related classes. If you intend to take the Certified Public Examination, the Bachelor of Science degree path is best.
If a career in finance is of interest to you, please see our list of the Best Online Schools for Bachelor of Finance Programs that we have compiled for your review.