OF COURSE! If you want to pursue your bachelor's degree but lack the time or resources to attend a brick-and-mortar university or college, earn your bachelor's degree online.
Today, there are more than 28,000 fully online degrees offered by various schools and institutions in the United States, including at bachelor's level.
With an online undergraduate degree program, you are able to earn the credential you need to succeed in your prospective career path!
Featured Programs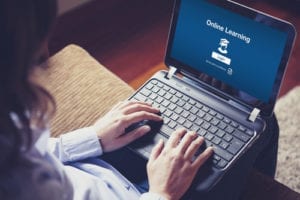 Modern technology has allowed students from all corners of the globe to:
access coursework materials,
take examinations,
and communicate with their instructors using the Internet and technology, thereby satisfying the requirements for an online bachelor's degree.
If you want an undergraduate degree that you can obtain without the constraints of commute, ask yourself:
Are you confident of your technological skills?
Do you have access to such devices on a regular basis, or as may be required by your program of choice?
It goes without saying that the bachelor's degree program you choose should fit your educational goals without breaking the bank.
As you contemplate on that, another important step is finding an accredited school and program. Accreditation proves that the institution and the program are legitimate and that your degree will be recognized by your future employer.
Research your school of choice and MAKE CERTAIN that their programs are accredited!
Requirements to receive your bachelor's degree in an online format
Requirements for entry to an online bachelor's degree program aren't very different from those asked in traditional college or university. Each program may have its own specific requirements, but generally, you will need to have:
a General Educational Development (GED) or high school diploma,
ACT/SAT scores,
an essay expressing your intent to pursue your online bachelor's degree of choice,
as well as personal, educational or professional references.
There may also be an online admissions interview that you need to prepare for.
If you're fresh out of high school or seeking to earn your bachelor's degree for the first time, you may have to spend an average of four years as a student. If you have previously completed a related associate's or bachelor's degree, you may be allowed to transfer credits. Ask your study coordinator about it.
Can I cut it as an online student?
If you're unsure about the idea of obtaining your bachelor's degree via an online format, evaluate your capacity to meet what is expected of you as an online student. In many respects, a bachelor's degree program that is offered online works the same way as in traditional colleges. In both, you will have to invest your time, money, and effort.
Getting your bachelor's degree online means you will have to be self-motivated and dedicated to staying on top. You need to learn to be organized and skilled in time management. While online bachelor's degrees sound convenient, your deadlines aren't always negotiable. Plan your tasks well so they don't conflict with your program coursework and overwhelm you as a result.
In Conclusion
Remember that by getting a degree online, you are offered zero distance limitations. Take your time finding the accredited program and enroll in one that you find engaging and are likely to do well in so you can truly meet your educational goals.
If your work, family and personal obligations limit your chances of pursuing your degree the conventional way, an online bachelor's degree program is your convenient, less taxing and more affordable option that does not compromise top-class teaching and in-depth coursework learning.
Looking for an online bachelor's degree and the best schools to enroll? Our Rankings Guide has all the answers!