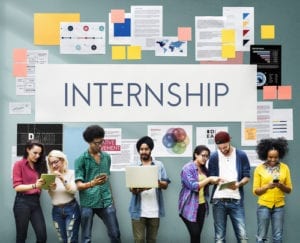 Most likely, while earning your online bachelor's degree, you will be required to work an internship to complete your program. As most employers are looking for future applicants with some real-world work experience, it can be hard to get that first job without some established skills. Working an internship supplies you with invaluable experience to carry over into your job search after graduation.
If you're wondering how an internship through an online program works, well, it's simple. While a majority of your program can be completed through the internet, you will be expected to complete your internship in your local community. Check with your Career Counselor for potential internship possibilities. Your online school will often work with employers in your area, through online job boards, who need help and are willing to work interns…it's a win-win for both parties. If you can obtain your own internship, then your school will need to approve any employers or positions you might choose to assure that you will receive proper class credits for your hard work. Your employer will be required to review your performance and report your accomplishments to the school. You will be evaluated on your attitude, willingness to learn and attention to detail.
Featured Programs
Remember when you are involved in an internship, let's be honest, you may be paid a small salary, or you may not. It is important to remember that your valuable work experience will be your compensation, however, some states may require minimum wages to be paid. So, if you are lucky, you may find an internship that gives you the experience you need, in addition to, a little change in your pocket.
There are many advantages to working an internship through your online Bachelor's degree program. For instance, sometimes a part-time internship will turn into a full-time job opportunity upon graduation. When your internship time is up, you will be able to construct an impressive resumé or portfolio for future employment. While working with other experts in your craft, you will forge friendships that will last a lifetime, as well as, gain valuable networking contacts to help you find potential job opportunities. When searching for that dream job upon graduation, completing an internship will have given you an advantage over others who have no previous work experience.
Although experience is important, a truly good employee exhibits a good work ethic. Remember to always be prompt, be friendly and a joy to work with. You must be self-motivated, a team player and willing to go the extra mile. Show the boss that you are dedicated and appreciate the opportunity they have given you. If you can impress your boss, then their complimentary recommendation letter will benefit you in your future job search.
Perhaps, you are still unsure of what your dream job is. Have you made the right career choice? An internship will allow you to gain experience in your chosen area of specialization, however, it may also allow you to work in areas of the business that you have never considered as a career choice. You will experience new work environments and you'll have the opportunity to develop new skills plus put into practice the knowledge you already have learned from your degree program. Variety is a good thing in internships. It gives you hands-on opportunities to discover where your true passion lies.
No doubt, you will find that an internship will be the best part of earning your online Bachelor's degree. Good luck to you!