You may have dreamed all of your life of becoming a firefighter. Now, you can make those dreams come true! But, do you have what it takes to take on a career that requires extreme courage and bravery? Of course you do! But what are the qualities of a good firefighter? Ask yourself these questions.
So, do you have what it takes to pursue a career in fire science?
How do you know if you're cut out to be a firefighter?
Featured Programs
Would you make a good leader?
Below are a few qualities you may want to consider when thinking about earning your online Bachelor of Fire Science degree.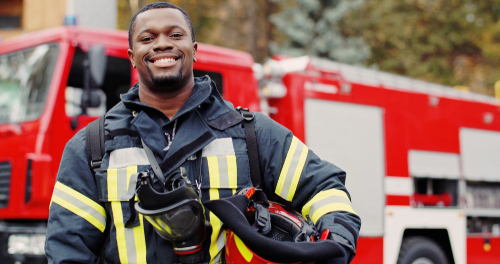 Compassion and Being a People-Person
First and foremost, are you a people-person? Do you have a sincere compassion for your fellow citizens, and perhaps, even the family pet? Firefighters serve the public and must be dedicated to their duties, attempting to save each and every victim as needed. Your dedication to saving lives will be an important quality to have in a successful career as a firefighter.
Being a Great Decision-Maker
Besides a personal quest to save mankind, there are several other important qualities needed to do your job efficiently. Are you a good decision-maker? Firefighters are often faced with making spur of the moment decisions, no doubt. Their decision could save a life or harm a life, either their own or a fire victim.
Possessing Good Judgement
Good judgement is a requirement, in addition to, excellent critical thinking skills. You must be able to look at a situation and quickly analyze the facts, put aside your personal feelings and do what is genuinely best to solve the problem logically and in a timely manner, for all involved.
Good Physical Condition
Are you in good physical condition? Do you have the strength needed to carry multiple people out of a burning building? Or, the stamina to continue when others have possibly exhausted their efforts? Good nutrition and exercise will help you maintain your body strength. Can you commit to keeping your body healthy to do your job?
Being Mentally Stable
Just as important as your physical strength is your mental stability. Most firefighters must successfully pass a mental evaluation. Generally, in this field, you will see fatalities and serious injuries. Perhaps for some, it is just too much. Can you handle the mental stress and anguish?
Having Courage and Bravery
There's a couple of qualities of a good firefighter your Bachelor of Fire Science degree program just won't teach you. What's that, you ask? Courage and bravery… you either have them or you don't! Now, let's face it… to survive in today's world, we all must be courageous and brave, however, the thought of running into a burning building is not for the faint of heart.
Can you do it when the time comes? Although courage and bravery come naturally to some, hopefully, if you need a good dose of valor, your degree program will provide you with the proper training needed to give you the confidence you need to overcome any insecurities.
Good Communication Skills
How are your communication skills? To be a good leader, you must be able to give clear and concise orders with authority. Can you be assertive, but with tact? Are you good with details? Can you show respect to others in all situations? Good interpersonal skills are a must.
Being a Team Player
Can you be a team player? Trying to be the hero may not turn out quite like you planned when you are fighting fires. Teamwork plays a major part in the career of a firefighter, as each player has their own job to do, as well as, work together in emergency situations.
Passing a Background Check
Can you pass a background check? Within some companies, prospective hires must pass a background check and drug test. Also, be mindful of your social media posts. Without a doubt, don't post embarrassing or compromising pictures of yourself.
Although many have done things they are not proud of, own up to your mistakes. Be prepared to prove that you have changed by sharing your contributions to community work and other charitable organizations. Your integrity and sincerity are important qualities of a good firefighter.
If you would like to learn more about this field, please check out our choices for the Best Online Schools for Bachelor in Fire Science Degree Programs.