The price of a college education has skyrocketed over the years, leaving many parents and undergraduate students scrambling to find methods to meet the soaring costs. Today, over 65% of Americans earning their bachelor's degree — in public 4-year colleges — incur student loan debts. According to the Federal Reserve, our nation's federal and private student loan debt totals $1.76 trillion, with an average debt repayment plan of $393 a month.
---
Additional Info: TUITION-FREE COLLEGES OFFERING WORK PROGRAMS
---

There is no question that student loans are taking away your future stability, which is odd considering that finishing your education was supposed to fulfill all of your aspirations. According to the latest US News and World Report data, 4 in 10 Americans can't afford their student debts.
Featured Programs
The Average Tuition Cost of a Bachelor's Degree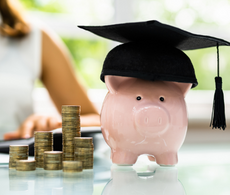 Not all students enter a bachelor's degree with the same financial condition, so the cost of earning this degree will differ. Nevertheless, recent data can help us estimate how much you could owe after completing a four-year degree.
Average Cost Per Year
According to recent statistics, the average annual cost of attending college is $35,551 for public colleges and $54,501 for private nonprofit colleges. For-profit colleges have much higher costs. The average in-state tuition is $9,377, while out-of-state students pay an average of $27,279 in tuition alone. With a growth rate of 7.1%, this number has tripled in the last 20 years and is predicted to keep rising.
Whether you attend public or private schools and whether you study in-state or out-of-state will affect this figure. In either case, $35k is a hefty price for many students.
Average Cost Per Month
A $35,551 or $54,501 yearly average cost equals $2,962.58 or $4,541.75 monthly. Remember that this amount may not necessarily include the price of textbooks, supplies, board, and other everyday living expenditures. Depending on your circumstances, the monthly cost of attending college may be significantly higher.
This is why it's crucial to go through every facet of college before deciding to earn a college degree. Will the time, effort, and money you put in yield a return on the investment you need and want?
An excellent hack to save money to save on your undergraduate degree is to enroll in college credits before enrolling in four-year institutions. Some advanced high school courses are made to help you earn college credits. Additionally, you can enroll in an associate degree program and transfer credits.
When Do Student Loan Payments Start?
Federal student loan borrowers must make their initial payment six months after they graduate, quit school, or enroll for less than half-time. After repayment begins, they can request a deferment, forbearance, or change to a different repayment plan if they cannot make payments.
Most private lenders likewise provide borrowers a six-month grace period; however, some may increase it to nine or twelve months. To learn when your first payment is due, contact the lender. Many private lenders also provide a forbearance program.
Factors Impacting Student Loan Repayment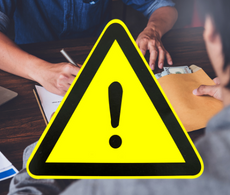 Deferment or Forbearance
One of the primary factors that affect the length of your student loan is if you apply for deferment or forbearance.
Deferment and forbearance serve the same benefit: they will help you temporarily freeze payments while maintaining your account in good standing. The main distinction, however, is that deferment for some federal loan types may be interest-free, but forbearance increases the interest on student loans.
Deferment or Forbearance Application
Applying for deferment of forbearance is often unavoidable, especially if you don't have the resources to pay on time. But it is highly suggested that you make monthly payments if you have the resources. Applying for either of these programs will only lengthen the time you need to work to pay your private or federal loans.
But if you have to freeze payment, evaluating which is most suitable for you is important. The best decision will depend on your particular circumstances when deciding between deferment and forbearance.
Deferment is typically preferable if you are unemployed or experiencing severe financial difficulties and have subsidized federal student loans or Perkins loans. On the other hand, forbearance is your option if you don't qualify for deferral and your financial hardship is just temporary.
Income-driven Repayment Plan
While both options can help you avoid student loan default, neither is a good long-term solution. If you expect your financial situation to stay the same, consider enrolling in an income-driven repayment plan instead of pausing repayment.
Pay As You Earn is a great example of an IDR plan; this plan bases your monthly student loan payments on your salary and family size. After you sign up for an IDR plan, your payments can get easier to handle. Your monthly payment may be as little as $0. Loan forgiveness is an additional benefit of income-driven repayment schemes. After 20 or 25 years of monthly loan payments, the lender can cancel the remaining sum of your loan.
Refinancing
When you refinance, a brand-new private student loan replaces your current federal student loan debt. There will be new loan conditions, a new interest rate, and frequently a new lender.
When you get new terms when you refinance, it may affect how long it takes to pay off your student loan debt. Shorter terms are an option if you can afford the higher monthly student loan payments; alternatively, you can extend the repayment time and pay less each month. The total amount of interest paid over the duration of the loan may increase with a longer term.
Adjusting Payment Schedule
Most student loans do not require bachelor's degree holders to pay monthly dues. However, if you want to shorten your repayment time, consider paying dues every three or even two weeks. For example, making 26 half payments over a year yields 13 full payments or one extra payment. After three years, your repayment schedule will be three months shorter.
You'll risk accruing late fees, harming your credit score, and lengthening the loan term if you repeatedly skip payments or don't make the full amount due.
Do You Need A Student Loan for Your Bachelor's Degree?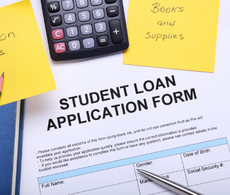 NCES shows that the average student loan debt of American students earning a bachelor's degree is $26,190. Some graduates may need decades to repay their student loans, depending on how much they borrowed and the interest rate. So do you really need a student loan?
Well, there's no correct answer. It's a decision you need to make carefully.
The very first factor you should consider is the ROI of your major. Some occupations don't pay as well as others. If you choose one that doesn't come with a high income, you can have difficulty making payments or spend a lot of time repaying your debt.
The next factor to consider is the amount you need to borrow. You might not need to borrow as much if you can access free money, scholarships, and grants. You'd need to take out loans large enough to pay for all the expenses you can't afford out of pocket if you didn't obtain scholarships and grants.
Lastly, before applying for that loan, think about your repayment plan. Repayment on student loans usually begins six months after graduation or after they drop out of their degree. This is beneficial if you don't immediately find a job in your industry or if it takes you some time to save up for regular payments.
Students with federal loans have several repayment options, including the usual repayment plan, debt consolidation, an income-driven repayment option, and, depending on their career choice, Public Service Loan Forgiveness.
You should check private student loan rates if you've used all your federal loan alternatives. These loans have different repayment alternatives, but you might find one with a lower interest rate or more affordable terms. You might be eligible for a loan refinance if you modify your repayment strategy.
How Long Should You Work to Pay Off a Bachelor's Degree Loan?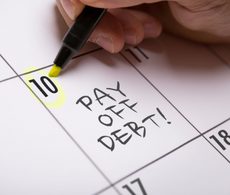 There are several types of loans with various student loan rates and interests. Several factors affect the length of your private or federal student loan payments. So, there is no predetermined length of time for how long you need to work to repay a student loan from your bachelor's degree.
However, the estimated repayment term for graduates with bachelor's degrees ranges from 4 to 12+ years. Graduates who make late payments or freeze their loans can take up to 20 years to repay their student loan debt.
Some students enroll in graduate degrees immediately after earning their undergraduate degrees. While a master's degree can help you land better job opportunities, it can also let your student debt stick with you long into your 40s!
Paying more than what is required is the greatest and most efficient strategy to pay your debt faster.
---
Before you go, see: