Whoever it was who said that college education isn't just about learning inside the four walls of the classroom couldn't have put it more profoundly. As experience would prove it, practical knowledge combined with learned theories make the best ingredients for a thriving and fulfilling career. Working internships can help you achieve that goal.
The Stats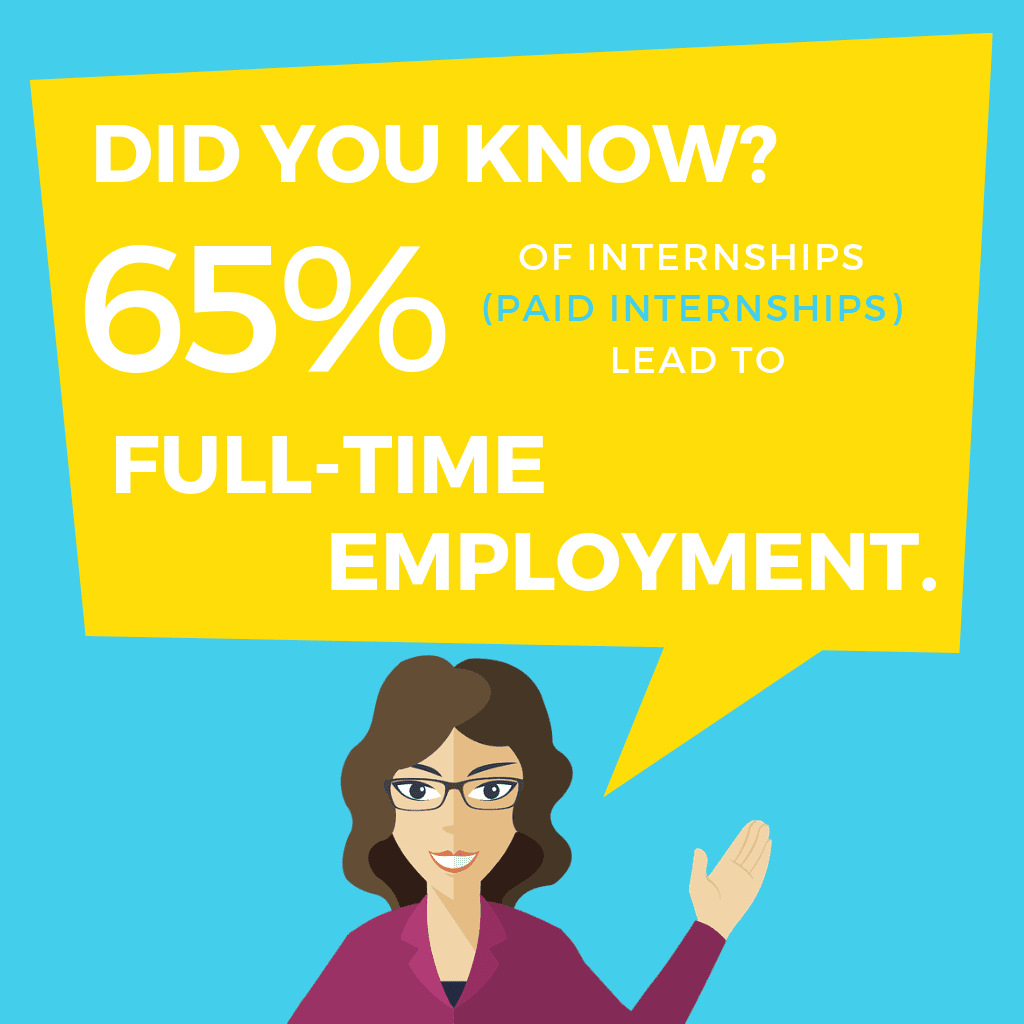 A study conducted by the National Association of Colleges and Employers found that 65% of internships, notably paid internships, lead to full-time employment.
Outside applicants who have not had any prior engagement with a company usually don't get the same advantage, with a hiring probability that stands at only 37%.
Featured Programs
The Benefits
While doing well in coursework and acing examinations prepare students mentally, broadening their foundational knowledge through a lesson-filled internship experience shapes the perspective of future professionals and cultivates positive attitudes toward work. Working internships are where the real learning begins with lessons and tools that can impact your career outlook.
For many, an internship is a bridge that closes the gap between the level of comfort that school brings despite the rigorous coursework and the challenges in the real world. Some students are not too keen on doing an internship, but there are dozens of reasons why it is a vital part of college life.
Working internships are generally considered helpful to students as they prepare for the future, but how exactly does it work?
What is a Working Internship?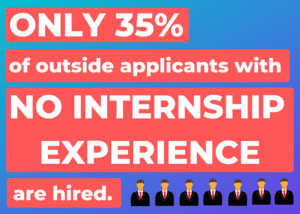 Defined as the period of work experience offered to students and graduates by an employer to expose them to real-world work scenarios, working internships immerse them in their field of study and put their knowledge to the test.
In many cases, students get the freedom to choose the business or organization where they are asked to perform actual work.
The duration of an internship varies. Some take weeks and others go on for a year. Many internships are voluntary or as part of a course requirement. However, there are also employers who offer compensation in the form of salary or allowance.
Some of the most common sectors that allow working internships include:
sales,
marketing,
management,
IT,
engineering,
and accounting.
Students and graduates are expected to develop several skills that they can use in the future, such as communication, personal, presentation, creative, and problem-solving skills.
Many consider on-the-job experience as a stepping stone to the real world, where the demands of work are no longer confined to mental abilities but also extend to practical solutions.
At this point, you need to think beyond the classroom and the theories to eventually embrace the complex process of doing the job and fulfill the responsibilities expected of you.
Difference between Internships and Apprenticeships
Some people conflate internship and apprenticeship. While a course can last as short as a few weeks, an apprenticeship takes longer to complete, depending on the level of qualification. Simply put, an apprenticeship requires a commitment that will be rewarded with a specific skill. It is also typically a paid endeavor.
Like apprenticeships, working internships entail hard work and challenges. Interns are usually given tasks like data entry, filing, and scheduling. As part of their training, they are also asked to perform their job with deadlines and expectations. Interns should have an iron will and sheer determination to brave through the challenges and pressure to complete the journey.
Benefits of Working Internships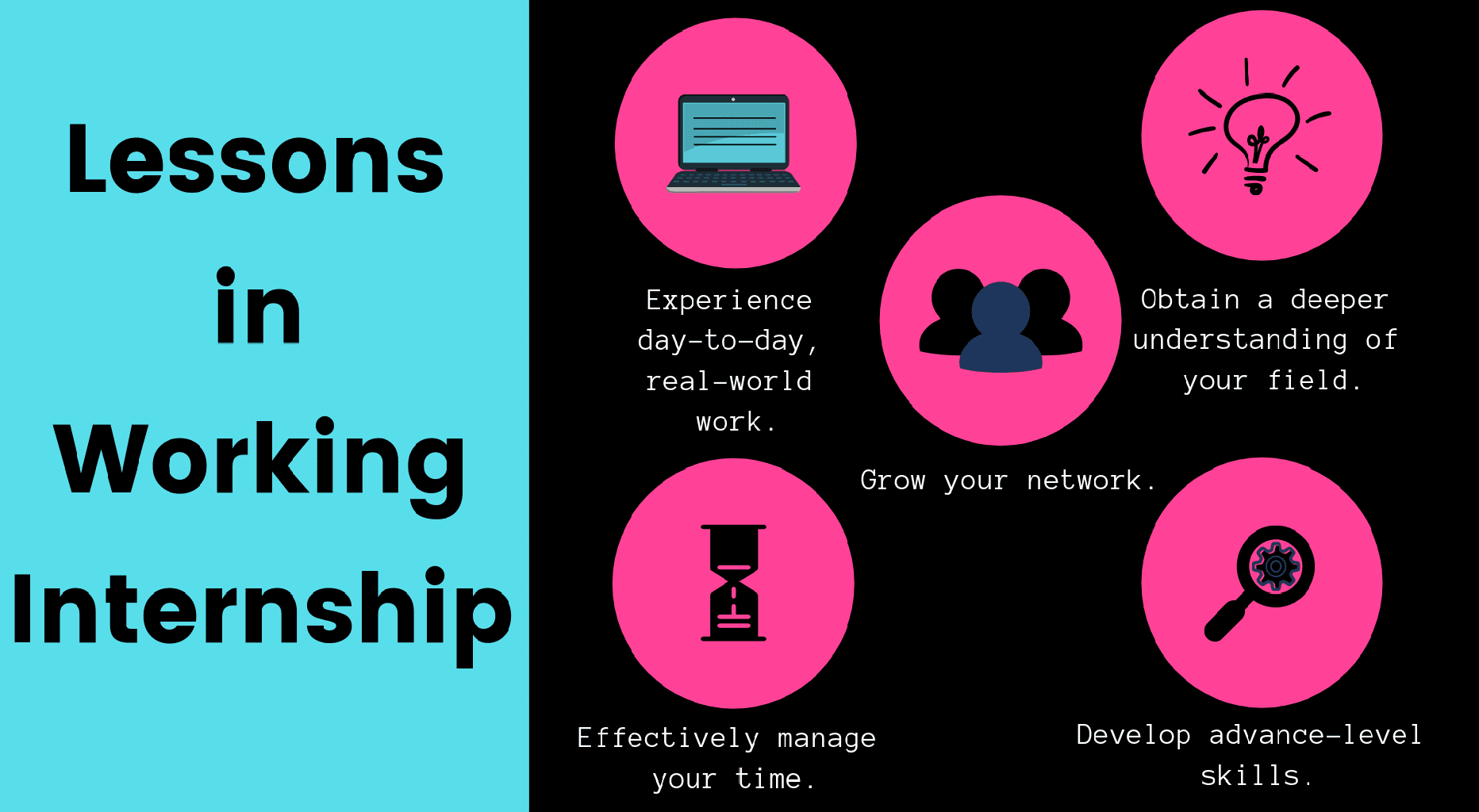 Working internships are not merely a graduation requirement. It is worth considering because of the wealth of benefits it provides. While some might misconstrue internship as merely doing menial work like running the photocopying machine or preparing coffee for the boss, there is more to on-the-job training than that. An ideal internship program must give something of value to students and not in monetary terms.
Undergoing an internship program can do wonders to the confidence and abilities of students. It is an investment in the future. Beyond the monetary rewards lie some golden opportunities for learning and more.
Here are a few of the best-known benefits of working internships:
Experience the Real World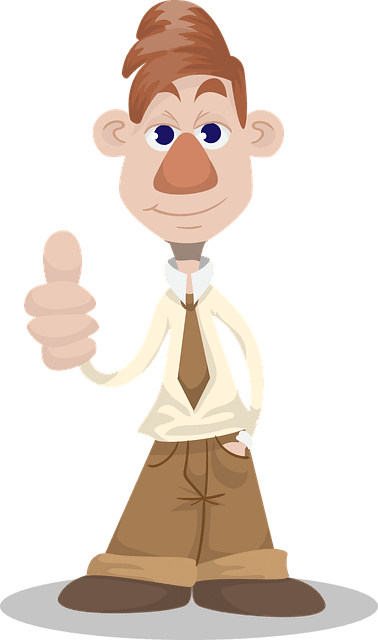 A classroom environment is miles away from the real workplace setting where expectations are high and the pressure can raise a student's stress levels. The latter can be fully experienced in an internship where students get the chance to work in a professional environment and apply the skills and theories they learned.
The key to successful internships is welcoming the actual work experience. You must be able to perform work that is associated with your field of study.
Grow Your Network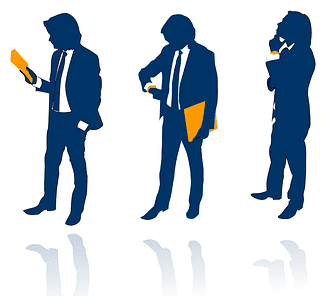 Just like joining clubs and joining workshops, internship programs allow students to meet different people who can help shape their character and guide them through their career choices. There are also meetings and events that allow for interaction with industry professionals.
Not only do you get expert advice and guidance; you also connect with like-minded professionals who can offer help and references as you seek career opportunities later on.
Build Your Resume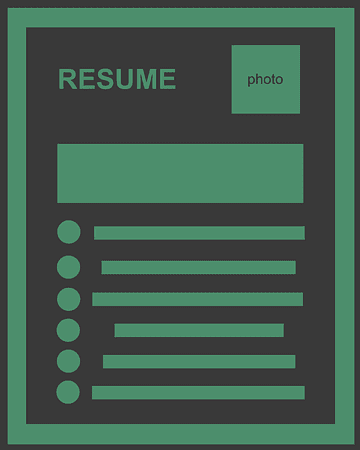 Every college student must know the importance of building a resume—and not just any resume. As competition among millions of graduates grows fiercer each day, it can be hard to stand out and get noticed by future employers.
A strong resume gives you a fighting chance. And because a good resume requires work experience, your internships are considered as a foundational experience that gives you the edge over the rest in your career.
Manage Your Time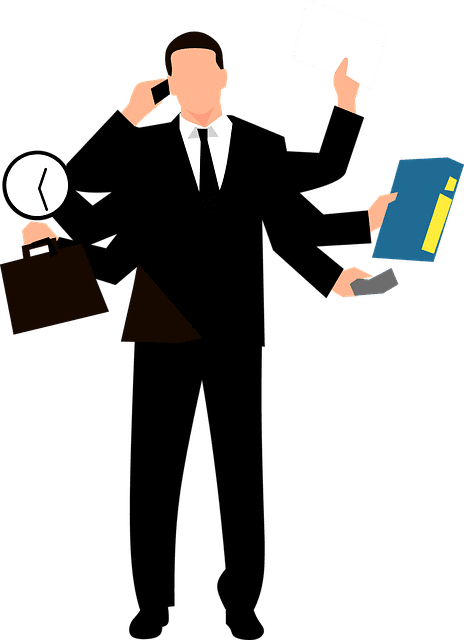 As an intern, students will be trained to juggle their responsibilities and make sure to do it on time. That is why one of the most important skills they will learn during the internship is time management.
They will know how to work under pressure and complete their assigned tasks within a specific period of time. Deadlines are important when it comes to real jobs and joining an internship will prepare you for full-time employment.
Boost the Foundation of Your Career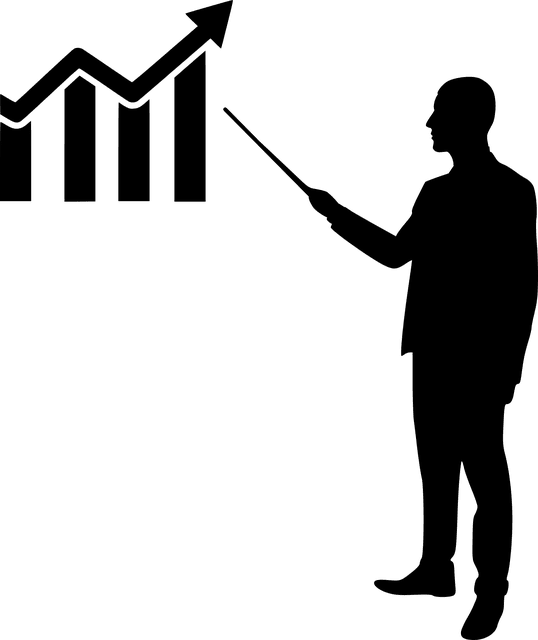 The future is not always bright just because students bag their dream degree. Your skills, no matter how good, are always a work in progress. As far as your financial future goes, having a job that pays well is a priority. This is only possible if you have laid down the foundation of our career.
And what should they do to acquire the building blocks for that near future? By acquiring actual work experience, of course, which an internship can very well provide.
Through an internship, students will go through the motions of actual jobs, learning firsthand the components of the field they have chosen and the skills that go with it. They can build the foundation of their careers by being an intern.
Develop Skills Beyond the Classroom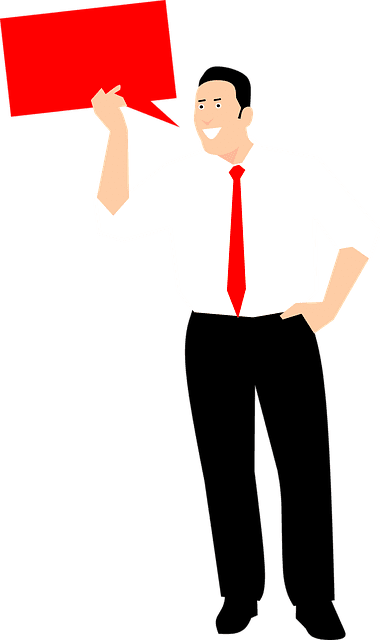 Once students have graduated, their achievements in school can sometimes cease to matter. Employers put more value in knowing how interns can help and contribute to the organization.
As interns, they will be able to acquire the skills that can qualify them for the job. It is valuable during interviews because they will be able to expound on their claims and share their experiences of working with other people and the challenges they faced when working as an intern. Some of the most valuable skills they will learn is:
teamwork,
good communication,
leadership,
and problem-solving.
Understand Your Chosen Field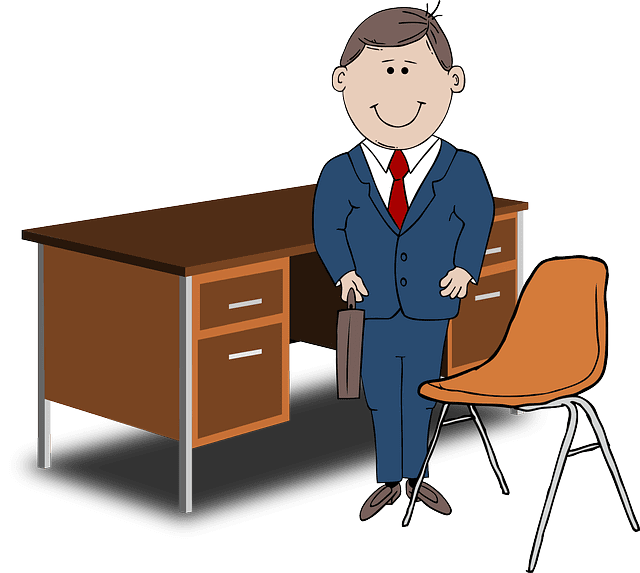 Internship exposes students to the day-to-day realities of their field of study. Here they will develop a greater understanding of their degree program, realizing how their coursework has prepared them for the application of all they learned inside the classroom.
They will also be able to bridge the gap between theory and practical application, encouraging them to improvise and strategize in order to solve real work problems.
How To Find an Internship
Now that students know what an internship is and why they should take it up, it is time to move to the next concern which is finding an internship. It is not something that students should take lightly.
There are many factors to consider, from their field of study to their future goals. It is important for them to weight their options carefully before closing in on an internship offer because it can help define their career path.
Here are some of the things that one should keep in mind when looking for a working internship.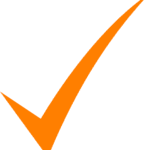 Determine your career interests. What do they want to do in the future? What kind of job would they consider once they graduate? Knowing all of these will help them decide on the kind of internship they should pursue. Their internship experience, after all, can help build their career foundation. It is futile to use their time and energy into an internship program that they have no use of.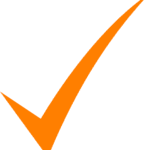 Start your career search early on. In some industries, internships have application deadlines that provide students ample time to prepare and submit their applications.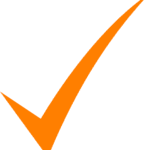 Support from a close network is essential when looking for an internship. Sometimes it pays to consult with family, friends, advisors, and career counselors to help them figure out what they want and where they want to do it. Internship opportunities can also be found in alumni members from their college who can offer valuable information on internship options.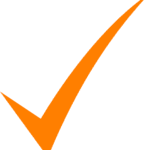 In an ever-connected digital world, the process of searching for the perfect internship opportunity is made easier. There are websites that will let students view internship options. It is also a good idea to visit company websites and classified ads to look for employers who might be hiring an intern.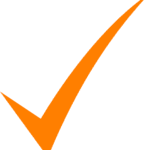 Another opportunity that college students can try when looking internship is attending job or career fairs. It is most common on winter breaks when students have more time to take part in events. There are many employers that attend career fairs in order to recruit and hire interns.
Of course, nothing will happen to an internship application if the student won't reach out to the company of their choice.
One option is to send them the request through their email with an attached CV.
They can also give the company a call.
It might also be a good idea to visit the company itself to ensure instant feedback.
Paid or Unpaid Internships?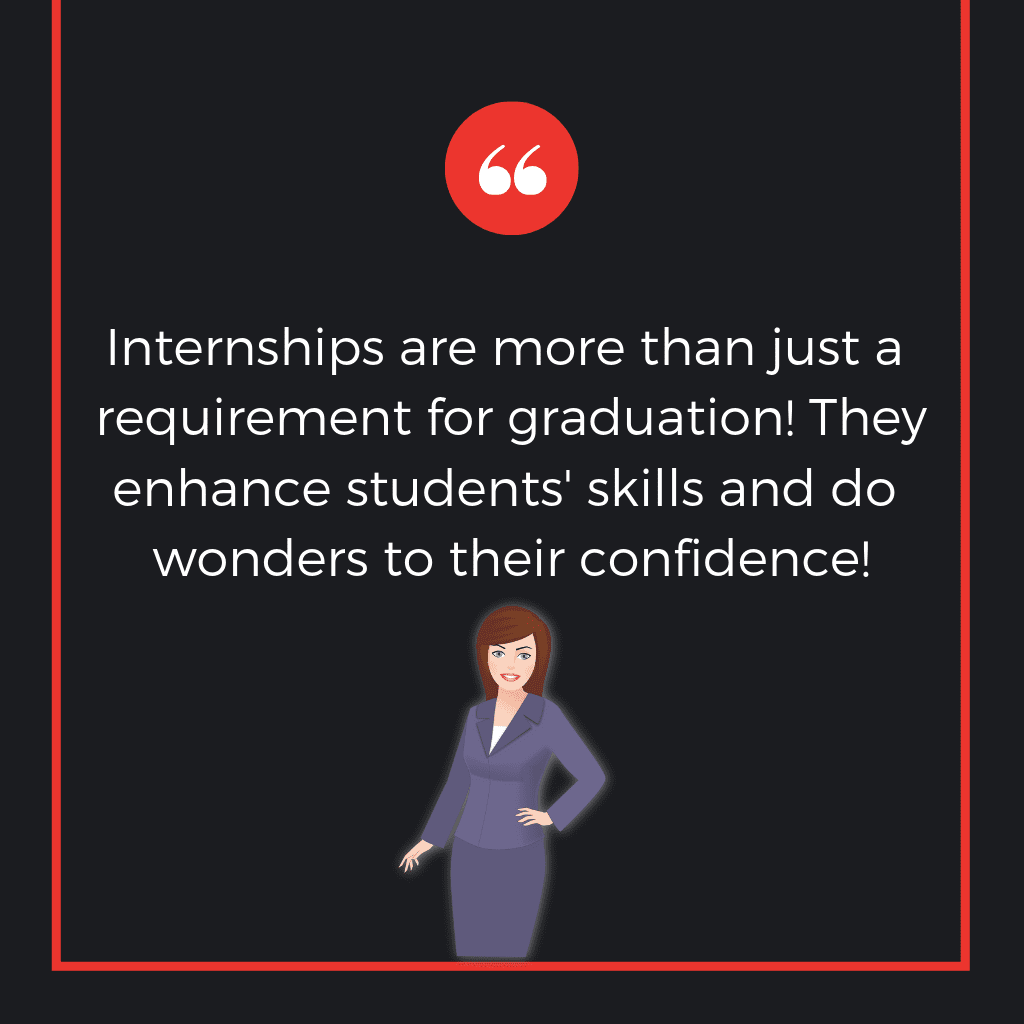 Often a source of debate, choosing between paid and unpaid internship is not hard at all. Who does not want to earn while working?
However, when reality sets in, many students should accept the fact that not all internships are paid. They have to weigh their options and find the balance between their current financial circumstance and the type of experience they are aiming for. Most paid internships adhere to stricter standards than unpaid ones.
So, should you go for an unpaid internship?
The answer lies in the students' needs. Some industries do not offer paid internships, especially those in:
the media,
music,
and marketing.
It can be difficult to be paid for an internship position if the field of study is within those industries.
It mostly depends on their goals and field of interest. Although there are no monetary rewards, the benefits they can get in terms of experience and skills are quite valuable. Unpaid internships can help them land a job and grow their networks. Sometimes, there is really no choice because doing an internship is the only way to gain work experience.
Can I keep up with a working internship and life?
The life of an intern can be tough, challenging, and takes a lot of hard work. However, the effort that students give into it can give them tons of benefits that they can really use for the future. It will give them a wealth of experience and great opportunities to make learn from professionals and build connections.
The only thing students need to remember is to choose the most suitable internship that will complement their career choices and reinforce their learning. They must not forget to enjoy every moment of an internship as well and learn everything they can about their job.
Internship, after all, can impact their marketability for employment and increase their chances of going to graduate school.
Valuable Resources: