Were you an inquisitive child? Were you the little girl who insisted they would someday be a veterinarian? Or, were you the little boy who wanted to be a doctor when they grew up? Science has been present in our lives from day one.
As we grew, so did our interests in how life works. We were curious about the pets we loved, how our own bodies functioned, or about the life cycle of the plants, sea life, and the wildlife around us.
---
WHAT IS BIOLOGY AND IS IT THE RIGHT DEGREE CHOICE FOR ME?
Featured Programs
---
Some of us knew from an early age where our true passion lies; however, if not, at some point in your studies, you will want to choose an area to focus upon. Concentrations are abundant within the field of biology. It is a very diverse subject that provides a wide array of specializations and career opportunities. Below are a few concentrations to consider.
Human Biology
The study of human biology is considered an umbrella term for several other classifications, such as biochemistry, physiology, genetics, anatomy, anthropology, ecology, epidemiology, and neurobiology, to name a few.
For example, biochemistry involves the chemical process involved within living organisms. Physiology is the branch of science that relates to the normal functions of a living organism and its parts. The science of epidemiology deals with disease and other health-related factors.
Animal Biology
Animal biology, also known as zoology, is the branch of science that focuses on all principles and challenges relating to animals. You may also choose, within this specialization, to concentrate on marine biology, fisheries, or wildlife biology, or if you are not afraid of the creepy crawly, perhaps, entomology – if the study of insects is of interest to you.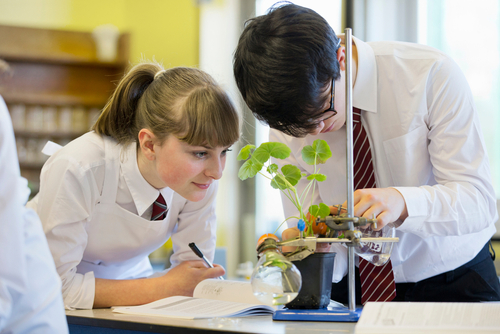 Molecular Biology
Are you interested in molecular biology? This branch of science can cover a broad array of specialties, as well. It involves the study of the molecular makeup of various cell systems in living organisms. This field includes the study of DNA, proteins, and biosynthesis and their functions.
Evolutionary Biology
While earning your online Bachelor of Biology degree, you may also choose to focus on evolutionary biology, the study of how life evolved by exploring the relationship between organisms and their ecosystems. It examines the time period and characteristics involved while a change is developing.
Computational Biology
You can study bioinformatics through a program in computational biology. With exceptional mathematical and computer science skills, you can create and perfect effective ways to organize, store, retrieve and analyze biological information.
Journalism
Do you have an interest in journalism, as well as science? As a science writer, you can present exciting discoveries from current researchers through publications in journals and magazines. Often, those who are not "science-minded" need help understanding new revelations in science, in layman's terms.
Medical Career
After completing your online Bachelor's degree in Biology, you may choose to transition into a medical career, such as nursing, dentistry, veterinarian, or as a physician. Within the legal field, individuals with a biology background may also be interested in working for the police department as a forensic scientist or consultant.
In Conclusion
When choosing a concentration, pick the one you love and truly are passionate about. After all, if you are making it your lifelong career, you should enjoy every minute of it! If you are interested in this field, please see our choices for the Best Online Schools for Bachelor's in Biology programs.
---
Before you go, see: WHAT ARE THE MOST LUCRATIVE CAREERS IN THE FIELD OF BIOLOGY?