Bachelor's degrees are widely considered stepping stones toward personal and professional fulfillment in life because of the numerous benefits that these bring to individuals. But not every bachelor's degree meets the criteria for the most fulfilling bachelor's degree either!
Remember that choosing the bachelor's degree that will likely bring your life the most personal and professional fulfillment is critical. While it's possible to change career paths, your choice of a college major can set the career path you're likely to take during the entirety of your professional career.
Check this out: Online Bachelor's Degrees That Don't Require Math
Featured Programs

Of course, the definition of what makes for a fulfilling bachelor's degree widely differs between individuals because of their unique differences. What may be fulfilling college majors for individuals with their hearts set on public service through healthcare will not be fulfilling for individuals with engineering degrees.
No matter your choice from among college majors, nonetheless, earning a bachelor's degree will open doors of opportunities that a high school diploma can't! Higher education pays in so many ways, from improved access to rewarding employment opportunities and increased career salary prospects to enhancing the overall quality of life.
The numbers speak for themselves, too. According to the Bureau of Labor Statistics, individuals who hold a bachelor's degree make a median of $1,334 weekly and experience a 3.5% unemployment rate. In contrast, individuals with a high school diploma earn far less – $809 in median weekly wages – and experience a higher unemployment rate of 6.2%.
While individuals with some college but no degree and with associate degrees fare better, a bachelor's degree is highly recommended for these reasons. There's also the fact that a bachelor's degree is a pathway toward a more advanced degree, particularly a master's degree and professional credentials.
The positive return on investment (ROI) from a bachelor's degree is an essential factor in considering the most fulfilling college majors featured in this article. The cost of education may be fairly high, but the rewards in terms of accumulated career salary as well as personal and professional fulfillment far outweigh it.
Definition of Job Satisfaction
With the concept of the most fulfilling college majors comes the concept of job satisfaction. While job satisfaction cannot be quantified, it can be described in depth, and it's something that high school students and adult learners who want to pursue bachelor's degrees must consider.
Job satisfaction is defined as an employee's positive emotional experiences in their job and workplace, including their interactions with their superiors, peers, and clients. The feeling of being content and fulfilled in their job can be measured in terms of their affective, cognitive, and behavioral responses. The job satisfaction metric can also be defined in terms of the intrinsic aspects (e.g., the kind of tasks and responsibilities of the job) and extrinsic aspects (e.g., the work conditions, including environment, peers and superiors, and compensation).
Employers, from government agencies to multinational corporations, use a wide range of assessment tools, including job satisfaction surveys, for this purpose. But every employee measures job satisfaction in different ways, and thus, each one feels personal and professional fulfillment in the same workplace in a different manner.
With that said, you must remember that when choosing among college majors, you must first consider the likelihood of your personal and professional fulfillment in the possible career paths that each college major can result in. You and you alone must take full responsibility for your decisions, from choosing a college major to creating space for your personal and professional fulfillment.
Choosing a Bachelor's Degree for Personal and Professional Fulfillment
As thinking beings, we enjoy greater purpose and meaning in life when our personal interests match our professional careers. With such a match, we also have a deeper desire to learn, gain knowledge and skills in our field of interest, and make a positive change in the world. We must then look at the best college majors with the highest likelihood of giving us personal and professional fulfillment with these aspects in mind.
Here are questions that you can ask when considering several college majors and choosing an undergraduate degree that you will pursue.
What are my personal interests? These can include your hobbies, passion projects, and preferred activities that bring you happiness and fulfillment.
What are my personal values and priorities in life? Perhaps you value work-life balance instead of working long hours for a high salary or social justice and public service over profits. Your values and priorities will influence your choice of a college major and, thus, your future career.
What's my personality? The way you think, feel, and behave will have a vital impact on the way you think of the bachelor's degrees on our list. You must consider whether you're a leader or a follower, an extrovert or introvert, and a collaborator or competitor, among other personality traits.
What are my skills? You may already possess certain soft skills that will prove useful in your future career but the education and training you will get in an undergraduate degree program will develop both hard and soft skills.
What kind of education or training do you wish to obtain for personal and professional success in the future? You must consider bachelor's degrees with this metric in mind. Remember to consider the time-to-degree requirement of your preferred college majors, followed by the professional credentials necessary to practice the profession, such as a state-issued license or registration.
What career salary are you looking forward to or planning on earning? Individuals with bachelor's degrees may earn higher than those with a high school diploma and associate's degree, but the compensation varies widely between professions and industries. Take the time to research the average entry-level salary and mid-career salary, and other compensation-related aspects; the Bureau of Labor Statistics is an excellent resource for the career salary of nearly every known occupation.
What's the job outlook for the bachelor's degrees and the occupations that you're considering? Most of the college majors featured here have as fast as average and faster than average projected job growth over the next decade.
What's the competition like in the academic and job markets? Many of the bachelor's degrees featured here are among the most selective in admissions and the most rigorous in academics. Engineering and its numerous branches are prime examples of challenging competition in academics and the job market.
Take the time and exert the energy for careful consideration of the bachelor's degrees that are considered among the most fulfilling college majors. While you can shift from one college major to the next, think about the cost (i.e., tuition and other fees) and the opportunity cost that comes with doing so.
---
Take a look: THE BEST ONLINE SCHOOLS FOR BACHELOR'S DEGREES IN ENGINEERING
---
10 of the Most Fulfilling College Majors
Engineering and Architecture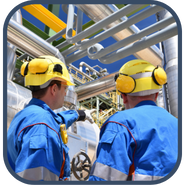 Among the highest-paying bachelor's degrees are in the fields of engineering and architecture for good reasons. Engineers and architects are the brains behind the physical infrastructure, products, and technologies that keep our modern society running! Think of the buildings, bridges, and roads, as well as the products and services and the machines and equipment around us, and you will have a greater appreciation of their work.
The latest Bureau of Labor Statistics data reveals the overall employment growth for architects and engineers is 4% (2021-2031), meaning 200,900 openings, on average, every year. As among the highest paying jobs, their median annual salary was $79,840 (May 2021), but some occupations, such as petroleum engineers and aerospace engineers, can reach $130,850 per year! The career salary can be greater with work experience and professional credentials.
Bachelor's degrees in architecture and engineering are among the most diverse, which translates to a wide range of occupations. The engineering field's impressive diversity ranges from the traditional (e.g., mechanical engineering, civil engineering, and industrial engineering) to the contemporary (e.g., biomedical engineering, aerospace engineering, and computer engineering).
Aside from the wide range of career opportunities, the architecture and engineering fields are considered among the most fulfilling college majors for the following reasons:
Their work benefits society, families, and individuals, from public infrastructures and clean energy sources to medical devices and computer apps and gadgets.
Their work is among the most challenging and rewarding because there's no shortage of issues that the contemporary world wants solutions for. Furthermore, there's no single solution to every problem! Architects and engineers bring new meaning to innovation, and their creativity can actually be experienced by the senses – and that makes them even more wonderful.
Theirs is a profession where a love for lifelong learning is a must, particularly with the fast-paced changes in technology. This is true whatever field it may be, from the mechanical systems of mechanical engineering and aeronautical engineering to the scientific research in computer science.
The financial security that comes with a bachelor's degree in architecture or engineering is a massive part of the attraction. Architects and engineers are among the best college majors because of the excellent professional environment and prestige, too.
Here are a few of the architecture and engineering bachelor's degrees that you can consider.
Architecture
Architects plan and design as well as supervise the construction process of physical structures like houses, office buildings and museums, among others. Their median annual wage according to the Bureau of Labor Statistics is $80,180 and they work in diverse places, from government agencies to their own firms.
Aerospace Engineering/Aeronautical Engineering
Aerospace engineering, also known as aeronautical engineering, is the field of engineering involved in the entire process of designing, testing, and manufacturing aircraft, spacecraft, and their related equipment. Aspiring aerospace engineers must earn a bachelor's degree and can earn up to $122,270 in median annual wage, according to the Bureau of Labor Statistics. Aerospace engineers with a master's degree can work in scientific research and development or teach in colleges.
Biomedical Engineering
Bioengineers and biomedical engineers take an inter-engineering multidisciplinary approach in the design, development and production of computer systems, equipment, and devices. These engineering professionals can earn between $60,680 and $154,750+ in annual salary with the median annual wage being$97,410 (May 2021), according to the Bureau of Labor Statistics.
Chemical Engineering
Chemical engineers combine the principles of chemistry, physics, biology and math in finding solutions involving the use of food, drugs and fuel, among common modern products. Aspiring chemical engineers must earn a bachelor's degree and can earn $105,500 in median annual wage per the Bureau of Labor Statistics.
Civil Engineering
The domain of civil engineering is the design, construction and maintenance of physical infrastructures including roads, dams, bridges, airports and railways, buildings, and sewage systems, among others. Civil engineers are also concerned with the structural integrity and suitability of construction materials for these infrastructures. Per the Bureau of Labor Statistics, their median annual wage was $88,050 (May 2021).
Electronics Engineering/Electrical Engineering
While electronics engineering and electrical engineering have overlaps, these are two different fields that individuals looking for the best college majors must consider. Electronics engineering focuses on the design, development and production of products and systems that use electronic technology. Electrical engineering is an older engineering discipline focused on the study, design and development, and application of devices, equipment and systems that use electricity and its related forces.
Professionals in electronics engineering and electrical engineering earn a median annual wage of $101,780 (May 2021). If you're looking for the highest-paying bachelor's degrees with a fast return on investment, go for these college majors!
Industrial Engineering
Industrial engineering is a sub-discipline concerned with manufacturing operations including the optimized use of machinery, manpower, and money as well as knowledge, systems and processes. Industrial engineers usually use principles and practices from different engineering disciplines, such as materials science, for industrial purposes. Aspiring industrial engineers must earn a bachelor's degree and can earn more than $129,000 per year in career salary.
Mechanical Engineering
Mechanical engineering students study physical machines, including their mechanical systems. Aspiring mechanical engineers adopt an interdisciplinary approach by combining materials science, physics, and mathematics in their studies. A bachelor's degree and a license are a must for mechanical engineers, and their career salary can be as high as $1376,000+ per year, according to the Bureau of Labor Statistics.
Petroleum Engineering
Among the highest paying majors is petroleum engineering, with its practitioners' median annual wage being $130,850, their career salary reaching upwards of $208,000 per year, says the BLS. Petroleum engineers are experts in the design and development of oil and gas extraction.
Computer Engineering
Yet another of the highest-paying majors in engineering is computer engineering, with a median annual salary of $128,710 per the Bureau of Labor Statistics. The career salary can be as high as $208,000+. Computer hardware engineers are in charge of the design, development, and testing of computer systems and their components.
Marine Engineering
Marine engineering is an engineering sub-discipline concerned with the design, construction and maintenance of ships and other seagoing vessels and their equipment. Marine engineers and naval architects earn well, too, with a career salary in the median range of $93,370 per year.
Systems Engineering
Students pursuing a bachelor's degree in systems engineering must have an interdisciplinary mindset. Systems engineering in itself uses an integrative approach in the effective design, application, and retirement of different engineered systems. The career paths for systems engineering graduates are plenty, with many of the best systems engineers starting as software engineers or network administrators. Systems engineering professionals can earn $83,807 in annual median career salary.
---
Computer Science and Information Technology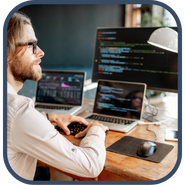 The STEM fields have the highest-paying bachelor's degrees, which is true for computer science and information technology. These are two different but interrelated fields that power most of our daily activities, from our smartphones to our transportation and communication, energy, and food industries.
On the one hand, information technology has broad coverage that includes creating communications networks, preventing data theft and safeguarding information, and maintaining computer systems and their components. On the other hand, computer science is the systematic study of computers and computational systems as well as their design, development, and testing.
Note, too, that computer science practitioners are a different breed from computer engineers. The former are concerned mainly with software and their systems, while the latter is focused on the hardware. Computer science students study software engineering, computer systems and networks, and artificial intelligence, among other topics, too.
Computer science graduates can look forward to many of the highest-paying opportunities in the computer and information technology industry. The median yearly salary for CS and IT occupations was $97,430 (Many 2021) per the Bureau of Labor Statistics. The career salary can be as high as $208,000 per year, particularly for computer science researchers.
The computer science and information technology occupations have among the fastest projected job growth, too, at 15% (2021-2031), according to the Bureau of Labor Statistics. This translates to 418,500 openings every year for the next decade.
What are the other aspects of pursuing a bachelor's degree in computer science and information technology that makes it among the most fulfilling college majors?
Your expertise in computing can lead to solutions to contemporary issues, such as the efficient use of scarce resources.
You have creative and intellectual freedom in finding computing-related solutions.
You can push the known boundaries of computing and become a revolutionary in your own right.
You can apply your expertise in diverse fields, from academia to industry.
And speaking of diverse career paths for computer science graduates, here are a few examples.
Computer and Information Scientists
A master's degree is necessary to become a computer and information scientist, but a bachelor's degree is an excellent preparation.
Computer Network Architects
Computer architecture refers to the overall design of a computer system and the technologies it can work with, usually based on the needs of the end users. Computer network architects are responsible for the design, development, and implementation of Intranets, wide area networks, and local area networks, among other data communication networks.
Computer Programmers
Think of computer programmers as the brains behind your favorite software and applications since they are responsible for writing, changing, and testing their codes and scripts.
Computer Systems Analysts
Yet another fulfilling path for computer science graduates is to become computer systems analysts who study existing computer systems and recommend improvements.
Database Administrators
Creating and maintaining computer systems that store and secure data are among the responsibilities of database administrators, many of whom have a bachelor's degree in computer science.
Software Development and Engineering
While software engineering and software development are related, these have different aspects, too. Software development refers to the design of a specific computer system and its software, including applications, and it's a subset of software engineering. Software engineering has a broader scope, with its practitioners in charge of the design, development, and testing of an organization's entire computer systems and their corresponding software applications.
Depending on the bachelor's degree, graduates are qualified for jobs as applications developers, cybersecurity analysts, IT managers and consultants, and website developers and designers.
---
Entrepreneurship/Business Administration and Management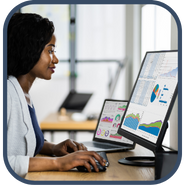 Professionals with bachelor's degrees in entrepreneurship and business administration and management enjoy numerous benefits that contribute to their personal and professional fulfillment. For one thing, their median annual salary was $76,570 (May 2021) – and it's higher than the $45,760 for all occupations. But their career salary can be as high as $159,000 and above, not to mention that successful entrepreneurs can earn higher incomes.
In addition, the projected job growth in business and financial occupations is 7% (2021-2031). About 980,200 openings every year are expected during this period.
And then there are the non-monetary benefits that a career in entrepreneurship and business can bring! If you're an entrepreneur, you will enjoy the autonomy of running your own business, building a career based on your values, and enjoying opportunities for continued personal development. You are also part of the bigger picture – the economic growth of the nation – that brings a sense of pride in itself.
Such is the broad coverage of your business administration education, from business processes and operations research to data analysis and management information systems, that it's among the most versatile bachelor's degrees. Here are notable career paths to explore.
Human Resources Managers
These professionals are responsible for the entire human resource management cycle, from recruitment to retrenchment, as well as for compensation and benefits and employee relations.
Logisticians
Their main job is in supply chain management, including the analysis, coordination, and improvement of the entire supply chain from vendors to consumers.
Market Research Analysts
By studying the business environment and consumer preferences, market research analysts can determine the potential sales of products and services.
Project Management Specialists
Due to the complicated nature of project implementation, from conception to implementation, project management specialists must gain appropriate education and training, usually starting with a bachelor's degree.
Financial Managers and Analysts
Since money and other assets are the lifeblood of organizations, financial managers play crucial roles in their protection and growth.
---
Pharmaceutical Sciences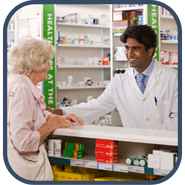 If you want to pursue careers in the pharmaceutical industry without getting into medical school, you must consider pharmaceutical sciences as your college major! The pharmaceutical industry is so vast, too, that you will likely find your niche soon after graduation, and it includes the medical manufacturing sector. Look beyond the pharmaceutical industry and find lucrative jobs in the healthcare, biotechnology, and food industries.
Being a pharmaceutical science professional also comes with non-monetary rewards contributing to personal and professional fulfillment. You can be instrumental in the improvement of patient health and the healthcare industry and collaborate with other professionals for these purposes.
A few of the popular career paths for graduates of bachelor's degrees in pharmaceutical sciences programs are listed below.
Pharmaceutical Sales Representatives
These professionals collaborate with medical professionals like physicians in identifying and meeting the pharmaceutical needs of communities. These needs can include product education, samples, and solutions.
Pharmacy Technicians
Their primary responsibilities are supplying patients with over-the-counter and prescription medications, mixing solutions and complying with safety regulations.
Clinical Research Coordinators
These professionals manage the day-to-day operations of clinical studies and trials, which can include the recruitment of participants, documentation of the process, and collaboration with other professionals.
If you wish to become a pharmacist, you must earn a Doctor of Pharmacy degree, which can take four years in medical school. Pharmacists must also be licensed to practice in hospitals and clinics, as well as in drugstores and other healthcare settings.
---
Nursing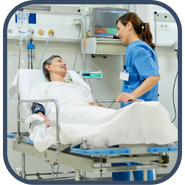 Among healthcare professionals with the highest paying bachelor's degrees are registered nurses – and their work is among the most fulfilling, too. Registered nurses provide direct patient care by assessing their physical and mental condition; observing, recording, and reporting their signs, symptoms, and medical histories to physicians; and administering their prescribed treatment plans. Their work also includes providing patients and their caregivers and families about their illnesses and injuries and explaining at-home treatments.
Students pursuing a bachelor's degree in nursing can expect a high career salary, too, and it's part of the nursing profession's enduring popularity. Registered nurses get a median yearly salary of $77,600 (May 2021) but can earn as high as $120,250 per year!
Even the projected employment growth among registered nurses is at a fairly impressive 6%. This means about 203,200 openings will be available over the 2021-2031 period.
Registered nurses also enjoy numerous non-monetary perks that make their profession among the most fulfilling occupations. Their flexible hours mean that they can maintain a good work-life balance. For example, school nurses get time off during the summer break, and community health nurses work during business hours on weekdays only.
Aside from the professional patient care, nurses are also known for their compassion, courage, and kindness for their patients. No wonder, nurses are among the modern-day healthcare heroes, a fact that was most evident during the peak of the COVID-19 pandemic.
Registered nurses also have an abundance of career advancement opportunities in addition to the diverse workplaces and fields they are in high demand. Their career advancement can be achieved through extensive work experience, excellent work performance, and specialist education (e.g., advanced nursing practitioners).
Many also move on to become nurse managers and educators, while others also go into public service, such as mission nurses. Indeed, registered nurses can choose to change their jobs but stay in the nursing field!
---
Communication Science and Disorders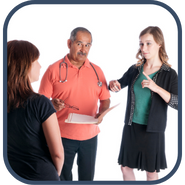 Students pursuing a bachelor's degree in communication science and disorders learn about the communication development, abilities, and disorders of children and adults. The communication disorders include impairments in speech and voice, hearing, swallowing, and language processes.
Earning a bachelor's degree in communication science and disorders opens career opportunities in diverse occupations and settings.
Speech-language pathologist assistant
Hearing aid dispenser
Rehabilitation assistant
ASL interpreter
Behavioral therapist
Note that a bachelor's degree in communication science and disorders is only the first step toward becoming a licensed speech-language pathologist or speech therapist. The professional occupation typically requires a master's degree in speech-language pathology or communication science and disorders. Their duties include the evaluation and treatment of children and adults with speech, voice, language, fluency, and swallowing disorders, as well as providing counseling services to their caregivers and families.
Speech-language pathologists are high earners, too! Their median annual wage was $79,060 (May 2021), but they can earn as much as $125,500+ for experienced professionals. Their projected job growth is among the fastest at 21% over the 2021-2031 period, a rate that translates to 14,000+ openings per year.
The fulfilling part of being a communication science and disorder professional is in the rich opportunities to make a significant and positive impact on patients' lives. After all, communication and interaction are at the heart of human existence, and thus, aiding patients in the improvement of their communication abilities is a reward in itself.
---
Early Childhood and Elementary Education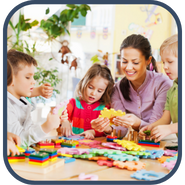 The early years of a child's life aren't just about learning the basics of the 3Rs! More importantly, a child learns social skills, explores the world around them, and learns to understand and express their feelings, among other milestones. For this reason, being an early childhood and elementary education professional is a great responsibility, but it's also among the most fulfilling professions!
But it isn't just in a child's life that you can make a positive, possibly life-changing, difference either. You may even have a positive impact on their parents as well as their families and communities. And therein lies the most rewarding aspect of being a kindergarten and elementary school teacher, although we must also say that the monetary rewards also contribute to a good life.
Kindergarten and elementary school teachers perform crucial roles not just in early education but also in overall child development. Their duties include teaching students reading, writing, and arithmetic; guiding students during socializations and teaching them about social interactions; and working with individual students in overcoming their learning challenges. Teachers must also work with parents, administrators, and co-teachers for the children's best interests, including advocating for their welfare.
Contrary to popular opinion, kindergarten and elementary school teachers earn excellent salaries! Their median annual wage in May 2021 was $61,400, but they can earn as much as $99,400+ in a year.
Professionals who have earned a bachelor's degree in early childhood and elementary education can also pursue careers like:
Family resource workers
Early childhood workers and directors
Curriculum coordinators for schools
Infant and toddler teachers
---
Psychology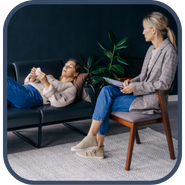 Yet another of the highest-paying bachelor's degrees among aspiring healthcare professionals in psychology. But it must also be pointed out that a bachelor's degree in psychology is only the first step toward becoming a psychologist!
A master's degree in Psychology is usually sufficient for psychology-related positions in school and industrial settings, but many positions require an advanced degree (e.g., education specialist) and a certification. A doctoral degree and a license are a must for professional psychologists to practice their occupation. The doctoral degree can either be a PsyD – Doctor of Psychology (PsyD) or Ph.D. – Doctor of Philosophy in Psychology.
Psychologists study the social, psychological, and cognitive processes and their resulting behaviors among humans, usually through observations and interpretations. Most perform scientific studies of the human mind, including brain function; write research papers, articles and reports and share them with others; and aid individuals and families in coping better with their environment.
The salary and job outlook for psychologists are excellent, too! Their median annual wage was $81,040 (May 2021), but the highest 10% earned nearly $134,000 per year. Their workplaces are diverse, too, including government agencies, social service organizations, schools and healthcare facilities, among others. The demand for their professional services will likely grow because of increased awareness of mental health issues and their treatments.
But even without a master's degree or a doctorate degree, a bachelor's degree in psychology can take you places! Popular career paths for psychology graduates include:
Caseworkers
Market research analysts
Human resources management specialists
Training and development specialists
Public relations managers
Earning a bachelor's degree in Psychology and putting it into practice also comes with non-monetary benefits resulting in personal and professional fulfillment. You gain a better understanding of yourself and of others that, in turn, can strengthen your sense of compassion and empathy. You have rich opportunities to make a positive, lasting, and significant impact on others, such as in achieving their personal goals or dealing with trauma. You can also strengthen your soft skills, particularly in communication, critical thinking, and leadership.
---
Recreational Therapy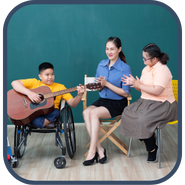 The most popular career path for graduates of bachelor's degree in recreational therapy program is as recreational therapists. Most employers either require or prefer those with certification credentials, such as from The National Council for Therapeutic Recreation Certification (NCTRC). Recreational therapists may also pursue specializations, such as behavioral health and adaptive sports and recreation.
In general, recreation therapists evaluate the needs of patients, create a personalized recreation-based treatment plan based on their needs, and aid the patients and their families in adopting said plan. Art expressions, music and dance, games, and outdoor activities are among the therapeutic methods used by these professionals.
Among the primary sources of personal and professional fulfillment among recreational therapists is the good pay and career advancement opportunities. Their median annual wage was $47,940 (May 2021), but the highest earners earned $80,000+ per year.
Recreational therapists also enjoy personal and professional fulfillment from being able to help people regain their sense of joy in living through recreational activities. Their patients include people with cognitive issues due to stroke, Alzheimer's disease, and injuries, and their work enables their patients to remain active, social, and independent as much as possible.
---
Human Services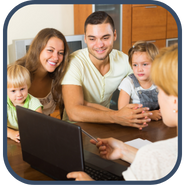 The term "human services" has comprehensive coverage in the same way that humans require specific services at various times in their lives. Generally speaking, careers in human services involve identifying and addressing the various human needs of children and adults in a community.
The career paths with a bachelor's degree in human services are diverse for this reason and these include:
Caseworkers
Community outreach workers
Social and community service managers
Court support workers
Social workers
Family court advocates
Crisis support workers
Rehabilitation counselors
While these occupations have different duties, there's a common thread throughout all of them – these human services workers aid individuals to succeed in life despite their challenges and circumstances by providing them with the resources, tools, and support they need.
Being a human services professional has its fair share of challenges, mainly because of the difficult circumstances that clients find themselves in – and it can take a physical and mental toll. But there are plenty of benefits, too, about being in the human services field!
You have the opportunity to change lives by helping clients and their families. With every life changed for the better, you're also contributing toward a better society. Your collaborations with other professionals can lead to meaningful change at the individual and societal levels. You can be creative, resourceful, and compassionate as you deal with the unique challenges that each day and each patient brings.
In conclusion, the sense of personal and professional fulfillment that you will find in whatever career you choose to pursue after your college graduation is in your hands! Remember that you have a choice, from choosing the best bachelor's degree for your needs to choosing what you do with it in your career.
---
Additional Info: HOW DO I EARN AN ONLINE BACHELOR'S DEGREE IN BUSINESS ADMINISTRATION?