Mathematics is a challenging subject for most college students. The instructions can be quite confusing. Grasping the subject matter is often a perplexing task. But, many of us are looking for degrees that don't require math!
Not everyone has the innate ability to quickly recall the multitude of equations required by their college majors, not to mention problem-solving methods! These and more are the common reasons why math is perceived as a nerve-wracking subject.
No Patience?
It's no secret that math requires a lot of patience and persistence. Even the brightest students have to burn the midnight oil to solve mind-boggling math problems. Mathematics is a subject that students must commit a lot of time and energy to pass or get an impressive grade.
Furthermore, the issue is not entirely on the mental ability of the students. The ability to stay on the subject plays a more significant role. Seeing that they don't have control over the timelines when in terms of "fully understanding the lessons," they don't have enough time and preparation for the next lesson.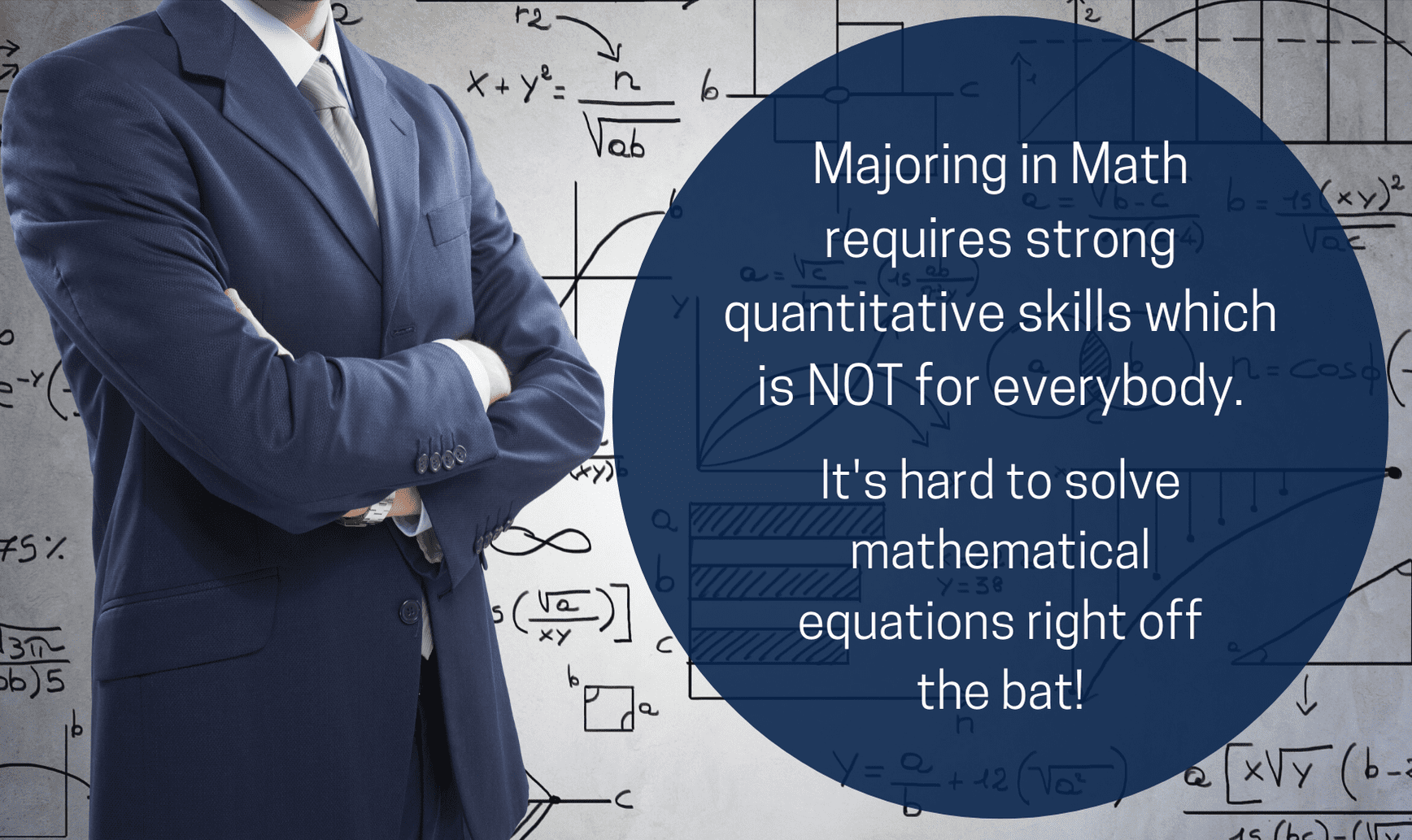 Do you dislike math, too? Who wants to take a math placement test?
Are you looking for degrees that don't require math? Does (nearly) everyone hate basic math classes? A study was conducted on random students regarding their opinions on the subject of math. Statistics show that 24% of high school students said they hated or disliked mathematics, while 46% of them showed interest. College majors focused on advanced math techniques are not for everyone!
In a hurry? Listen to this summary of our article:
Page Jumps!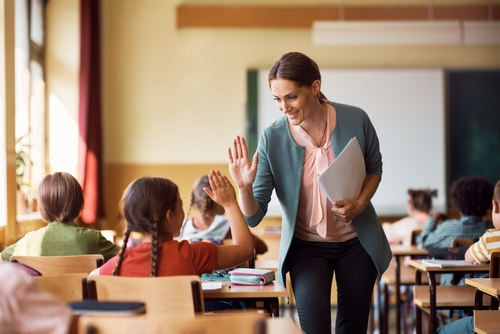 Online College Degrees Don't Necessarily Require Math!
Going to college is exciting because you get to be independent and choose whatever degree you want to enroll in. For the majority, taking math as part of their college major is something they wish to avoid.
Mathematics is inevitable during the primary and secondary levels, but in college, some degrees don't require or have very little math that you can choose from. But just because they don't involve math, they are lousy degrees? No, not at all. You could land a lucrative profession even if mathematics didn't take part in your college life.
Remember, however, those specific degrees that don't require Math most likely will require you to complete basic subjects such as English composition, before getting to your principal. These basic education classes still have primary math subjects, like calculus.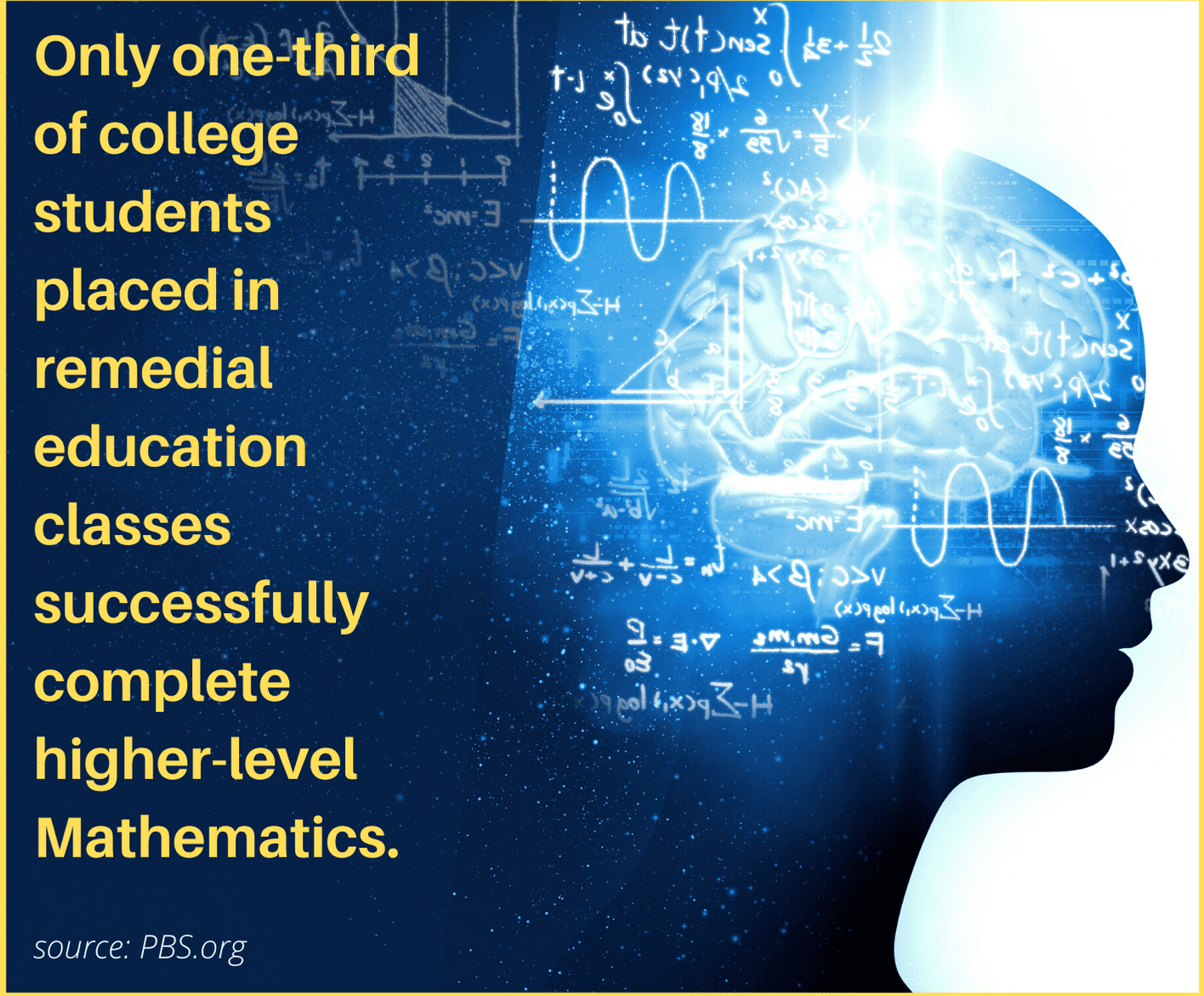 Lucrative Professions From Online College Degrees Without Math
Fortunately, there are high-paying jobs for college graduates with degrees that don't require math courses or very little of them. Professions in design, human resources, journalism, and digital marketing are just a few of them. You have a plethora of career choices after you graduate.
Check out these helpful Infographics: WHAT TYPE OF LEARNER ARE YOU? and HOW TO ROBOT-PROOF YOUR CAREER
Now that you have an idea of your possible career path let's go through some of these online college degrees that don't require math!
Education
Average Annual Pay: $57,490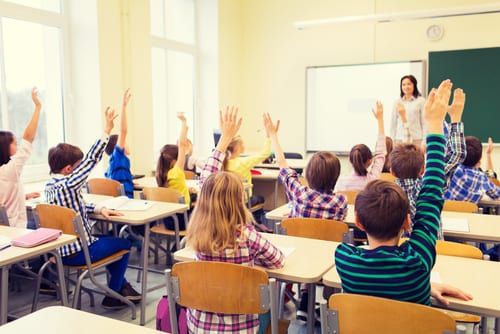 If you love the idea of teaching, you can enroll in an online Bachelor's degree program in Education. Learning effective techniques for delivering academic information to students of different age brackets such as early childhood, primary, or secondary level, is the focus of this degree.
When enrolled in Early Childhood Education, college students have courses that cover typical and atypical child development and language development. This will teach you how to educate preschoolers. If your concentration is Elementary Education, you will be teaching kids from kindergarten to fifth-grade levels.
The subjects are focused on classroom management, educational psychology, and instructional techniques that will teach primary subjects at the elementary level. Secondary Education graduates focus more on adult development and teach more advanced lessons.
Florida International University has an excellent program for Online Bachelor in Education programs.
---
Liberal Arts
Average Annual Pay: $54,000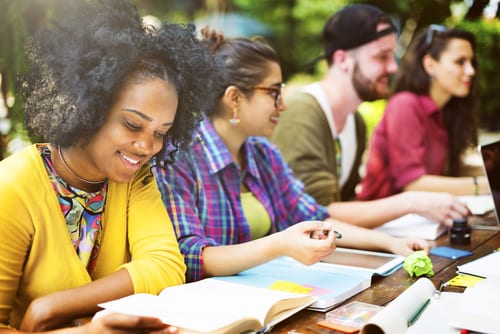 When Liberal Arts students choose this as their major, it has a more generalized education program. It nurtures a broad knowledge rather than focusing on a single subject matter.
There are many courses under the Liberal Arts studies degree program, such as History, Humanities, Foreign Languages, and Physical and Life Sciences. A Liberal Arts focus doesn't require advanced math subjects. Students will also have classes that teach fundamentals of speech, religious and ethical values, transformative leadership, and more.
The University of Arizona offers an online Bachelor of Liberal Arts Studies degree program to develop your skills in the areas of communication, critical thinking, problem-solving, and logical decision-making.
Your multifaceted skills, together with your knowledge of different subject matters acquired in college, will carve your bankable career path. Sociologists, scientists, historians, and lawyers are some of the possible professions to consider when you have a Liberal Arts bachelor's degree.
---
English Literature
Average Annual Pay: $56,000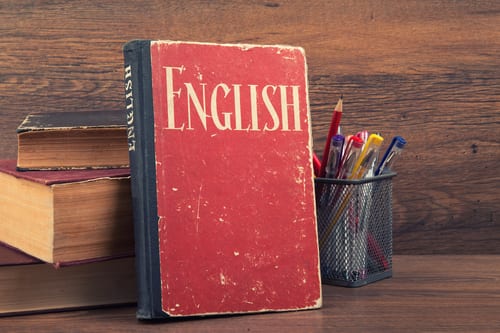 An English major needs to do a ton of reading and writing. Undergraduates of an online bachelor's degree program in English will do a fair amount of reading ancient and modern English novels.
If you're looking for degrees that don't require math, prepare yourself to study British and American literature. Studying foreign languages, too, is part of the program. See, you're pretty far from computing numbers when you're an English major.
Several college institutions offer this program. Indiana University is one of those. They have a selection of online Bachelor's degree programs in English. Authors, journalists, and public relations specialists are well-paid jobs that you can enjoy if you're a graduate with an English Literature degree.
---
Foreign Language
Average Annual Pay: $59,000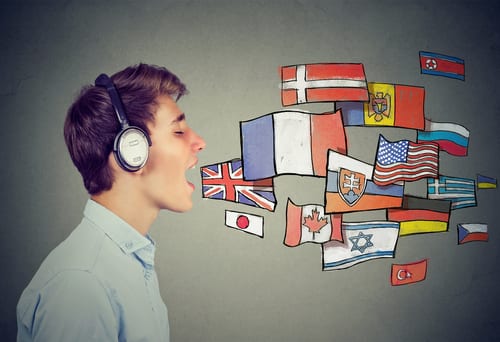 A degree in one of the Foreign Languages will teach you how to translate and converse in your chosen new language. This is an in-depth study, not just the language.
You will also learn about the culture related to it. When you graduate, you'll be an expert in that foreign language in which you can read, write, and fluently speak.
Most students visit the country of origin and converse with a native speaker of the language they're learning. It doesn't sound as challenging as solving Math problems, but it surely appears to be an exciting degree since you get to know more about the culture and meet new people from other places.
You'll be a translator, someone who works in a government intelligence agency, or a worker in the Peace Corps when you finish this program. These are decent professions that are also highly paid. You can inquire about this undergraduate degree at the University of New England.
---
Music
Average Annual Pay: $52,676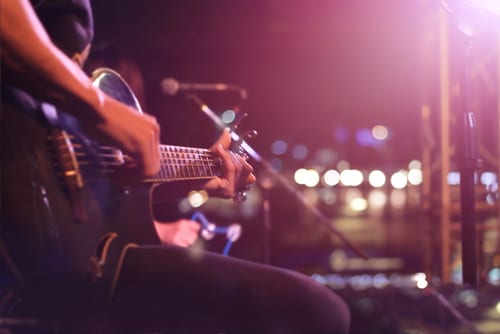 If you have a passion for playing musical instruments, you can enroll in an online bachelor's degree program in Music. This will educate you to study, perform, and compose. This is a thorough education focused entirely on music, from its history to music theory.
Part of the curriculum is playing several musical instruments and joining practical classes where you get to play together in an orchestra-like setting. Most students of this program are loaded with experiences in playing musical instruments.
They will choose an area of music specialization. Options will include topics such as composing, performing, or producing. There are no math problems involved, but if there are, they will be as few as possible.
Berklee College of Music offers online Bachelor's degree programs in Music. Once you graduate, your career opportunities in the music industry are numerous. A recording artist, music conductor, producer, composer, and music teacher are just some of these jobs for those with a degree in Music.
---
Communications
Average Annual Pay: $66,240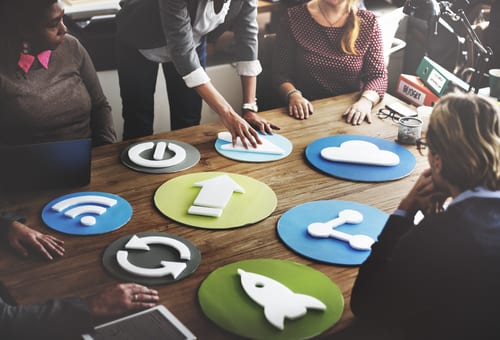 Online Bachelor's programs in Communications and Journalism involve courses that concentrate on public speaking, media writing, intercultural communication, and organizational communication.
If you need degrees that don't require math, most online Bachelor's programs in Communications have no additional math requirements apart from the college's essential education curriculum requisites.
An excellent online Bachelor's degree program in Communication and Journalism is available at Colorado State University. Begin your journey in journalism and become a reputable journalist someday. If that doesn't interest you, perhaps an editor, public relations officer, or advertising specialist tickles your fancy. Either way, these are lucrative careers that are waiting for you after your graduation.
---
Philosophy
Average Annual Pay: $60,000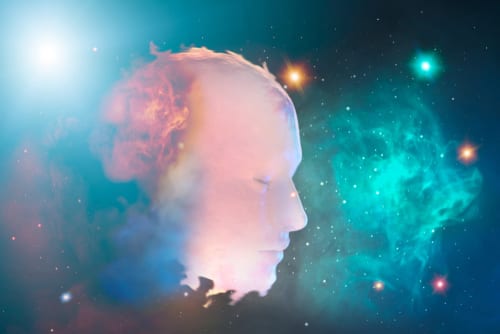 Students who are earning an online Bachelor's degree in Philosophy will participate in a lot of debates. Part of the curriculum is that students conduct intensive research to support arguments. This program will concentrate on understanding the meaning of life, and not so much on mathematics.
A study on modern and ancient philosophical theories and approaches are all included in the Philosophy courses. Students are expected to be logical and creative because the degree tackles rational and irrational thinking. Hence, frequent participation in debates.
Arizona State University has an excellent online Bachelor's degree program in Philosophy. Graduates of this degree will have heaps of job opportunities such as lawyers, doctors, writers, or clergy; all common professions that are well-paid.
---
Sociology
Average Annual Pay: $98,590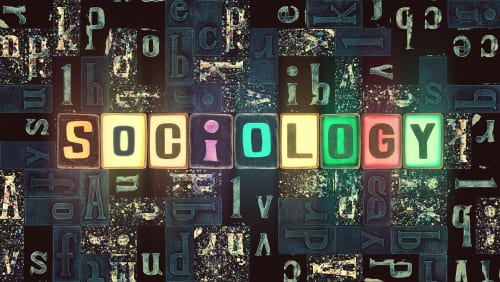 A study that focuses on human society and social behaviors is what students of an online Bachelor's degree program in Sociology will be concentrating on. The classes will weave through the basic concepts and foundations of sociology.
There are subjects about the sociology of education, family, classic social theory, and racial and ethnic relations. There are also essential requisites in the course like humanities, sciences, and other fields of study. So expect a bit of mathematical problem-solving time in your college life.
A graduate of a Sociology major is equipped with impressive skills in critical thinking and analysis. Sociologists and survey researchers are jobs that you can apply for. If you're planning to enroll, Fort Hays State University has an online bachelor's degree program in Sociology.
---
So, business math is not your forte, right? How about English? Earning a major in English may be the right fit for you! If you're looking for degrees that don't require math, check out these Best Online Schools for Bachelors in English degree programs!
---
---
Writing
Average Annual Pay: $73,150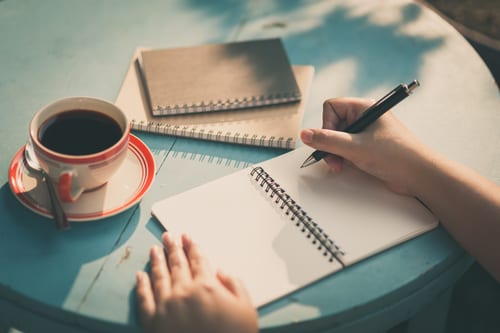 For another suggestion for degrees that don't require math, a Bachelor's degree in Writing will make students think outside the box to produce an eloquent literary piece. The program has various specializations such as creative writing, general writing, and professional writing.
A creative writing program teaches the students techniques for exceptional writing and scrutinizes other literary content that has different genres, such as fiction, nonfiction, poetry, and drama.
Professional writing, on the other hand, concentrates on marketing-related writing techniques. Simply put, there is minimal need for Mathematics in this program, except for the general education courses.
Become a graduate of this program at Southern New Hampshire University. It will lead you to high-paying professions, such as a journalist, marketing or advertising analyst, and author. As long as you persevere in reading, writing, and revising while you're in college, there's a high chance of you landing a noble profession.
---
Art
Average Annual Pay: $57,560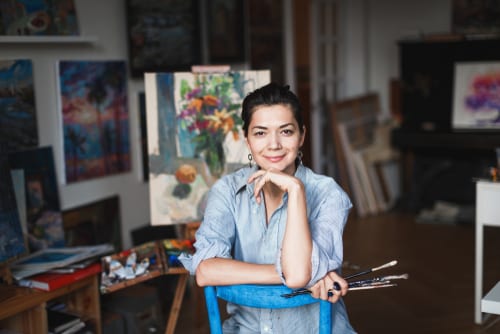 Art majors will spend most of their college life working in a studio. Online Bachelor's degree programs in Art will either end up having a degree in Bachelor of Fine Arts or a Bachelor of Arts.
For Fine Arts students, the concentration of the study is on creating art and spending more time in studios. As for those in the Bachelor of Arts program, this is the typical classroom-type setting. They go through a rigorous study of arts, such as their history.
Students with an online Bachelor's degree in Fine Arts should have the discipline to enhance technical skills in sculpting, painting, or whatever form they prefer to work. Once you fully master your craft, you will be a potential established artist or a sculptor.
An animator, illustrator, and photographer are also other possible professions in which you can excel. Columbia College Hollywood will give you access to a top-notch online Bachelor's degree program in Fine Arts.
---
Anthropology
Average Annual Pay: $63,940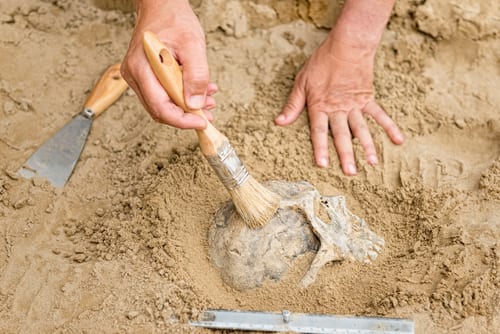 College majors about different cultures generally point towards Anthropology! An online Bachelor's degree program in Anthropology has various courses such as Social Anthropology, Linguistics and Archeology, and Biological Anthropology.
Students have the option to choose from those specializations. Specific courses tackle religions, foreign languages, social science research methods, and cultures.
Graduates of Anthropology can find themselves working in police departments, museums, research laboratories, and academic anthropology departments.
There are no particular math requirements for this degree, but anthropologists enjoy a lucrative profession. Troy University offers an online Bachelor's degree program in Anthropology that will pave your path toward your dream job.
---
Health Science
Average Annual Pay: $77,760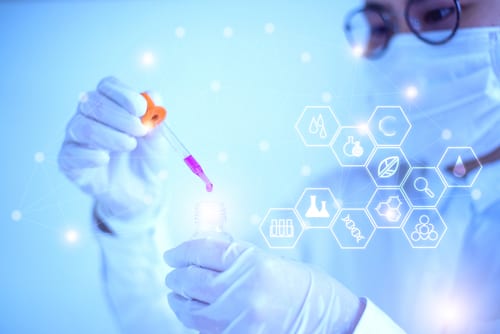 Undergraduates of an online Bachelor's degree program in Health Science study the skills needed for non-clinical roles in healthcare institutions.
Some of the courses are Human Anatomy and Physiology, Management and Leadership in Healthcare, Medical Pharmacology, and a lot more.
You may be surprised that this field falls under the category of "degrees that don't require math." Typically, the health field does… unless students are inclined to be part of the healthcare industry but don't want to engage in direct contact with patients. In this case, this is the appropriate degree for them. There is no mathematics requisite in this program.
Graduates of Health Science can work in the health administration or education industry which may require some business math or perhaps better called "simple math." A health educator is something they can consider in the future.
The University of West Florida offers an online Bachelor of Health Science degree program that can convince you to start your journey toward a health educator.
---
Graphic Design
Average Annual Pay: $57,990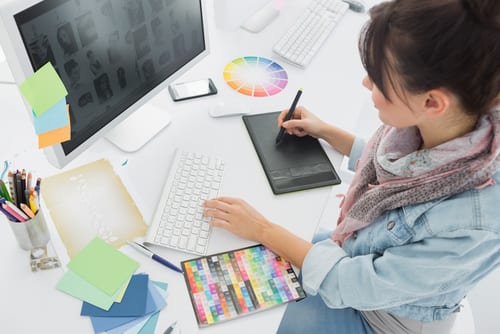 Individuals who are into advertising campaigns and web design can enroll in an online Bachelor's degree program in Graphic Design.
Students of this program will study the incorporation of art and design fundamentals to come up with all sorts of commercial projects. Some of the popular courses are Digital Illustration and Web Design.
Graphic design undergraduates don't do much in mathematics subjects. They are expected to spend more time perfecting their design skills. A well-paid graphic designer is a lucrative job that these graduates can become in the future. You can become an art director or creative director, too. Savannah College of Art and Design has an online Bachelor's degree program in Graphic Design.
---
Political Science
Average Annual Pay: $128,020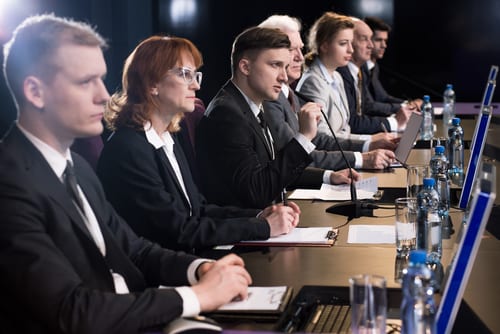 An online Bachelor's degree program in Political Science is a good option for students who show an interest in government and politics.
This program studies comparative politics, policymaking, and other American government-related subjects, that is if students are based in the United States.
Apart from that, a study about international relations, foreign policy, and global governments are all part of the curriculum.
Students will learn the ropes of how the government works and how political theories are implemented. Hence, they should possess excellent writing and communication skills. Lawyers and politicians are notable careers for Political Science majors.
Oregon State University is offering an online Bachelor's degree program in Political Science. It has an impressive program that will prepare you to become a politician someday.
---
Social Science
Average Annual Pay: $74,330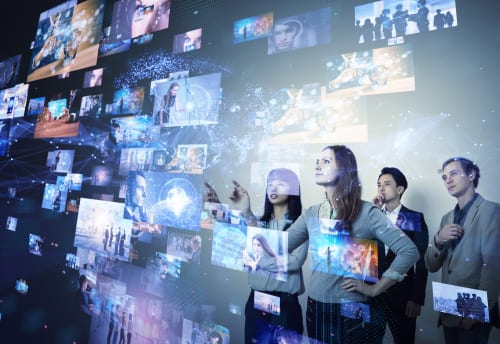 A thorough study of human behavior and human society, that's what undergraduates of Social Science are going to concentrate on. Part of the curriculum will study introductions to Social Sciences and Psychology.
There are still more, but those mentioned are somewhat the standard subjects in the Social Science bachelor's degree program. But students have the option of what general education subjects they will take. There are also electives to complete the required number of credits for the program.
To breeze through this degree, students must develop their interpersonal and communication skills and critical thinking abilities. There's not very much advanced math, but they have to take general education subjects for this… maybe only one math course, if you're lucky! It's a must in the curriculum.
The University of Central Florida has an excellent online Bachelor's degree program in Social Science that will create countless job opportunities for you, such as a Sociologist, Psychologist, Counselor, Social Worker, and many other high-paying careers.
---
How about some fun, yet interesting information? Check out these links: